Joel Russell at the Northampton Design Forum has kindly authorized us to make Envisioning Sustainable Northampton, the final presentation book from the Notre Dame Northampton Urban Design Charrette, available as a free PDF download (131 pages, 26MB).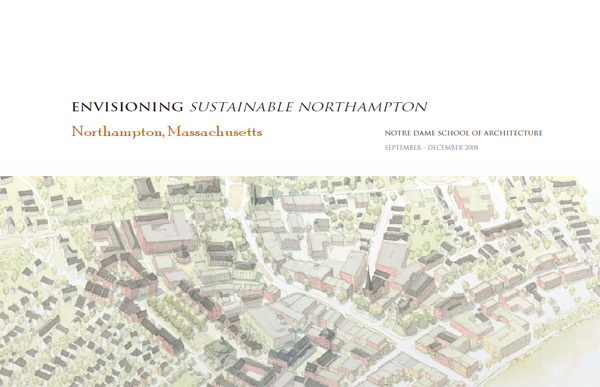 This book was prepared by the University of Notre Dame School of Architecture Urban Design Studio for the Northampton Design Forum to stimulate discussion about urban design and sustainability in Northampton. It represents the opinions of only the Notre Dame Urban Design Studio, and was not written or reviewed by the Northampton Design Forum. Also, it is not an official document of the City of Northampton or the North Street Neighborhood Association.
See also:
March 11: Public Forum to Discuss Planning and Sustainability for Northampton
The Northampton Design Forum (NDF) is a local citizen group which
invited the Notre Dame Urban Design Studio to Northampton last fall.
This was
funded entirely by private donations. We have planned a public forum to
discuss the intersection of Planning and Sustainability on March 11,
2009 at
7 PM in the Bridge St. School cafeteria. We hope that you will be able
to join us then.
The event will have two components. The first is a brief introduction
to the report to the public followed by a general discussion of the
intersection of planning and sustainability. This will be moderated by
Joel Russell (who is the chair of NDF and a member of the rezoning
committee) and will include comments by Wayne Feiden, the Director of
the Office of Planning and Development.
March 10: Zoning Revisions Committee to Meet; Our Suggestions
Northampton's Office of Planning and Development is circulating this announcement:
The Zoning Revisions Committee (advisory to the Planning Board) will meet Tuesday March 10 at 7 PM in City Council Chambers.

Please Contact Carolyn Misch at cmisch@northamptonma.gov for further information.
The Zoning Revisions Committee is charged with recommending zoning changes that implement the Sustainable Northampton Plan. We urge the committee to keep these considerations in mind:
Before trying to facilitate infill development, might it be best to first establish infill design standards? (see Springfield)
How can we encourage development within already paved-over spaces
as opposed to eating into greenspace? Why are spaces in certain in-town
areas like King Street languishing unused? Are there concerns about
hazardous waste that need to be addressed?
How will proposed rule changes affect the quality of life within
in-town districts? Changes that erode amenities (e.g. greenspace),
raise safety issues (e.g. more flooding) or create hassles (e.g. more traffic jams) may defeat the purpose of the Sustainable Northampton Plan by motivating homebuyers to sprawl out elsewhere…
Envisioning Sustainable Northampton: Notre Dame Urban Design Presentation – Video and Handout
Envisioning Sustainable Northampton: Notre Dame Urban Design Presentation – Slides
Video and Slides: Final Presentation of Design Northampton Week