At a March 26 hearing (video), some Planning Board members voiced density-related concerns about the latest 23-unit condo proposal from Kohl Construction (21 units shown here, 2 proposed for the end of Northern Avenue not shown). Download the high-resolution PDF (1.1 MB).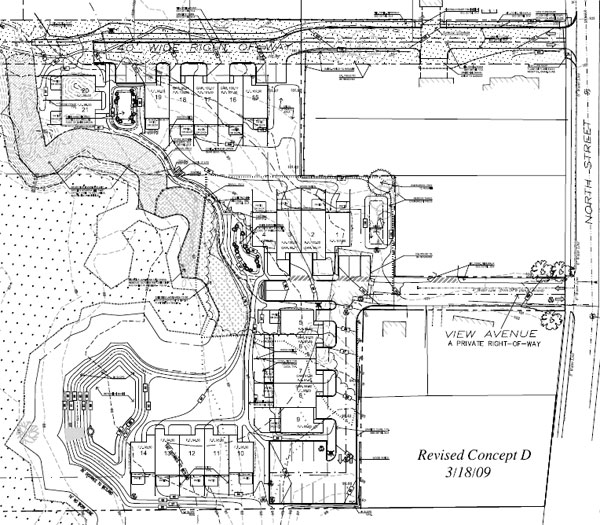 Here are selected quotes, with thanks to Lisa Maloney for transcription assistance:
Video time 2:55:09… George Kohout: "I'm of two minds… I'm very cognizant of just how fragile this area is. And being out there today and seeing what the machines have done and just knowing that area–the mature stand of trees that would be gone–part of me doesn't want to go too far down this road until the [Conservation Commission] really does make their decision about some of these areas…"
3:03:25… Mark Sullivan: "…those units at the bottom, 10-14, the site slopes to the wetlands but it also kind of goes down. And those units, they just kind of trouble me…no garage, they're off by themselves, there's no storage… It seems to be at the low end of the totem pole."
3:04:24… George Kohout: "Developers always try to maximize their space and their units for what their return can be. Right now there are 21 units [excluding the two on Northern Avenue]…so maybe [removing] 20 and 21 and 13 and 14 to my eyes might help also to kind of bring the whole complex in and away from the wetlands and reduce some of the exacerbation to the neighborhood. I'm just making that a suggestion. I don't know where the rest of the board feels on it, but if we were to look for the applicant to reduce some of the capacity, those might be the units that I would suggest…"
3:05:10… Kenneth Jodrie: "…13 and 14 are more problematic…how would you even get out of those two last parking spaces? …It's very crowded in there. The parking lot, the units…"
3:06:20… Stephen Gilson: "What Kenny and George…I think there's a few of us who the density does, you know, the number of units, it's a struggle…"
3:06:48… Kenneth Jodrie: "Well I guess I'm not saying necessarily 13 and 14, it's that whole area…very crowded in there, with the units and the parking. It just is very little space…"
3:07:35… Stephen Gilson: "Regardless of which [units individual board members feel are good or bad], I think enough of us have a concern about the number of units, so whether it's 13 and 14…for me it was 20 and 21… I think you [Kohl] hear what we're saying."
See also:
Video: Planning Board Meeting of 3/26/09; Board Declines to Endorse Zero Lot Line Changes; New Kohl Condo Proposal Discussed
Video time 1:49:20-3:21:15… Some objections raised by neighbors include:
The issue of whether some of the condos will be built over filled wetlands, disfavored by the Hazard Mitigation Plan of 2004, has not yet been resolved.
Some Planning Board members objected to the density of Kohl's 25-unit proposal at a January hearing, but proposal "D" has only gone down to 23 units.
High
groundwater threatens the 10 units to the right of the large detention
basin, and was a major reason why Conservation Commission member Paul
Wetzel objected to a similar proposal from Kohl on March 12.
If
the density of the proposal is indeed in line with the surrounding
neighborhood, as Kohl claims, then why can't the Planning Board ask
Kohl to make the units look more like the existing houses (detached 1-3
family homes with individuated designs)?
The Conservation
Commission wants to prohibit the use of salt on the property, due to
its proximity to wetlands. However, proposal "D" would compel many of
the condo residents to walk outside to get to their cars. Ice could
make for dangerous conditions.
The parking lot at the bottom
right of the proposal is hard up against the lot line, leaving little
or no room for vegetative screening from neighboring properties.
The next Kohl Planning Board hearing will take place on May 14 at 7pm…
Northampton's planning staff argues that Kohl's proposed architecture…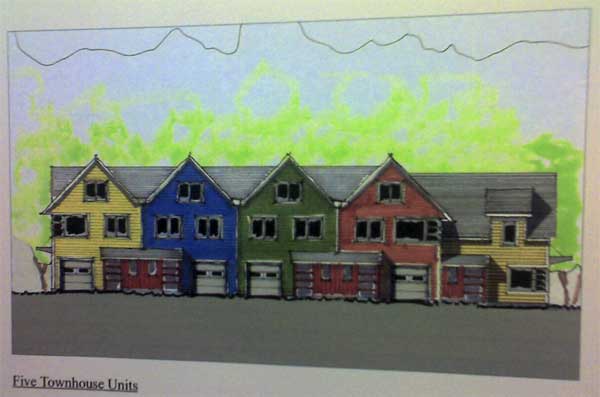 is "very similar" to this duplex on Woodmont Road…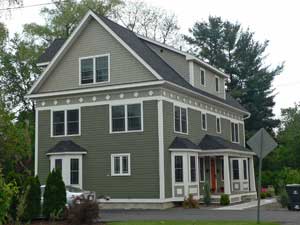 and
is thus in harmony with the neighborhood. Even if one agrees that the
designs are similar, this argument is unreasonable. The duplex has two
units. Kohl proposes 23. Any design multiplied 23 times would not be in
harmony with the neighborhood, which is characterized by the diverse appearance of its homes.
The planning staff also argues that Union Street and Graves Avenue are
"within the North Street Neighborhood area", and thus Kohl's proposal
acceptably resembles the denser land use patterns of those streets.
However, the map of "Assessors Neighborhoods of the City of
Northampton" (detail shown below; complete map: 2.7MB PDF) classifies Kohl's parcel in a distinctly different neighborhood (number 8) than Union and Graves (number 16).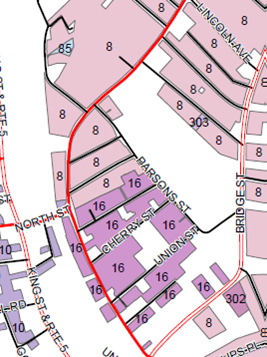 Moreover,
Kohl's parcel is in zoning district URB, whereas Union and Graves are
in district URC, where higher densities are expected. There is simply
no apples-to-apples comparison between Kohl's area of North Street and
Union/Graves. And dense as they are, Union and Graves are still
well-integrated with the surrounding street network, unlike Kohl's
latest proposal.
Good Cul-De-Sacs and Bad Ones
…Northern Avenue [a cul-de-sac] has several aspects that likely improve its safety:
It is linear
The homes are well-integrated with good intervisibility
It is well-connected to a main road (North Street)
You can stand on North Street and see down to the end of Northern Avenue
Access to the rear of homes on Northern Avenue is relatively restricted
Homes line both sides of the street
By contrast, the cul-de-sacs in Kohl's latest condo proposal give reason for concern:
The roads would not be straight
The space would be visually broken up
The homes would be isolated from North Street
Many units would be difficult or impossible to see from North Street
Footpaths (shown in pink) and the woods would give easy secondary access to the units
Homes would only be present on one side of the street
Our Guest Article at Northampton Redoubt: "The Kohl condo proposal and the Struggle Over the Meaning of Infill"
Studies find that criminals prefer small cul-de-sacs where the space is visually broken up and there is secluded access to homes. But even setting aside the security issues, this new layout reinforces the disconnection and disharmony of this project with respect to the surrounding neighborhood. It is hard to imagine that neighbors would feel comfortable walking around the dead-end access roads and paths of the development. Instead of public ways, these would feel like private spaces. This social disconnection, along with the traffic inefficiency, is why the Sustainable Northampton Plan and other Smart Growth proponents tend to oppose cul-de-sacs.
Tree Loss and Slab-on-Grade Foundations: A Poor Fit with the Sustainable Northampton Plan
Wikipedia notes that slab foundations are less common in cold climates:
Slab-on-grade foundations are…most often seen in warmer climates,
where ground freezing and thawing is less of a concern and where there
is no need for heat ducting underneath the floor…

The disadvantages are the lack of access from below for utility lines,
the potential for large heat losses where ground temperatures fall
significantly below the interior temperature, and a very low elevation
that may expose the building to flood damage in even moderate rains.
Remodeling or extending such a structure may also be more difficult.
Over the long term, ground settling (or subsidence) may be a problem,
as a slab foundation cannot be readily jacked up to compensate…
Portland Suburb Successfully Staves Off Densification
The problem is that people don't want to live in high densities,
especially when there are planner-induced parking shortages. A state
regulation requires Portland to reduce its parking by 10 percent, so
new developments are often built with limited parking. Since developers
won't build what they can't sell, planners have to subsidize them to
get them to build high-density developments.
Randal O'Toole: "Debunking Portland: The City That Doesn't Work" (PDF, Policy Analysis, 7/9/07)
When
judged by the results rather than the intentions, the costs of
Portland's planning far outweigh the benefits. Planners made housing
unaffordable to force more people to live in multifamily housing or in
homes on tiny lots. They allowed congestion to increase to
near-gridlock levels to force more people to ride the region's
expensive rail transit lines. They diverted billions of dollars of
taxes from schools, fire, public health, and other essential services
to subsidize the construction of transit and high-density housing
projects.
Those high costs have not produced the utopia planners
promised. Far from curbing sprawl, high housing prices led tens of
thousands of families to move to Vancouver, Washington, and other
cities outside the region's authority. Far from reducing driving, rail
transit has actually reduced the share of travel using transit from
what it was in 1980. And developers have found that so-called
transit-oriented developments only work when they include plenty of
parking.
LA Weekly: "City Hall's 'Density Hawks' Are Changing L.A.'s DNA
…Angelenos don't have a clue what's been happening, or what's coming.
In the 32 months since Villaraigosa was elected, for example, the Los Angeles Times and the Daily News have written only four stories about a plan to allow apartments without parking in order to squeeze in more units…
…the city's "Parking Reduction
Ordinance"…lets developers of apartments and condos near train
stations and bus stops get a waiver from the city's minimum
parking-space requirements. In a radical departure, the city could
allow big apartments to be constructed without parking spaces. The
developer need only prove he is providing a vaguely imagined
"alternative means" of transportation — potentially, anything from
carpool programs to bicycle racks to walking canes and foot balm — that
a local city-zoning administrator feels is a "viable alternative" to
driving…
"…The deal [says Yaroslavsky] is that there are a number of developers who see an opportunity here to make a killing."
Planners' Assumptions about Future Household Size and Car Usage May Prove Wrong
Northampton's Planning Department observes that average household size
in the city has fallen from 2.86 in 1980 to 2.14 in 2007. They believe
this trend will continue:
Average household size (people per dwelling unit) will continue to
decline. This will be driven by decreases in average family size, the
number of children and number of "traditional" families, and a
corresponding increase in the number of child-free families,
child-delayed families, and especially empty nesters and senior and
frail elderly populations.

(Northampton Schools Strategic Planning: Demographic Background and Sustainable Northampton, 2008, PDF, 803KB)
What if, however, much of the past trend was driven by the enormous debt-fueled consumption bubble that dates back to the 1980s? There are signs that this trend has stalled or is even unwinding…
While most of today's cars damage the environment and consume fossil
fuels, prying people away from them might not be so easy. A plausible
future is one where the cars remain but their technology is changed to
make them more benign. As we've written before, this future may not be
so far off:
New York Times: "Electric Cars for All! (No, Really This Time)"
Will households grow appreciably in size over the next 20 years? Will
the number of cars per capita stay the same? NSNA can't say for sure,
but neither can planners. Sustainable Northampton should be implemented
in a way that stays flexible in the face of this uncertainty.
Otherwise, there's a risk of making Northampton's "receiving areas" too
dense, leading to serious traffic and parking problems.