Flooding is already an issue for many residents around North Street. Kohl Construction's
proposed condo development
–with its 31 units, 66 parking spaces, and associated access roads–is likely to make things worse. The 5.49-acre project will replace a good portion of the neighborhood's water-absorbing woodland with impervious surfaces. Here are recent flooding incidents as reported to the Northampton Fire Department. To preserve the homeowners' privacy, we have omitted the street numbers.
5/27/03: Bradford Street
Responded for the water problem. Upon arrival we found the basement to have around 18″ of water in it. We secured the power to some equipment in the area and supplied the plumber with a pump and hose. Returned to service.
6/23/03: North Street
Respond above location vehicle stuck in rising water in underpass…
9/28/03: Bradford Street
Set-up pump for occupants with 8 inches of water in the basement.
9/28/03: Bradford Street
Assisted homeowner in pumping water from the basement
11/29/03: Bradford Street
Cold response above address for water in basement. Met occupant upon arrival, approx 1 foot water in basement. Remove water using pump and 1 3/4 hose. Existing sump pump in basement has bad switch or float problem, works intermittently… 6″ diameter hole in foundation where water is coming in (probably ground water due to excessive rain last night)…
9/18/04: Bradford Street
…water in the basement. Upon investigation found [that] the resident had 2 sump pumps in the basement already but were not working because the electrical breaker had been tripped…
2/21/05: Woodmont Road
…water problem in the basement. Upon arrival, there was approximately 8-12 inches of water in the basement. We corrected the problem with the owner's sump pump and also placed our portable pump in the basement to remove the water… We shut the gas off to the hot water heaters, because the water had extinguished the pilot lights…
10/8/05: Bradford Street
…flooded basement possibly affecting the circuit panel… Pumped down water to be able to turn on sump pump…
10/8/05: North Street
…multiple calls for flooding under trestle… black dodge avenger stuck in water under trestle… Report of street flooded
10/9/05: Bradford Street
…set up pump and returned to station.
10/9/05: Summer Street
…flooded basement, in excess of 16 inches
10/9/05: Elizabeth Street
…Water in basement
6/30/06: Bradford Street
Received a call for water in the basement. Upon arrival found about 15 inches of water in the basement…
10/1/06: Bradford Street
…water in the basement. Upon arrival, crew investigated problem and found approximately 2 inches of water in the basement. The homeowner's sump pumps were activated…
4/16/07: Woodmont Road
Supplied pump for resident to pump out water in basement. Water in basement is due to heavy rainfall.
See also:
Letters from Residents Describe Groundwater and Sewage Issues Around North Street
Northampton's Flood and Natural Hazard Mitigation Plan: Floyd Flood Damage Reported Behind View Avenue; Avoid Building on Filled Wetlands

In the map below, the red flag behind View Avenue (the topmost flag) indicates a flood damage report from Tropical Storm Floyd (1999). This area is in the eastern portion of Kohl Construction's
proposed condo site
, one of the more
elevated
portions. We infer that much of Kohl's property may be at risk from heavy rainfall events.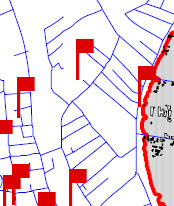 …In general, a core problem for infill in Northampton is to avoid placing large numbers of people and structures in low-lying areas downtown that may be at risk for flooding. As the plan states, "In recent years, heavy rainstorms have caused significant problems in more urbanized areas as increased development inhibits proper drainage and existing or poorly maintained water systems cannot handle increased stormwater runoff."
Topographical Map Shows How Kohl Condo Proposal Will Eat Into a Rare Stand of Mature Trees in Downtown
The following view dramatizes the considerable amount of impervious surface already in the area, especially around King Street and the Coca-Cola plant. Kohl's "infill" project will convert a significant amount of the remaining greenspace to impervious surface. The presence of
Millyard Brook
shows that this area serves as a natural sink for water in the neighborhood.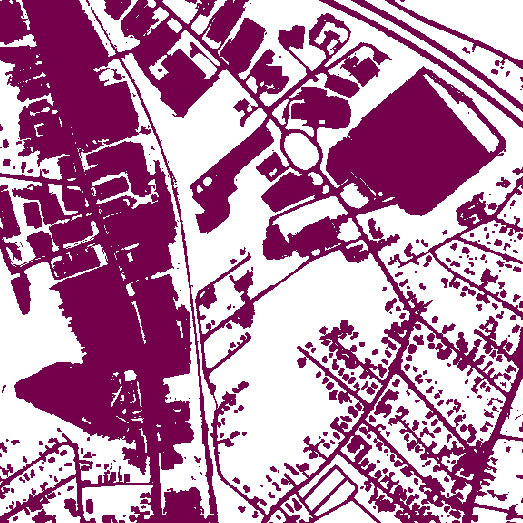 As Hurricane Threat Builds, Has Complacency Set In about Flooding?
Infill sounds great on paper, but when it means paving over green space in downtown Northampton, it runs contrary to sound flood mitigation practice. The reality is that much of the remaining green space in downtown is in low-lying areas that are most susceptible to flooding. It makes sense to go along with the collective wisdom of the past 350 years and leave them undeveloped.