Stormwater
, the Journal for Surface Water Quality Professionals, discusses the challenges of maintaining stormwater management systems (September 2007):
Jacobson [Jake Jacobson, general manager with Escondido, CA–based Downstream Services] saw some filters neglected so severely that they'd be completely clogged with plastic bags, soggy newspapers, and forgotten fast food containers. He'd see retention ponds overgrown with invasive species, trash littering their banks.

In the most extreme of these cases, the BMPs [stormwater best management practices] were no longer even moderately filtering the stormwater that ran through them…

The big problem…is that homeowners' associations, private businesses, and private property owners are often unprepared to maintain their stormwater BMPs. It's not that they don't want to keep the devices running well; they just don't know how. Fortunately, there are independent companies that will perform regular inspections and maintenance duties for these owners. And, in another positive development, more manufacturers of BMPs and municipal stormwater agencies are holding classes and workshops dealing with maintenance issues, giving owners the chance to learn how to properly care for their detention ponds and proprietary stormwater management devices…

It's little surprise that BMPs are not always maintained properly. Cleaning, inspecting, and maintaining stormwater BMPs is far from sexy or glamorous. It's just essential…

"In other parts of the country [outside of Florida] where the environmental movement is not as strong, it does get more difficult to motivate the homeowners' associations and developers to maintain their ponds and systems," [Gordon England, P.E., president of Stormwater Solutions Inc. in Cocoa Beach, FL] says…

Before a developer qualifies for a permit, the agreement with the [Lake County (IL) Stormwater Management Commission] must…point out an adequate source of funding to implement maintenance tasks in perpetuity…

"The number-one problem we saw in stormwater quality was that no one was maintaining anything," Moll [John Moll, chief executive officer of Lawrenceville, GA–based CrystalStream Technologies] notes. "We'd ask people, 'How do you clean these things?' And they had nothing. Now, it's gotten better. But there is still a lot of work to be done."

One of the problems, Moll says, is that manufacturers do a good job of designing BMPs. They don't, though, always consider how difficult it may be to clean their devices.

"Many of the manufacturers have never given a thought to cleaning," he says. "It's almost impossible to get into some of these devices to clean them properly—is now and always will be…"

[Some] owners assume they will stay in compliance simply by cleaning the BMPs—or scheduling a cleaning—every year or every six months. Problem is, some BMPs don't need that much cleaning, depending on the type of stormwater device and its location, Jacobson says, while others may need cleaning much more frequently.

As an example, Jacobson points to filters placed alongside a city greenbelt. City workers mow the greenbelt frequently and are out trimming trees often, too. That BMP is going to require frequent cleanings to handle all the trimmings and grass clippings, with the city perhaps needing to clean it every month…
See also:
Kohl Construction's proposed condo development off North Street calls for several detention ponds
(these plans show five detention ponds; we have heard that the pond in the lower left corner may have been dropped from the plan, along with the four units next to it, due to their proximity to a presumed vernal pool)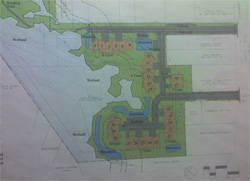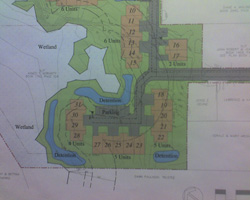 EPA: Do Stormwater Retention Ponds Contribute to Mosquito Problems?
Mosquito proliferation in stormwater ponds is a concern, especially when so many wet and dry ponds are in place and continue to be installed across the country. Many ponds are not properly maintained, particularly in cases where they are installed in subdivisions and other developments where the entity responsible for long-term maintenance is not clearly defined once the construction is complete…
Alex Ghiselin, Letter to Gazette: "Don't let development encroach on our wetlands"
The failure of the storm water system built as a part of the Northampton High School renovation six years ago illustrates why protecting wetlands is so important. Silt has filled the retention pond so there is no capacity to slow a storm surge which now flows unimpeded into the Mill River and contributes to flooding downstream. This accumulated silt also raised the water table and spills ground water into nearby basements…
Without maintenance, these [storm water mitigation] systems are part of the problem, not the solution…
Mike Kirby: Compensatory Wetland on Carlon Drive Not Working
There's no storage to speak of, no discharge, no filtering. As it is constructed now, grey water from the parking lots and the access street goes directly into the swamp and the Connecticut River.
Photos Show: Man-Made Lakes and Stormwater Retention Systems Are No Substitute for Natural Wetlands
Gazette: Erosion Near New Southampton Subdivision: Detention Basin Under Scrutiny
Floyd said a stormwater detention basin 300 feet from the top of the approximately 60-foot slope may be the cause of the blowout, which was reported by an abutter in May after heavy rainfall…
Gazette: "Should developers police own projects?"
In five years on the Conservation Commission, Chairman Robert Floyd said he has never seen a developer's compliance monitor admit to a violation in Southampton.
'It's amazing that everything runs so perfect,' he said, with evident sarcasm.
Gazette editorial: "Protecting the environment"
At the least, the state needs guidelines to prohibit conflicts of interest and limit the involvement of environmental consultants in other financial aspects of a development project… it might, in fact, be time for the state to assume a greater responsibility.