In what may be a preview of infill controversies in Northampton, many Berkeley residents are protesting plans to build a three-story rooming house with six units in the back yard of an existing single-family home in a residential neighborhood. The Berkeley Daily Planet tells the story:
"LeConte Neighbors Protest Proposed Project", 10/30/07
"A three-story accessory building does not exist in the neighborhood, and this would defy that historical trend and create a precedent to future builds," said LeConte resident Mark Leverette…

The LeConte Neighborhood Association voted against the proposed project–stating that it would tower over all the other houses in the neighborhood and add to inadequate off-street parking…
How to implement infill has been a hot topic in Berkeley for some time. Sharon Hudson gives her perspective in
"Filling in the Details of Berkeley's Infill Planning Award"
(8/8/03):
As noted recently in the Planet, the Berkeley Planning Department has received an infill development award from the American Planning Association (APA). How can this be? you ask. After all, Berkeley has recently been engulfed in a storm of land use controversy, a stack of lawsuits and appeals, and new Big Ugly Buildings strikingly similar to those that initiated the Neighborhood Preservation Ordinance in 1973…

Citizen input into long-range planning is excellent—which is why citizens are so astonished when their plans are entirely ignored by the current Planning Division. Developers sometimes work successfully with neighbors to create good and popular developments, but a long list of appeals, lawsuits, and despised large developments indicates a major problem. Staff routinely stonewalls, obfuscates, refuses to respond, and ignores neighborhood concerns. In contradiction to our own ordinances, staff makes no genuine attempt to facilitate cooperation between applicants and neighbors. Instead, propelled by their simplistic "smart growth" philosophy, staff encourages developers to build the largest possible projects over neighborhood objections…

The "performance-based zoning ordinance" means that instead of following any definitive rules, staff must merely convince five decision-makers, who are completely dependent on staff advice because they are too busy to read very much and are prohibited from talking with their constituents, that a development will not be "unreasonably detrimental"—whatever that means…

The Planning Department is well on its way to building a high-density downtown Berkeley that has almost no parking… could rapidly become a problem for our business community…
Hudson urges planners to consider quality of life in
"The Public Eye: Notes on NIMBYism Part IV: The NIMBY Manifesto"
, 8/22/06:
In 1990, 60 percent of New Yorkers said they would live somewhere else if they could, and in 2000, 70 percent of urbanites in Britain felt the same way. Many suburbanites commute hours every day just to have "a home, a bit of private space, and fresh air." But unfortunately, running off to suburbia or to the wilderness to find contentment is becoming environmentally and economically unviable.

We must draw people back into relatively compact urban areas. Showcase cities that have managed to attract would-be suburbanites into increased core densities have done so through neighborhood revitalization and by giving priority to quality of life, not density. This is the opposite of what Berkeley is doing…

Renters and other high-density residents are expected to do without adequate living space, greenspace, quiet, and cars; and without cars, they lack the freedom, pleasure, and mobility taken for granted by average Americans. This is ethically unacceptable…

We cannot let planners and developers decide what we will do with our lives. I never hear planners discussing psychological health and cultural values. Planners have a different approach. As one Berkeley planner told me, no matter what they build, eventually those who can or must tolerate the new, worse environment will replace those who can't. As this happens, resistance to further degradation lessens. But I reject this "race to the bottom." And with enough time, planners and developers could also train Americans to live like drones in anthills—but why let them?
Becky O'Malley, executive editor of the Daily Planet, observes that some kinds of infill risk depriving the community of valuable common spaces (
"Editorial: Southside Needs Public Space"
, 11/4/03):
The current push for infill development, if not properly managed, risks contributing to the privatization of public space. When the requirement that a building project incorporate a certain percentage of open space is translated into isolated rooftop gardens and gated courtyards, residents are encouraged to turn their backs on public life. At the same time that movements like the New Urbanism are preaching the gospel of building suburbs with shared common spaces, comfortable old streetcar suburbs like Berkeley are being pressured to convert their existing shared spaces into blocks of individual apartments, too small for families or voluntary affinity groups.

A remarkable book captured many of the best lessons learned in the sixties and seventies about the way building and urban design affect people. A Pattern Language, written by Berkeley resident Christopher Alexander and others, is still in print, and should be required reading for members of Berkeley's Planning Department, Planning Commission, Zoning Adjustment Board and City Council. Chapter 67, "Common Land," states unequivocally that "without common land no social system can survive." It further recommends that "common land must be provided separately, and with deliberation, as a social necessity, as vital as the streets." The authors guess that "the amount of common land needed in a neighborhood is on the order of 25 per cent of the land held privately." Our various planning decision makers should be made aware that most of Berkeley has a long way to go to meet this standard, and should at least be careful that their decisions don't make things any worse…

…the City of Berkeley's Zoning Adjustment Board is not responsible for providing the investors with maximal speculative gain. Their job is to protect the public interest by insisting on good urban design, with a decent provision for common space, in the congested Southside Area.
A
letter
to the Daily Planet from Tim Hansen suggests an alternative approach to reducing driving–bring jobs to where people live (3/14/06):
There was a time when I believed in transit villages and infill housing. Lately the luster has fallen off. They come with a price, they offer benefits. The balance is where it is all at. For a long time I have been supporting them as the only game in town. After all, bad tools are better than none. It is time we reconsider…

Infill Housing was [touted] as a method of stopping the spread of suburbia. Most agree that it has not worked simply because many people want their own home and yard instead of living in dense infill apartment complexes. Infill can be justified when a community has more jobs than housing and the housing created matches the needs of those who have to commute in. However, it might make much more sense to move the jobs to where the people are. Covering some grass in the suburbs to reduce commuting is probably much better for the environment than continuing to create ever increasing congestion.
See also:
Berkeley Downtown Area Plan Advisory Committee (DAPAC)
: "Environmental Sustainability"
Adopted by Subcommittee on September 11, 2007

Urban Forest.
Downtown Berkeley needs more trees. Trees have significant environmental, aesthetic, and economic benefits. Air quality authorities across the country are promoting planting programs for street trees and other trees in urban areas to reduce high temperatures absorbed by unshaded asphalt. Heat increases the ozone from automobile exhaust, which contributes to smog and respiratory ailments. Shaded streets are significantly cooler on summer days and help to reduce smog. Street trees will also play a major role in enhancing Downtown's character and charm, and giving it a special sense of place…
Stormwater.
Pollution from urban runoff (stormwater) is the greatest contributor to degraded water quality in the Bay Area. Increased urban runoff is a direct consequence of development and the associated loss of natural water retention and filtration through the installation of impervious surfaces. Berkeley does not meet the current, state-mandated water quality standards for urban runoff. Meanwhile, the state standards are themselves becoming even more stringent, suggesting that the City will be hard-pressed to comply with future regulations using its existing stormwater treatment approaches.
At the same time, engineered stormwater treatment systems, which were installed 50-60 years ago, are now failing throughout the Bay Area (and California) as they reach the end of their projected "lifespans." Berkeley's stormwater system repair costs were recently estimated to be in the range of $100 million or more.
Green strategies for stormwater treatment are being implemented throughout the Pacific Northwest, and in other parts of California, as a more cost-effective, and multi-benefit solution to the challenges outlined above. Specifically, green approaches include: reducing impermeable surfaces, adding vegetation and soils that can absorb and filter stormwater, and restoring natural waterways and/or creating natural drainage swales to complement the engineered stormwater treatment systems now in existence…
Maintain mature trees wherever possible. Permit the elimination of mature trees only in instances of disease or overriding public benefits, and only after opportunities for public comment. Establish standards and guidelines for replacement trees for instances when tree removal is unavoidable.
Gazette: "City planners under fire for decision making: Concern sparked by Hilton hotel project"
Just days after a national association praised city planners for helping create a Main Street of exceptional character, a group of city residents urged the City Council to create an ordinance calling for 'good practice in planning and municipal decision making.'
The request from a half dozen residents, including Board of Public Works Chairman Robert C. Reckman, comes against the backdrop of the planned and controversial Hilton Garden Inn project downtown. Critics of the hotel say the process that led to its approval was flawed. They say the public was not included in the decision making…
'We hope for a careful and open discussion of good practice,' Volkmann said. 'As elected representatives, our City Council, we need you to make this happen.'
Letter to Gazette: Planning Board too lax with developers
The New Draft Sustainable Northampton Plan: Balancing Compact Growth Against Taxes, Urban Greenspace, Homeowner Preferences; Come to the November 8 Hearing
Mishandled campaigns for density can trigger an intense political backlash. In suburban Portland, voters recalled a mayor and two council members over dense development and a neighborhood light-rail alignment (Farris, p.23). Farris, an Associate Professor in the Department of Planning and Landscape Architecture at Clemson University, recommends a smarter Smart Growth approach that takes into account the facts on the ground and citizen preferences:
…smart growth advocates should be realistic about the amount of development that will occur in built-up areas versus outlying open land as various stakeholders consider future policies. The U.S. population is expected to double in this century. It is hard to imagine that a large percentage of that growth will occur in existing built-up areas.

Smart growth advocates should focus especially on encouraging higher-density quality development on open peripheral land. The discussion in this article suggests that this is where most development will occur. Perhaps up to 20 percent can be infill in cities and the older suburbs (this would be a big increase from present patterns). The density of most cities is 5 to 10 times that of their suburbs (Downs 1994)…
Tailoring Infill and the New Urbanism to Northampton
Kunstler goes on to suggest we should learn from the human-scaled success of places like Nantucket, St. Augustine, Georgetown, Beacon Hill, Nob Hill, Alexandria, Charleston, Savannah, Annapolis, Princeton, Greenwich Village and Marblehead.
Kohl's Condo Proposal: Where Things Stand and What You Can Do
Kohl Construction proposes to build
31 condo units
[now reduced to 26] in the forest between North Street and the bike path. This development, with its access roads and 66 parking spaces, will claim 5.49 acres of land. These pictures show the area affected: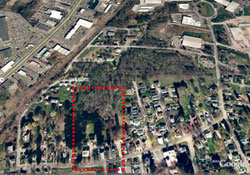 Topographical Map Shows How Kohl Condo Proposal Will Eat Into a Rare Stand of Mature Trees in Downtown
We have enlisted
OLIVER
, The MassGIS Online Data Viewer, to show just how rare and precious the woods behind North Street are in downtown Northampton. These woods are part of Kohl Construction's proposed 5.49 acre condo site…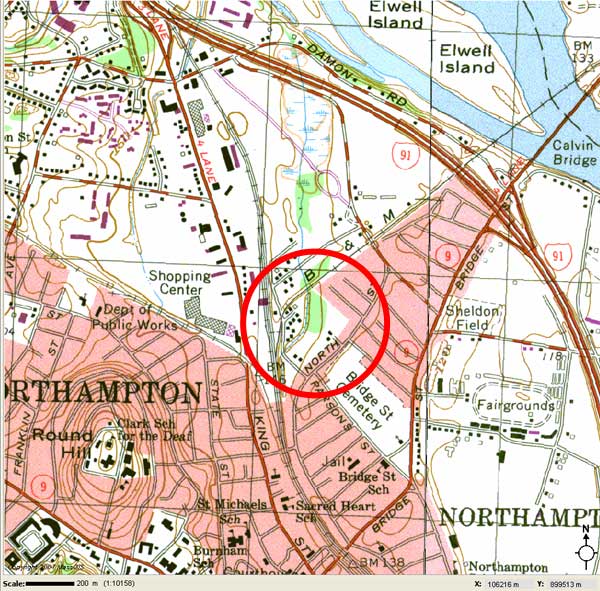 Photo Essay: The Forest Behind View Avenue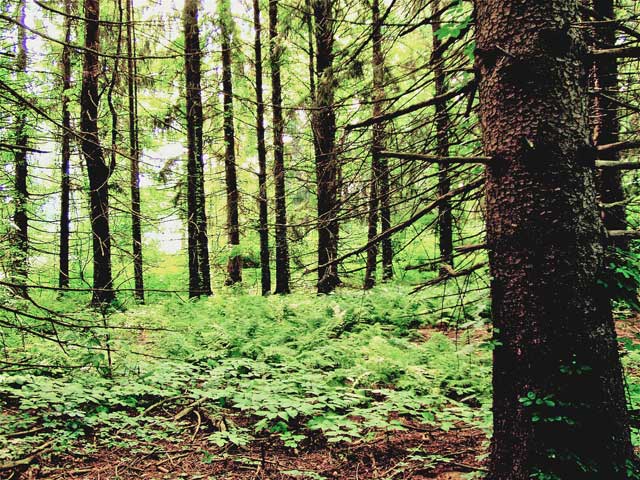 Downstreet.net: Despite Tree City USA Honor Northampton Planting Lags
…developers, both residential and commercial, often regard landscaping and tree requirements as an unwarranted expense, not as a benefit to the quality of life to the city's inhabitants…
Gazette: "Trees add to city's appearance, well being"
Boston Urban Forest Coalition Aims to Plant 100,000 Trees