Writing in Regulation magazine in Fall 2001, Randal O'Toole maintains that Oregon's well-intended Smart Growth policies have had bad side effects. Mr. O'Toole is senior economist for the Oregon-based Thoreau Institute, which advocates environmental protection through incentives rather than government regulation. His analysis is available as a
PDF
.
"The anti-sprawl movement," O'Toole writes, "came into prominence in 1973 when George Dantzig and Thomas Saaty published their book
Compact City: A Plan for a Livable Urban Environment
." Although suburban living appeals to homeowners with lower land costs, back yards, open space and less congestion, a large movement of planners nonetheless embarked on a campaign to "mandate much higher population densities, more multi-family dwellings, and severe limits on auto driving." O'Toole continues…
The Folly of "Smart Growth"

…One of the nation's most aggressive smart growth efforts has been undertaken in Oregon…

Metro [Portland] wrote a plan that called for expanding the urban-growth boundary by no more than six percent over the fifty-year period. That meant that the population density inside the boundary would increase by 70 percent…

To meet the targets, municipalities were required to rezone existing neighborhoods or vacant lands to higher densities. The new minimum density zoning codes specified, for example, that the owner of a vacant quarter-acre lot in an area zoned for 24-unit-per-acre apartments could not build a single home — or even a duplex — on the lot. Instead, the owner would be required to build at least a six-unit complex, or else nothing could be built on the land at all.

The region's cities and counties encountered major opposition when they tried to rezone existing neighborhoods to higher densities. One Portland suburb recalled its mayor and two members of its city council from office after they endorsed higher densities over local opposition. To meet their targets, planners turned to rezoning farms and other open spaces as high-density areas. One suburban county rezoned a golf course for 1,100 new housing units and 200,000 square feet of office space. Ten thousand acres of prime farmland inside the urban-growth boundary were also targeted for development.

…despite the shortage of single-family housing, Portland residents have failed to embrace Metro's high-density developments…

Although the smart growth policies — high-density developments, light-rail transit, limited freeway expansions, traffic calming, and parking limits — are supposed to reduce per capita driving by 10 percent, Metro's own planners say that they will fail to meet that goal…

Even with a five- or 10-percent reduction in per capita driving, the projected 80-percent increase in population density assures that Metro's plan will greatly increase Portland-area congestion. Metro predicts that the amount of time Portland-area residents waste sitting in traffic will quintuple by 2020…

Another argument that smart growth advocates often use is that cities cannot afford to subsidize the sewers, water, and other infrastructure needed to support low-density suburbs. In fact, as noted by Harvard researchers Alan Altshuler and José Gómez-Ibáñez, it costs far less to provide infrastructure to new developments than it does to augment the infrastructure of existing areas to support the higher densities demanded by smart growth…

People who are disabled, too old, too young, too poor, or otherwise unable to drive have long been the major users of public transit… [I]nstead of building high-cost, high-capacity rail lines and then attempting to redesign cities to provide ridership, planners should focus on designing transit systems systems to serve low-density urban areas. That means using low-capacity jitneys, shuttle vans, and demand-responsive transit systems. It also means demonopolizing public transit, opening the door for private providers of transportation services…

Sidebar: "The Fruits of Smart Growth"
…Open space in valuable locations such as people's backyards, urban parks, and golf courses will be transferred to less valuable locations such as private rural farms that are unavailable for recreation.
See also:
Randal O'Toole: "Debunking Portland: The City That Doesn't Work"
(PDF, Policy Analysis, 7/9/07)
When judged by the results rather than the intentions, the costs of Portland's planning far outweigh the benefits. Planners made housing unaffordable to force more people to live in multifamily housing or in homes on tiny lots. They allowed congestion to increase to near-gridlock levels to force more people to ride the region's expensive rail transit lines. They diverted billions of dollars of taxes from schools, fire, public health, and other essential services to subsidize the construction of transit and high-density housing projects.
Those high costs have not produced the utopia planners promised. Far from curbing sprawl, high housing prices led tens of thousands of families to move to Vancouver, Washington, and other cities outside the region's authority. Far from reducing driving, rail transit has actually reduced the share of travel using transit from what it was in 1980. And developers have found that so-called transit-oriented developments only work when they include plenty of parking.
Randal O'Toole: "Dense Thinkers"
(Reason Magazine, January 1999)
The "decline" of cities that officials worry so much about is due to the fact that cars, telephones, and electricity make it possible for people to live in lower densities–and most choose to do so.
Fretting over urban "decline" is misguided in another sense too. Downtown interests, argues Joel Garreau in the brilliant
Edge City
(1991), "believe settlement patterns to be a zero-sum game": Any gain in the suburbs represents a loss for downtown. Yet Garreau notes that even as suburbs have boomed, American "downtowns have been going through their most striking revivals of this century. From coast to coast…downtowns are flourishing."
To be sure, most recent downtown growth has been in the areas of arts and entertainment. This fails to impress downtown traditionalists, who still think downtowns should be the main retail and commercial centers of a city. So New Urbanist prescriptions, such as limits on new shopping malls and parking restrictions in existing malls, are appealing to downtown businesses. If new stores can't open in the suburbs, goes this line of thought, they'll have to set up shop downtown.
Such zero-sum thinking undergirds what is perhaps
the
defining characteristic of the New Urbanism: an undying reverence for light-rail networks. Central city officials and downtown interests know that, if transportation dollars go into highways, they will be spent in the suburbs, where most growth is taking place. But if those funds are spent on a rail transit system, the vast majority will be spent in the central city because most, if not all, rail lines will radiate from a downtown…
The best prescription for the central cities is to let them depopulate as people move out to the suburbs. As their densities fall, they will become more attractive places to live. This has happened in Cleveland, the former national joke which has become one of the more livable cities in the Midwest.
"Sprawl and Smart Growth"
(PDF) by Jane S. Shaw
Senior Associate, Political Economy Research Center, Bozeman, MT
Sprawl reflects prosperity and the decisions of many people who seek large homes on large lots in areas with low crime, good schools, and space for ball fields. As Gregg Easterbrook wrote in the New Republic, "Sprawl is caused by affluence and population growth, and which of these, exactly, do we propose to prohibit?"
…One of the goals of the "smart growth" platform is to increase population density. The idea is that if people live close to one another and near shops and jobs they will do more walking and biking. In fact, however, the more people there are in an area, the greater the traffic congestion because most people continue to use their cars.
Randal O'Toole, head of the Thoreau Institute, points out that according to Census Bureau surveys, 90 percent of commuters typically drive to work. Only when densities reach 5,000 per square mile (in cities such as Seattle, Chicago, and Boston) does the percentage of drivers start to go down from this high level…
…the net result of adding roads is less congestion. Studies show that metropolitan areas that have built more
streets have seen less increase in congestion than cities that haven't added as many…
Developers [in the suburbs] should pay for the infrastructure for which they are directly responsible, but they should not be forced to pay extra simply because people who already live there can force costs on newcomers in the form of additional new taxes…
Metro Portland's Long Experience with Smart Growth: A Cautionary Tale
Expected home price inflation was found to be greater than expected in most of the states that embraced smart growth, including Oregon, Washington, Tennessee, Kentucky, Pennsylvania, and Colorado…
Restrictive growth policies actually caused increased suburbanization in Portland, which now has the 10th greatest suburbanization rate in U.S. As home prices went up in the site-restricted metropolitan area, families moved further out to find affordable housing…
There is very little evidence that other aspects of restricted growth policies have reduced households' costs in other areas to offset the increased costs of housing. In economic terms, it is safe to say that restricted growth policies are not family-friendly…
Small cities surrounded by developable land, like Eugene and Salem, now have housing prices that rival those in San Francisco Bay Area communities, when the purchasing power of local incomes is considered…
Oregon actually has a tremendous amount of available land… Oregon has apparently successfully engineered a shortage of sites in a state with plentiful land…
Bozeman Daily Chronicle: "Bozeman's Growing Pains" (9/7/05)
In 1992, Portland's regional planning authority, Metro, began doing nearly everything smart growth advocates propose. They continued to uphold a 1973 urban growth boundary, rezoned neighborhoods to double the density, and diverted funds from new road construction to light-rail transit.
What happened? Portland, once one of the nation's most affordable housing regions, is now one of the most expensive. "Leapfrog" suburbs are springing up outside the urban growth boundary. Taxpayers are forced to subsidize high-density housing and public transportation that is used by only 2 to 5 percent of residents. Open space for recreation is at risk after 10,000 acres of parks, fields, and golf courses were rezoned for infill development.
Mary Riddel, "A Dynamic Approach to Estimating Hedonic Prices for Environmental Goods: An Application to Open Space Purchases"
One important outcome of the Boulder [Colorado] open space purchase program has been leapfrog development of areas outside the greenbelt. Many critics of the program maintain that development was not thwarted, but rather relocated. Our [research] results support this conclusion. In fact, commercial and residential expansion occurred because of the program.
Planetizen: "Trouble in Smart Growth's Nirvana" (6/30/02)
The 2000 Census shows that, as expected, Portland became more dense. What was not expected was that all-suburban Phoenix would become more dense than Portland…

Despite the claims of the transit-media complex, Portland's anti-highway policies are failing. The 2000 Census shows that transit's work trip market share remains 20 percent below the 1980 Census rate, which preceded opening of the first light rail line. And, Portland's highway congestion has become the worst of any metropolitan area of its size…

Densification is no more popular in Portland's neighborhoods than it is in Berkeley, Boulder or Bozeman. As a result, a recent citizen's initiative sought to limit Metro's (the land use regulation agency) densification power…
New York Times: "Vibrant Cities Find One Thing Missing: Children"
After interviewing 300 parents who had left the city, researchers at Portland State found that high housing costs and a desire for space were the top reasons…
The New Draft Sustainable Northampton Plan: Balancing Compact Growth Against Taxes, Urban Greenspace, Homeowner Preferences
An objective of the Plan is to "implement ideas for maximizing density on small lots". (p.16) It calls for the City to "consider amending zero lot line single family home to eliminate 30′ side yard setback". (p.69) It suggests the zoning laws be changed to "encourage single family homes in Urban Residential zoning districts by significantly reducing minimum frontage/lot width, for projects meeting form-based coding". (p. 71)
These changes have the potential to reduce or eliminate the yards that separate homes from each other and from streets. This loss of greenspace may well entail a loss of privacy, attractiveness, flood protection (through an increase in impervious surfaces), and an increase in the heat island effect, noise and congestion. If fewer trees are shading homes, cooling costs are likely to rise…
The Plan calls for high and medium density housing in downtown and the "more densely developed areas", 12-65 units per acre. (p.13) If zoning rules are changed to facilitate this, it could mean that a parcel of land that represented one buildable lot could come to represent two lots or more. When land can be developed more intensely, its assessed value might rise. If you want to sell, you might be thrilled. If you don't, however, the main impact on you might be a larger real estate tax bill. As the Plan acknowledges, "increased property values are desirable but not the increased property tax and decreased affordability that comes with increased value." (p.17)
…The best plans will fail if they don't appeal to the people. A 1993 Fannie Mae poll showed that "86 percent of American households believed that owning a home was better than renting…and 73 percent preferred a single-family detached home with a yard" (cited in J. Terrence Farris,
"The Barriers to Using Urban Infill Development to Achieve Smart Growth"
, 2001, PDF). The Sustainable Northampton Plan acknowledges this could be an issue (p.14), but provides no examples of where American citizens have been persuaded to embrace the denser housing modes it calls for…
It's true that the cost of homes has outpaced incomes in Northampton in recent years. However, much of this is due to a nationwide credit bubble that is
deflating as we speak
. It would be a shame to irrevocably give up precious urban greenspace to address an unusual and transient economic condition.
Letter to Gazette: "Increased housing density will hurt Northampton"
…The Northampton we all wish to sustain is the Northampton that we have now…
Pictures of Northampton Streets at Various Densities
Berkeley, California: Cautions on Infill
Citizen input into long-range planning is excellent—which is why citizens are so astonished when their plans are entirely ignored by the current Plannin
g Division. Developers sometimes work successfully with neighbors to create good and popular developments, but a long list of appeals, lawsuits, and despised large developments indicates a major problem. Staff routinely stonewalls, obfuscates, refuses to respond, and ignores neighborhood concerns. In contradiction to our own ordinances, staff makes no genuine attempt to facilitate cooperation between applicants and neighbors. Instead, propelled by their simplistic "smart growth" philosophy, staff encourages developers to build the largest possible projects over neighborhood objections…
In 1990, 60 percent of New Yorkers said they would live somewhere else if they could, and in 2000, 70 percent of urbanites in Britain felt the same way. Many suburbanites commute hours every day just to have "a home, a bit of private space, and fresh air."
Topographical Map Shows How Kohl Condo Proposal Will Eat Into a Rare Stand of Mature Trees in Downtown
We have enlisted
OLIVER
, The MassGIS Online Data Viewer, to show just how rare and precious the woods behind North Street are in downtown Northampton. These woods are part of Kohl Construction's proposed 5.49 acre condo site…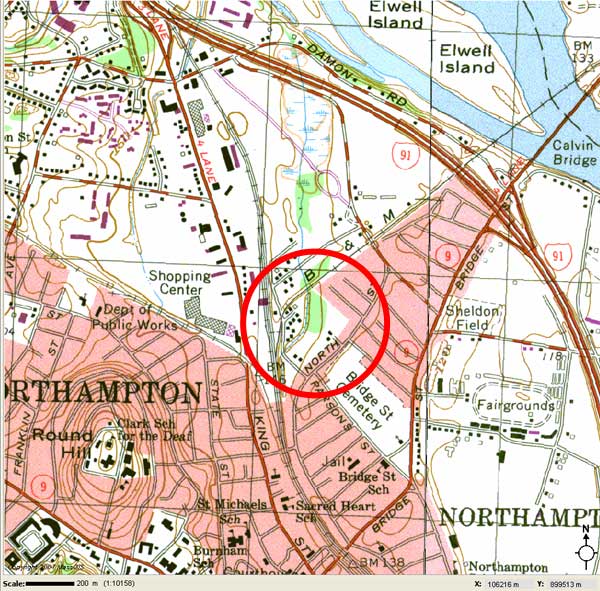 Photo Essay: The Forest Behind View Avenue