Despite the uncertainty of titles within Kohl Construction's property off North Street, Northampton's Conservation Commission voted tonight to approve a Vernal Pool Assessment Protocol for this property. Between March 15 and June 1, LEC Environmental Consultants (LEC), a firm hired by Kohl, will establish monitoring stations around the probable vernal pool area and visit the site twice a week.
The Conservation Commission's primary goal is to establish a boundary for the vernal pools on the site. Paul Wetzel, chair of the commission, voiced a particular concern that "fingers" of water off of larger pools be properly accounted for.
See also:
Northampton Residents Sue Developer Douglas Kohl to Resolve Questions of Title and Rights-of-Way
Conservation Commission Votes to Delay Vernal Pool Delineation on Kohl Property to Spring 2008 (8/23/07)
Report on Kohl's Property by Alec MacLeod, Environmental Scientist: Indications of Vernal Pool Habitat (8/22/07)
Northampton Redoubt: Videos and photographs of a walking tour of North Street Northampton's Mill Yard Brook and vernal pools
Northampton Circulates Revised Wetlands Ordinance Ahead of October 4 Vote
[The information below is taken from Chapter 337 of the Northampton municipal code, available online here.]
g. Vernal Pool Resource Area shown in the table below (See also definition.)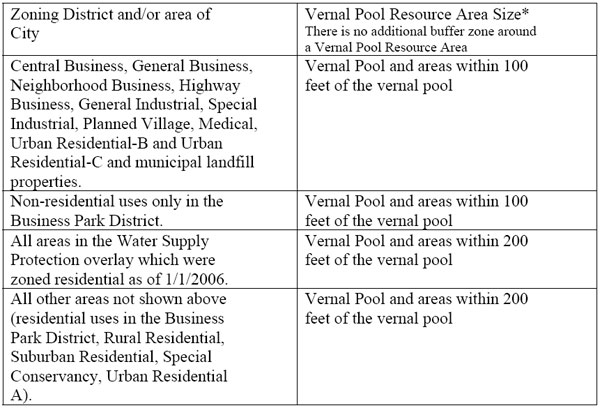 …CERTIFIED VERNAL POOL – All certified vernal pools plotted by the Massachusetts Division of Fisheries and Wildlife Natural Heritage and Endangered Species Program's "Estimated Habitats of Rare Wetlands Wildlife and Certified Vernal Pools Map." The Natural Heritage and Endangered Species Program plots the geographic location of certified vernal pools; however, applicants are required to delineate the boundary of the certified vernal pool, which shall be reviewed by the Northampton Conservation Commission…
PRESUMED VERNAL POOL — All confined basin depressions which, at least in most years, hold water for a minimum of two continuous months during the spring and/or summer, and are free of adult fish populations, and are at least 1,000 square feet in area. A presumed vernal pool shall no longer be considered as a presumed vernal pool if rebutted under § 337-10…
VERNAL POOL RESOURCE AREA — Includes the certified vernal pool, presumed vernal pool and an area, as described in the table in § 337-2, extending laterally from the mean annual high water line defining the depression, but shall not include existing lawns, gardens, and landscaped or developed areas. There is no additional buffer zone around a vernal pool resource area. Presumed vernal pools shall be protected as a vernal pool resource area until and unless the presumption is rebutted under § 337-10…
Work within vernal pool resource area.
(1) The City of Northampton Conservation Commission may issue an order of conditions for the construction, rehabilitation and maintenance of linear systems within the vernal pool resource area, but not within the vernal pool (although no such project may be permitted which will have any adverse effect on specified habitat sites of rare vertebrate or invertebrate species). Linear systems include, but are not limited to: footpaths, bikepaths, pipelines, and conduits for the transmission of utilities (water, fuel, sewage, and power). Evaluation of such projects shall be based on the applicant's ability to avoid, minimize, and mitigate disturbance to the resource area. With the exception of existing linear systems, the applicant shall avoid disturbance in the resource area. The applicant must prove to the Conservation Commission, beyond a reasonable doubt, that avoidance is not possible. If avoidance is not possible, the applicant must provide documentation that any adverse impacts from the work will be minimized and that the design specifications are commensurate with the projected use and are compatible with the character of the vernal pool resource area. In the exercise of this discretion, the issuing authority shall consider the magnitude of the alteration and the significance of the project site to the interests identified in § 337-1 of the City of Northampton Wetlands Ordinance, the availability of reasonable alternatives to the proposed activity, the extent to which adverse impacts are minimized, and the extent to which mitigation measures, such as resource area replication, habitat restoration, and open space preservation, are provided to contribute to the protection of the interests identified in § 337-1 of the City of Northampton Wetlands Ordinance…