Randal O'Toole of the Thoreau Institute most kindly assembled a photo tour of Portland, Oregon for us. For a generation Portland has been a stronghold of Smart Growth planning. Mr. O'Toole provides the following narrative:
What we see happening is
that planners are never satisfied — let them densify you a little
bit, and they keep coming back for higher and higher densities.
Portland has zoned many formerly single-family neighborhoods for
multifamily.
In neighborhoods that are still zoned for single family, Portland has
reduced the minimum lot size. One result is the "skinny house." This
is not a row house but a 15-foot-wide single-family detached home on
a 25-foot-wide lot. Portland held a competition to design innovative
skinny houses, but in actual practice they all look almost exactly
alike.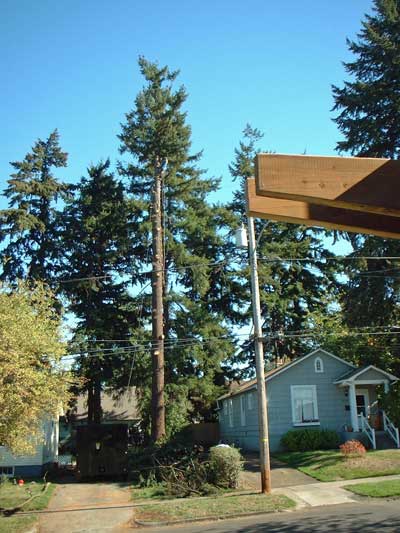 76th before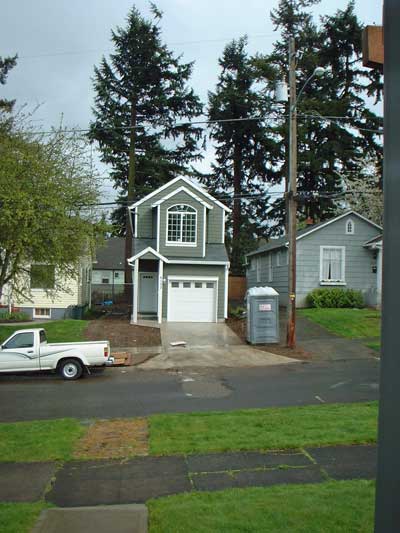 76th after
In 76th before and 76th after you see a skinny house built in the
empty space between two other houses. In NE69th before you see a nice
ranch house built on a 100×100 lot.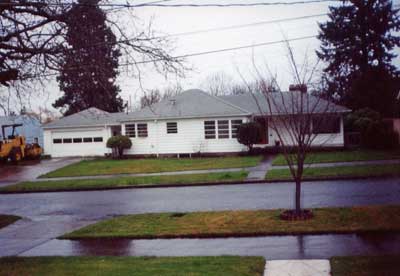 NE69th before
In about 2002, a developer bought
this house for about $250,000, tore it down, and built the four
skinny houses you see in Fourhouses.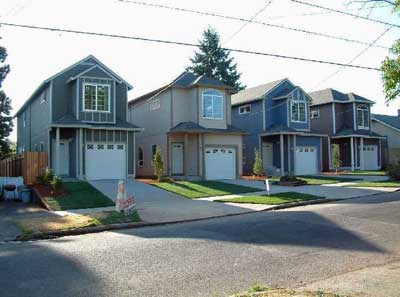 Fourhouses
Each house sold for almost as
much as the original house. By 2006, skinny houses were selling for
$270,000, though prices have dropped to around $250,000 since then.
Skinny houses are denser than regular single-family homes, but not
dense enough for multi-family areas. In the late 1990s, they began
encouraging row houses. Sellwood rowhouses illustrates six rowhouses
built in Portland's Sellwood neighborhood where previously there were
just two or three single-family homes.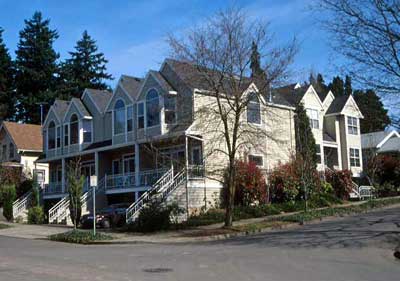 Sellwood rowhouses
Rowhouses 1 shows some more
rowhouses in a former single-family neighborhood in east Portland.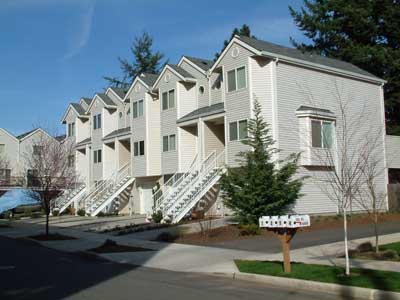 Rowhouses 1
But then planners decided even rowhouses weren't dense enough, so
they began pushing for four- and five-story multifamily. Russellville
shows a particularly ugly five-story complex that has become a center
for much crime.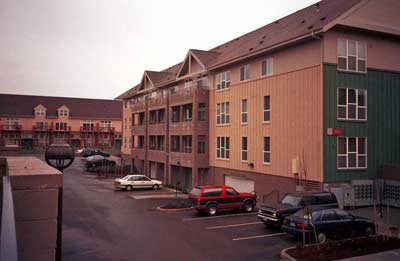 Russellville
This was built on a former school yard that was sold
to developers at half price. DMV 11 and DMV 21 are two views of a
somewhat more elegant complex built on former state land that was
sold to developers at below-market prices and which received a total
of $13 million in subsidies for the $31 million development.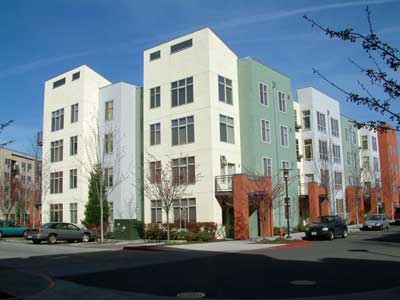 DMV 11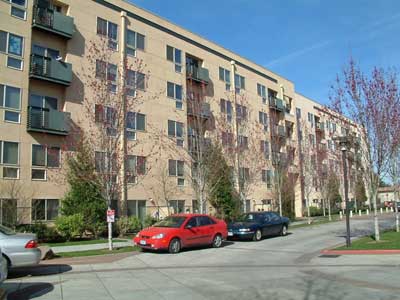 DMV 21
For your amusement, Glisen 11 and Glisen 21 is a strange-looking house,
possibly multifamily, right across the street from the DMV
development. The street on the long side of the house is actually a
freeway on ramp. Both this house and the DMV development suffer a lot
of freeway noise.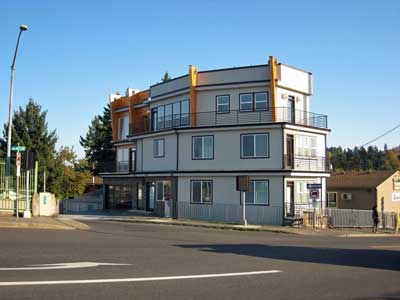 Glisen 11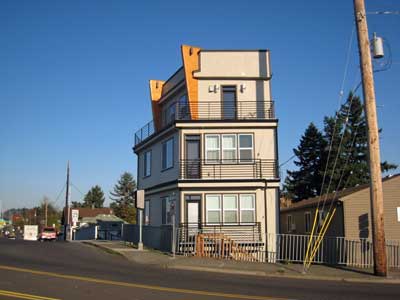 Glisen 21
Of course, four- to five-story isn't dense enough either, so now
Portland is subsidizing high-rise condos. South Waterfront shows some
high rises (both offices and condos) whose developers are receiving
close to $300 million in subsidies. This was not previously a
residential area, but the high rises did block the views of a nearby
residential area, which made those property owners very angry.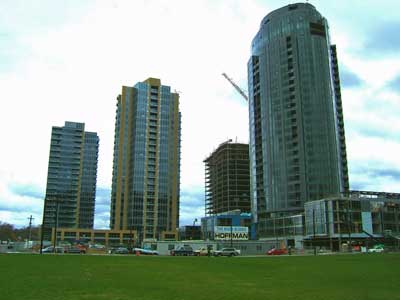 South Waterfront
See also:
Photo Essay: Portland Suburb Successfully Staves Off Densification
Oak Grove residents protested loudly enough that the Clackamas County
Commission asked Metro to take Oak Grove off of its list of
neighborhoods to be densified. Metro did so. But dozens of other
neighborhoods weren't so lucky…
The problem is that people don't want to live in high densities,
especially when there are planner-induced parking shortages. A state
regulation requires Portland to reduce its parking by 10 percent, so
new developments are often built with limited parking. Since developers
won't build what they can't sell, planners have to subsidize them to
get them to build high-density developments…
Randal O'Toole: "The Folly of 'Smart Growth'"
To meet the targets, municipalities were required to rezone existing
neighborhoods or vacant lands to higher densities. The new minimum
density zoning codes specified, for example, that the owner of a vacant
quarter-acre lot in an area zoned for 24-unit-per-acre apartments could
not build a single home — or even a duplex — on the lot. Instead, the
owner would be required to build at least a six-unit complex, or else
nothing could be built on the land at all.
LA Weekly: "City Hall's 'Density Hawks' Are Changing L.A.'s DNA
"…The deal [says Yaroslavsky] is that there are a number of developers who see an opportunity here to make a killing."
…density…breeds
much more crime — something "density hawks" never mention. A report by
the National Center for Policy Analysis says crime rates in dense
cities outpace by up to 20 percent the crime in more sprawling,
spacious cities. So-called "smart growth" Portland and Seattle lead the
pack in property crime…
LA Weekly: "What's Smart About Smart Growth?"
Smart-growth enthusiasts believe motorists will become so fed up
sitting in traffic that they will abandon their cars for a substandard
transit system…
Advocates of smart growth are making a second
risky bet, arguing that once someone makes a home in a condo or a
multistory apartment building, he or she will work nearby — reducing
the number of cars on traffic-choked streets…
Woo [Mike Woo, a city planning commissioner] adds another wrinkle.
Downtown Los Angeles, perhaps the one place in the city that
accommodated density seamlessly over the last decade, has a lot of
residents driving to work — frequently outside downtown. In other
words, people changed their behavior, as smart-growth theorists had
hoped, by moving into multistory buildings. Then they found jobs
elsewhere, creating yet another traffic problem, Woo says…
[Pasadena
resident Barbara Hamilton] can't imagine living in the apartments — at
$2,030 for a one-bedroom — built above the railroad tracks. "They say
the windows insulate them from the noise," she declares. "But wouldn't
you want to open the windows now and then?"
Berkeley, California: Cautions on Infill
The Planning Department is well on its way to building a high-density
downtown Berkeley that has almost no parking… could rapidly become a
problem for our business community…
Renters and other high-density residents are expected to do without
adequate living space, greenspace, quiet, and cars; and without cars,
they lack the freedom, pleasure, and mobility taken for granted by
average Americans. This is ethically unacceptable…
Scrape-Off Redevelopments Provoke Backlash in Denver Neighborhoods
The development potential threatens the existing neighborhood character
as envisioned in Blueprint Denver, said Deirdre Oss, a senior city
planner…
Vancouver Sun: "Call it EcoDensity or EcoCity –either way it's a hard sell"
…A group called Neighbourhoods for a Sustainable Vancouver —
which itself has said it is in favour of densification, but only if
properly planned — has signed up almost 30 community organizations in
every neighbourhood in the city to oppose "the city's plan to densify
neighbourhoods without plans to ensure adequate safeguards or
amenities."
…Why, I asked, would they expect anybody —
anybody! — to jeopardize the existing livable village reality with
wide-ranging social engineering that appears to have been formulated on
the back of a napkin?
"The key issue," [former Vancouver mayor
Mike] Harcourt, replied, "is, how do we maintain that sense of intimacy
[the village model affords] with a growing densification?"
Good question. I listened closely, but I'm pretty sure I didn't hear an answer…
Smart Growth Winners (Rich People) and Losers (Other People)
Smart growth is great if you are an upscale professional, preferably
without children, who can score a relatively large apartment fairly
close to work. It's a lot less fun for the majority trying to cram your
family into four or five rooms…
New York Times: "Vibrant Cities Find One Thing Missing: Children"
Officials say that the very things that attract people who revitalize a
city – dense vertical housing, fashionable restaurants and shops and
mass transit that makes a car unnecessary – are driving out children by
making the neighborhoods too expensive for young families…
Our Column in Today's Gazette: The Hidden Risks of 'Smart Growth'
With space restricted for building, home prices soared.
By 1999, the Portland region was the eighth-least affordable housing
market in America, according to the National Association of Home
Builders. Pressures for development threaten the remaining greenspace
within the boundary: 10,000 acres of parks, fields and golf courses
have been rezoned for infill.
Pictures of Northampton Streets at Various Densities
Tailoring Infill and the New Urbanism to Northampton
…we
should learn from the human-scaled success of places like Nantucket,
St. Augustine, Georgetown, Beacon Hill, Nob Hill, Alexandria,
Charleston, Savannah, Annapolis, Princeton, Greenwich Village and
Marblehead.