Northwest 23rd Avenue in Portland, Oregon sounds a bit like Main Street in Northampton. It is "lined with classy shops and restaurants" that attract visitors from a wide area. To be sure, these are both pleasant destinations. We are glad to have them around. However, they are not sufficient for meeting all the core needs of most residents with any degree of efficiency. Cars and big box stores currently offer a compelling value proposition that must be acknowledged. If planners want to do away with them, they need to present alternatives that will be cost-effective and time-efficient for people with ordinary incomes.
Ironically, for all its walkability, Northwest 23rd Avenue and its attractions contribute to traffic congestion in the area, since its boutiques strive to draw shoppers from beyond the immediate neighborhood in order to survive.
Randal O'Toole of the Thoreau Institute provides more details…
Portland's Northwest 23rd Avenue is lined with classy shops and restaurants. When residents of the Portland area ask planners for an example of their vision of a high-density, mixed-use area, they are often told to look at Northwest 23rd, where residents have supposedly learned "to walk and ride transit rather than drive."

As shown on the Thoreau Institute's Oak Grove tour, however, the real Northwest 23rd is jammed with cars throughout the day. This is because local residents are not numerous enough to support the shops on the street, so those shops have worked hard to attract people from throughout the area. Nearly all of those people drive to get there.

Recently released census data reveal that the densest census tract in Oregon is located right next to Northwest 23rd. This census tract has more than 23,500 people per square mile, which is the average density of New York City and nearly half the density of Manhattan. Yet even this high density is not enough by itself to support a street of shops and cafes.

Nor do the people who live in this census tract rely solely on transit, bicycles, and shoe leather for transport. Indeed, one of the major problems in the area is lack of parking, since shop customers frequently park in front of residences, and the residents have no place to park their own cars.

In fact, the president of Neighbors West Northwest, the local neighborhood association, told the Oregonian that the traffic and parking problems that accompany the area's high density have made "the livability worse than it was" before the area became trendy.

Claims that Northwest 23rd demonstrates that density will increase livability or reduce congestion are thus simply lies. But the most subtle lie about Northwest 23rd is that planners had anything to do with its development. Supposedly, Portland's decision to build light rail instead of freeways has led to an urban renaissance.

In fact, most of Northwest 23rd is closer to the on-ramps for Interstate 405 than it is to a light-rail line. Far from being the result of urban planning, Northwest 23rd is primarily the vision of local entrepreneur Richard Singer.

As detailed in an article in the March 25 Oregonian, Singer began developing properties on Northwest 23rd in 1982. He had a vision of a street of one-of-a-kind shops whose personalities would attract customers from all over the Portland area. He and his family own a dozen properties on the avenue, and he has helped develop more than a dozen properties for other investors.

His developments emphasized unique stores and restaurants with such names as Duck Duck Goose, Souleiado, Moonstruck, and 3 More Monkeys. He would leave spaces unrented rather than let national chains such as 7-Eleven or Subway move in. Those national chains that are on the avenue, such as Urban Outfitters and Restoration Hardware, have no other outlets in the Portland area. As a result, says one retailing expert, "There's more awesome one-of-a-kind stores on just this one street than most whole cities have."

In short, Northwest 23rd Avenue was designed to serve the entire Portland area, not just the local neighborhood. Some of the local residents resent this, feeling that the avenue is more of a regional mall and their streets the mall's parking lot. But many of the residents moved to the area because they like the to be near the shops.

Significantly, the only mixed-use buildings that Singer owns or manages were mixed use before Singer acquired them. Although many of his developments could support upper floors of apartments, he stayed out of that market. His brother Don Singer points out that all but one of the new apartments built in the central city in the last decade required tax breaks or other subsidies. "If it was profitable," he says, "we would have done it."

Portland and Metro planners have visions of creating scores of Northwest 23rds throughout the Portland area. But how can the region support thousands of unique shops and boutiques? And even if it can, how will that reduce the amount of driving people do?

On the other hand, if the goal is to create streets of shops that primarily serve the local pedestrian neighborhood, then Northwest 23rd is not the model. In fact, outside of New York City and possibly a few other pre-auto cities such as Boston and San Francisco, there is no model for such a street anywhere in the U.S. It is simply not possible for a street of shops to provide the same services, goods, and value provided by giant Safeway or Kroger supermarkets, Office Depots, Wal-Marts, and other growing categories of big-box or warehouse stores…
See also:
Portland Suburb Successfully Staves Off Densification
Planners wanted to "revitalize" downtown by allowing four- to
five-story apartments with retail and commercial shops on the ground
floors. We asked planners what part of the Portland area looked most
like their vision for the future of Oak Grove. They said, "Northwest
23rd Avenue, where people are learning to walk and ride transit more."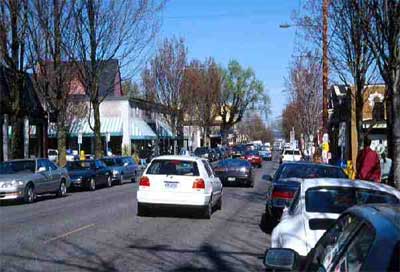 Northwest
23rd Avenue has many popular shops and boutiques. Hobson Johnson, local
real estate consultant, says that people in the area are learning to
walk more, mainly because they can't find parking within a few blocks
of their destinations.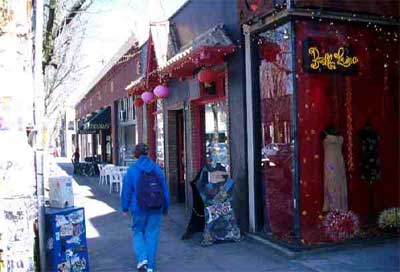 Northwest
23rd has many cute shops. But these shops cannot survive on walk-in
business alone. So they work to attract people from all over the city.
Of course, most of those people drive, creating huge traffic jams and
parking problems.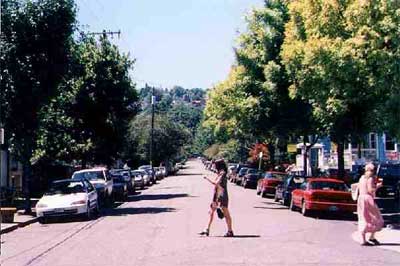 The
real estate consultant added that parking shortages created major
conflicts between businesses and residents of side streets, such as the
one shown here. Residents often found that they were unable to park
near their homes. Businesses insisted they needed parking on the side
streets or they would lose their customers.
Portland, Oregon Voters Sour on Densification Over Time
Densification involves tradeoffs: less urban greenspace, less parking
per person, more traffic congestion, hotter urban temperatures, and
others. The Sustainable Northampton survey hints that respondents may
not be eager to make these sacrifices: 90% of respondents said "We
Should Protect More Open Space and Wildlife Corridors".
Metro Portland's Long Experience with Smart Growth: A Cautionary Tale
Restrictive
growth policies actually caused increased suburbanization in Portland,
which now has the 10th greatest suburbanization rate in U.S. As home
prices went up in the site-restricted metropolitan area, families moved
further out to find affordable housing…
Randal O'Toole: "Dense Thinkers" (Reason Magazine, January 1999)
The
"decline" of cities that officials worry so much about is due to the
fact that cars, telephones, and electricity make it possible for people
to live in lower densities–and most choose to do so…
NY Times Magazine: "The Autonomist Manifesto (Or, How I Learned to Stop Worrying and Love the Road)"
…the average commute by public transportation takes twice as long as the average commute by car…
Smart Growth Winners (Rich People) and Losers (Other People)
Smart growth is great if you can afford to eat in the plethora of
restaurants; it is not so enjoyable if you have to scrape up an extra
20% for the ingredients in tuna casserole. Smart growth is great if you
have a nanny to take the kids to the park during the day; it is not so
terrific if you have to choose between wasting several precious hours
standing around the playground, or letting your kids languish inside.
Smart growth is great if you can afford taxis when you need them; it is
not so good if you are forced to take three buses to get somewhere you
really need to be.