It is our pleasure to publish this June 11 update from the Ward 3 Neighborhood Association:
From: Jerry Budgar, President
Re: Saturday Social Event & Exit 19 Advisory Committee Meeting

I just wanted to remind everyone that the Ward 3 Neighborhood
Association is sponsoring a Strawberry and Lemonade Social this
Saturday from 2 to 5 p.m. at Historic Northampton on Bridge Street.
We're asking everyone to bring their favorite strawberry dish to
share so we should have a good array of strawberry dishes for folks
to try. We've also arranged a tour of historic Bridge Street
Cemetery that will begin at 3:30. Historic Northampton will provide
guides who will detail much of Northampton's history as we wend our
way through this ground that houses our forebears almost since the
city's founding in 1654. Historic Northampton will also provide free
admission to their museum to Ward 3 attendees, and there will be
lemonade for all. Best of all, the price of admission is free! So
come enjoy a nice afternoon with friends and neighbors and learn what
your vibrant and active association is doing to enhance the quality
of life in our area of Northampton.

On Tuesday evening, the first meeting of the Citizens Advisory
Committee to MassHighway on Exit 19 of I-91 was held at the JFK
Community Room. It was an opportunity for committee members to meet
each other and get some background on the project from MassHighway
officials. There are a number of Ward 3 and neighborhood
representatives on the committee.

I've been appointed as president of the association, Councilor Bob
Reckman will represent the ward, and Christine Cahillane and Mara
Shulman Ryan were appointed as representatives of the immediate
neighborhood surrounding the project. Christine also serves as
representative of the Association's Exit 19 Committee, which will be
closely following events to make certain our interests are protected.

The tone of the meeting was very positive. MassHighway officials
stressed the need for community input and their desire to work with
the advisory committee and the community to fashion a project that
meets multiple needs that include bicycling and other forms of
alternative transportation. There were many questions asked by
Advisory Committee members, and there were assurances given that all
traffic counts and other data collected for the previous proposal
will be redone. The very strong Ward 3 contingent on this committee
was not bashful in asking questions and urging that new and creative
ideas for the area be put on the table.

MassHighway is in the final stages of selecting an engineering firm
that will do the survey and design work on the reworked project.
They expect to have the firm on board sometime this summer and the
Advisory Committee will meet soon thereafter to meet with the folks
who will be working on this project to provide them with our ideas
and input for ways to move forward.

I'm very hopeful, along with other Ward 3 reps on this committee,
that this is the beginning of a very different kind of collaboration
between MassHighway and the local community. If it works like we all
want it to, it could prove to be a prototype for the way MassHighway
does future projects. We'll keep everyone updated as this process
moves forward. MassHighway officials indicated that we're years away
from construction as this will be a slow process with lots of steps.

I hope we'll see you all on Saturday at our fun social event at
Historic Northampton.

Jerry Budgar
See also:
Northampton Redoubt: Interstate 91 Interchange 19 update (2/8/08)
MassHighway: Northampton – I-91 Exit 19 Full Interchange Project
The Connecticut River Crossing Study, completed in February 2004, concluded that the key areas of recurring congestion and safety issues in the South Hadley to Sunderland study area are the Route 9 corridor in Hadley, the Coolidge bridge (reconstruction completed in 2005) and the I-91 interchange 19/Damon Road intersection in Northampton. Approximately 34,900 vehicles per day cross the Coolidge Bridge over the Connecticut River between Hadley and Northampton and the traffic volume is expected to grow by 24% by 2025. Since interchange 19 is now a partial interchange (NB-off and SB-on only) the study recommendations included a concept (#15) to make this interchange fully directional while addressing capacity deficiencies at the Damon Road intersections with Rte 9 to the south and with Rtes 5&10 to the north. This project incorporates the concept 15 recommendations.
Northampton Office of Planning and Development: I-91/Exit 19 Interchange Reports

MassHighway Concept 15: Fully Directional Interchange 19 (PDF)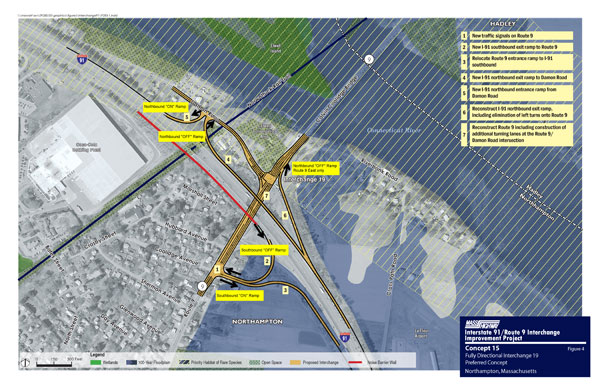 Mayor's Project Information Sheet:

I-91 Exit 19 Interchange Improvement Project
Information Sheet
May 16, 2007
Background
The
proposed improvements at the I-91 Exit 19 interchange are based on the
recommendations of the Connecticut River Crossing Transportation Study
(2004). This study intended to address
traffic congestion in the area of the Exit 19 interchange, along the Rt. 9
corridor, and along Damon Road. This is
an important regional transportation and economic corridor carrying the
majority of the east-west traffic over the Connecticut River in Hampshire and
Franklin Counties and connecting two commercial, educational, employment, and
cultural centers in Northampton and Amherst.
The corridor also provides a critical public safety link between Cooley
Dickinson Hospital and east county towns.
The study included a public input process and regional intergovernmental
cooperation that resulted in the evaluation of alternative interchange
improvements and recommendations on a preferred interchange conceptual design
as well as transportation and traffic management measures. The report studied four bridge locations and
determined that a new bridge across the Connecticut River is not feasible due
to severe impacts to farmland, wildlife habitat, wetlands/floodplain, and
neighborhoods.
Full
copies of the Connecticut River Crossing Transportation Study, the
Environmental Notification Form and the alternative design plans can be viewed
on the City of Northampton Website or on the MassHighway website. New information will be posted here as the
public/design process proceeds. http://www.northamptonma.gov/opd/Sustainable%5FTransportation/
Copies
of the current documents are available for review at Forbes Library.
Process and Timeline
The
proposed Interchange improvements are conceptual only. Construction or taking of land is not
imminent. The project is moving from
the concept stage to the design phase which will include an open and public
participation process. Below is summary
of the steps in the project design and review process:
Environmental Review – The Massachusetts
Environmental Policy Act (MEPA) Office has determined that an
environmental impact report (EIR) is not required for the project but has
required MassHighway to address community concerns in the design and
public participation process.
Project coordination and
public outreach
– Develop a neighborhood input and outreach process to guide the
design.

MassHighway had their first
outreach meeting on May 8, 2007.
The Ct. River Crossing Study Group will be reconfigured to include
local/neighborhood representation and to act as an advisory group during
the design phase.
25% design – MassHighway will work
with the City of Northampton and the public to prepare the preliminary
engineering design plans for the project.
This will narrow down the details of the ramp design and
locations.

The process requires
neighborhood input and a formal public hearing.

If land takings and easements will be
needed, they will be identified and discussions with landowners will
begin.

A City liaison will be
appointed to coordinate any necessary land takings with MassHighway.
75% design – Final design review in
coordination with City and public. Confirm required land acquisitions and
easements.
100% design – Includes traffic control
agreement with City and final construction plans and right-of-way
plan.

Complete all land takings and
easements.
Bidding – MassHighway bids the
construction project and hires a contractor.
Construction – Construction phase is
coordinated with City and public.
This
project is in the very early design stages.
The design process is expected to take approximately 5 years to
complete. Federal funds have been
allocated to complete the design of the project. Funding for construction has not been
allocated – State and federal funds will be required.
Mayor Higgins has requested the following of
MassHighway:
1. Ensure
that the traffic demand management measures identified in the Ct. River
Crossing Study are implemented to reduce traffic along the corridor. They should be funded and implemented prior
to or in conjunction with the proposed infrastructure improvements. These measures include: improved bus service
(rapid bus transit – bus signal pre-emption, bypass lanes, enhanced stops),
travel information (intelligent transportation system-ITS- and transit option
information; additional park & ride lots.
2. Update
traffic data and re-evaluate traffic flow assumptions (for example, southbound
traffic flowing off Exit 20 onto King Street and Damon Rd.). Re-evaluate the necessity of the new proposed
southbound ramp onto Rt. 9 and the possibility of double left turn lanes to
pull the ramps easterly towards I-91. One
final design goal should be to reduce the footprint of the project to minimize
the impact on adjacent property owners and to minimize extension of the
intersection into the neighborhood.
3. Coordinate
the project with the City, the neighborhood, and affected property owners with
a transparent public design process and information sharing.
4. Coordinate
the design with Damon Rd. improvements and City utilities in the layout.
5. Evaluate
the possibility of a low-pressure pump station to connect properties on Damon
Rd. to City sewer during construction to address concerns raised by abutters.
6. Coordinate
project with the bikeway tunnel design, a community boathouse, and the parking
needs of these facilities.
7. Reconsider
placement of sound barriers to provide maximum protection to properties
affected by the project.