The lead story in today's Gazette reports on surging interest in home gardens:
Veggie-mania: As food, other costs rise, more stake hopes on home gardens

…Locally, garden centers are seeing a spike in sales of garden supplies…

According to the Associated Press, W. Atlee Burpee & Co., the nation's largest seed company, has sold twice as many seeds this year compared to last year…

For [home gardner Sigalit] Tornovish of Leverett, reducing her family's food and gas expenses is a serious goal. 'I had to drive often to the food stores, so by growing my own things I save money on gas and I don't waste,' Tornovish said…

Among those trying to be more resourceful and experiment with backyard gardening is Karen Bellavance-Grace of Northampton and her neighbors. [Eds: Bellavance-Grace is an aide to Mayor Clare Higgins.]

The group of six families, 20 people in all, is tending a new plot in Bellavance-Grace's backyard at 19 Church St., a small street that runs west from King Street above downtown…

…group members are strengthening their street's sense of community and producing food…
Urban home gardens require space to grow. We are concerned that these spaces could be infilled away if the Sustainable Northampton Plan does not respect their value. Compare this Northern Avenue home, with its surrounding gardens…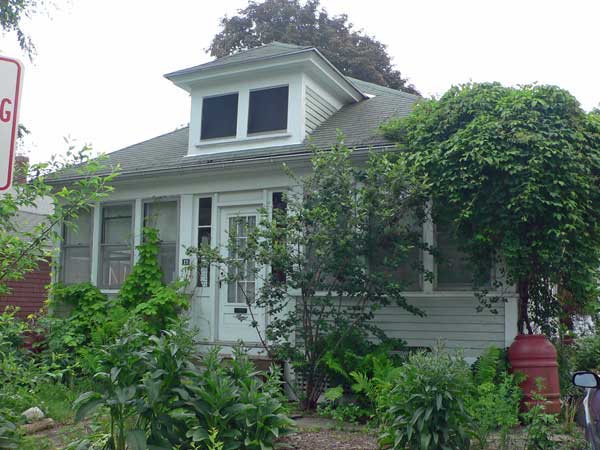 …to this Bixby Court development, with little or no greenspace between units and lots of hardtop…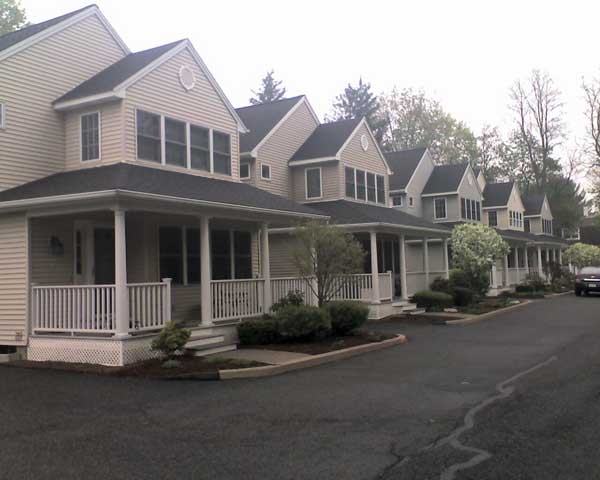 See also:
Mayor's Email Update (5/30/08)
Please mark your calendars for June [14]th, the date of the
wildly popular Friends of Forbes Garden Tour.
More information is available at www.forbeslibrary.org
Condo Monotony: The Future of Ward 3?
Pictures of Northampton Streets at Various Densities
The New Draft Sustainable Northampton Plan: Balancing Compact Growth Against Taxes, Urban Greenspace, Homeowner Preferences
An
objective of the Plan is to "implement ideas for maximizing density on
small lots". (p.16) It calls for the City to "consider amending zero
lot line single family home to eliminate 30′ side yard setback". (p.69)
Randal O'Toole: "The Folly of 'Smart Growth'"
..Open
space in valuable locations such as people's backyards, urban parks,
and golf courses will be transferred to less valuable locations such as
private rural farms that are unavailable for recreation.
Scrape-Off Redevelopments Provoke Backlash in Denver Neighborhoods
Supporters [of lower-density zoning] said the increased density from the multiple-unit structures
was ruining the character of the two neighborhoods, which are comprised
of predominately single-family detached homes.
The outcropping of multifamily structures has cast shadows on gardens,
increased traffic and created parking wars, among other quality of life
issues, they said…
LA Weekly: "City Hall's 'Density Hawks' Are Changing L.A.'s DNA
The shift is pushing L.A. from its suburban model of single-family
homes with gardens or pools — the reason many come here — toward an
urban template of shrinking green patches and multistory buildings of
mostly renters…
"…The deal [says Yaroslavsky] is that there are a number of developers who see an opportunity here to make a killing."
Vancouver Sun: "Call it EcoDensity or EcoCity –either way it's a hard sell"
Despite Yaletown, almost 70 per cent of the city is single-family
housing. Vancouver, essentially, remains an urban suburb. And there is
a reason for this.
People love it.
They love the city's
garden-like nature. They love the stability and social cohesion of a
single-family neighbourhood. They like having neighbours they know…
Our Column in Today's Gazette: The Hidden Risks of 'Smart Growth'
The Portland, Ore., metro region is considered a smart growth pioneer, going back to the early 1970s. Portland adopted urban growth boundary restrictions to preserve open space outside the boundary. Transportation initiatives have emphasized public transit over road-building…
Many
homebuyers, especially those with children, began to avoid Portland in
their quest for affordable, conventional homes with yards. This
ironically fostered sprawl (PDF) and traffic as people migrated to cities outside the region's authority, such as Vancouver, Wash.

Greening Smart Growth: The Sustainable Sites Initiative
Physiological functions, the core processes of our bodies, are
positively affected by experiences with nature. For example, hospital
patients who have a view of natural landscapes (as opposed to built
structures) recover faster from surgery and require less pain
medication.[40] In addition, heart rate, blood pressure, and other
measures return to normal levels more quickly when people view natural
rather than urban landscapes after a stressful experience.[41] Site
design can also provide opportunities for outdoor physical activity and
healthy food production. Daily moderate activity by individuals
decreases the incidence of such chronic diseases as heart disease,
diabetes, and high blood pressure. Community gardens in healthy
environments provide fresh, local produce, and promote greater
stewardship of land by site users. Improved health reduces health care
costs…[42]
Rutherford Platt, "Regreening the Metropolis: Pathways to More Ecological Cities"
…cities and metropolitan areas, now too large to conveniently escape, must themselves be viewed as incorporating both built and unbuilt
environments… And into the bargain, the urban environment will prove
to be more habitable, more sustainable, more "ecological"…
The Ecological Cities Project: Greenspace in "The Humane Metropolis"
A
metropolis (i.e., metro region or citistate) is considered green if it
fosters humans' connections to the natural world — an idea Anne
Whiston Spirn promoted in her seminal 1984 book The Granite Garden.
Spirn rejected the idea — easily absorbed if one watches too many
"concrete jungle" films, or even televised nature documentaries —
that the natural world begins beyond the urban fringe. "Nature in the
city," she wrote, "must be cultivated, like a garden, rather than
ignored or subdued."
…The "humane metropolis" advocates, bent on shared streets and
spaces, have no single solution. Their idea is simply to protect and
create all possible natural areas — parks, greenways, forest tracts —
fostering a shared sense of "ecological stewardship." They're strongly
for promotion of urban gardening and farm markets. They support efforts
toward environmental justice, so that low-income areas are not burdened
with undue, damaging pollution.
Photo Essay: 10 Reasons People Like Trees Around Them; Will the Sustainable Northampton Plan Put Urban Trees at Risk?
If you walk down North Street, imagine most trees between houses gone
and replaced with a near-solid wall of housing. See the articles below,
and decide if that's growth that's smart, or growth that smarts…
Our urban centers need to become more attractive to help counter the
continuation of a sprawl pattern of development. If the appeal of low
density, widely scattered development is derived from the need to be
closer to nature, then making trees an integral part of the urban
habitat will help make our town and city centers more desirable places
to live and work. It is profoundly important to see this linkage
between making cities and towns more "liveable" and stemming the
continued spread of scattered development across the countryside…
Just as communities need to upgrade and expand their gray
infrastructure (i.e. roads, sewers, utilities), so too, they need to
upgrade and expand their "green" infrastructure–the network of open
space, woodlands, wildlife habitat, parks and other natural areas,
which sustain clean air, water, and natural resources and enrich their
citizens' quality of life…
The concept of green infrastructure
represents a dramatic shift in the way local and state governments
think about green space. In the past, many communities assumed that
open space was land that had simply not been developed yet, because no
one had filed a subdivision plan for it…
Smart Growth with Balance: The American Planning Association [emphasis added]
Green
infrastructure is an interconnected network of greenways and natural
lands that includes wild life habitat, waterways, native species and
preservation or protection of ecological processes. All
development — including redevelopment, infill development, and new
construction in urbanizing areas — should plan for biodiversity and
incorporate green infrastructure. Green infrastructure helps
to maintain natural ecosystems, including clean air and water; reduces
wildlife habitat fragmentation, pollution, and other threats to
biodiversity. It also improves the quality of life for people.
UMass Press: "Natural Land: Preserving and Funding Open Space"
The benefits of preserving open space include protecting environmental
quality and biodiversity, nurturing human health and well-being,
preserving and enhancing community character and sense of place, and
creating economic opportunities…