Here is a complete Google video of Design Northampton Week's second public "in-process" presentation and feedback session that took place
last night. It's one hour and 51 minutes long. Notre Dame students presented ideas for making the line of buildings along certain major streets more coherent. Pleasant Street and downtown Florence received attention. The students also proposed to widen the sidewalks along Main Street in downtown Northampton to permit more activity like sidewalk cafes.
The third and fourth presentation and feedback sessions will take place tonight and tomorrow night at the A.P.E. Gallery, 126 Main Street, from 7:30-9pm.
A quibble we had was with the New Urbanist aversion to cul-de-sacs. It was suggested that some cul-de-sacs in Florence be breached so traffic could flow through. The abstract goals of traffic efficiency and connecting neighborhoods sound good, but the fact remains that cul-de-sacs are proven crime prevention devices. As Stephen Town and Randal O'Toole wrote for Reason magazine in February 2005:
…[Oscar Newman's] 1972 book Defensible Space…showed that the safest neighborhoods maximized private space and minimized common zones. Safe areas also minimized "permeability," that is, the ease of entry to and exit from the neighborhood or housing area. Cul-de-sacs are thus a crime-prevention device, and any breaching of cul-de-sacs will predictably increase crime…
The limited and restricted traffic in cul-de-sacs also makes for relatively safe spaces for children to play in. A fine example of a cul-de-sac is Northern Avenue in Ward 3: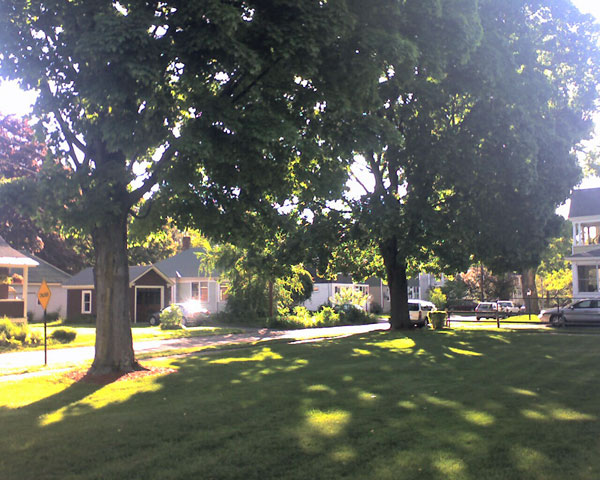 It is not helpful to broadly characterize cul-de-sacs as quasi-private ways, perhaps implying that they are manifestations of rich people doing something selfish. The cul-de-sac of Northern Avenue provides a safe, friendly environment at low cost to residents with a wide variety of income levels and life situations. Can or should everyone live in a cul-de-sac? No. Should they be available to those who want them? Yes.
Another quibble is that while broadening sidewalks (and narrowing roadways) offers appealing possibilities, winter snows can make downtown roads overly narrow and traffic-choked. Here is a picture of traffic queued up on Market Street from this past winter: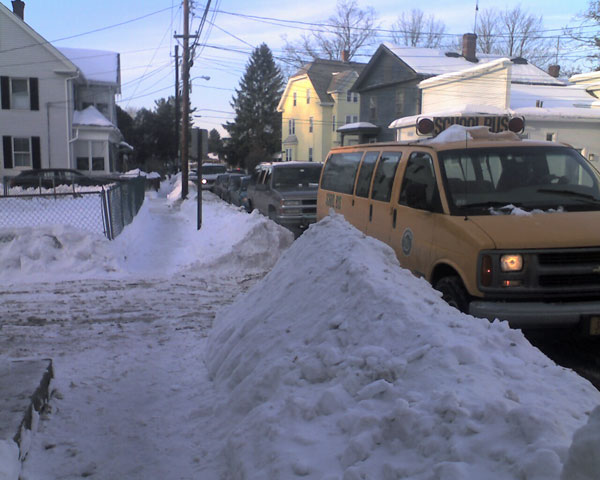 Winter traffic problems also offer a caution against excessively increasing density in Northampton's built-up neighborhoods, and biking and walking are not always appealing alternatives to driving: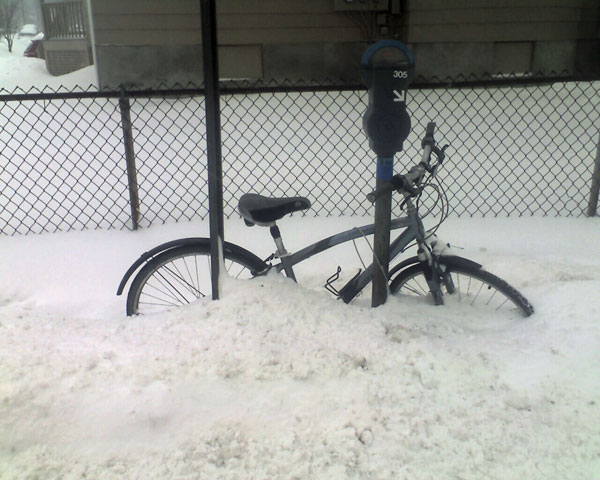 See also:
Gazette: "Wait for all clear: State of sidewalks along Northampton street a concern for many" (1/30/09)
An inveterate walker, [Dennis] McCue has found the sidewalks on many residential areas virtually impassable, and, surprisingly, many of the problem areas occur on King Street, right in the middle of the city's commercial district…
Mountains of snow left by plows pile up on street corners, forcing pedestrians into the street. For people using wheelchairs, most of the sidewalks on King Street would not appear to be cleared enough to allow such a vehicle to pass, and the nature and depth of the snow and ice differs greatly from one address to another…
There seems to be a gray area as to where one's responsibility ends and another's begins. Thus, the area between stores and homes is often piled high with snow, producing dead-ends, once again forcing people out into traffic…
US Department of Justice: "Closing Streets and Alleys to Reduce Crime: Should You Go Down This Road?" (PDF, 2004)
Areas
with street layouts that permit easy access experience more crime than
areas with restricted access and complicated street patterns…
The Republican: "Through traffic banned at 2 Forest Park intersections" (7/21/08)
…barriers that had been erected on a trial basis since late September
will become permanent at Marengo Park and Dickinson Street and at
Bellevue Avenue and Belmont Avenue…
Most of the 60 people who attended a board meeting on the issue July 14
supported keeping the two intersections' traffic barriers, which were
installed in late December.
The barriers have ended the streets' use as cut-throughs for speeding
drivers and as pit-stops for prostitutes and drug-dealers who drift
over
from Belmont Avenue seeking secluded side streets, they said…
Downtown house on "dead end street" in "rural setting" flies off market
The Gazette reports that residential real estate sales
in Northampton are slow, but you wouldn't know it if you were the
seller of a certain single-family house on Bradford Street. According
to the Multiple Listing Service, this home went on sale on February 8
and is now under agreement, just 12 days later. What makes it special?
The first sentence in its MLS Remarks section gives us a clue:
"Sunny Colonial on dead end street with rural setting close to bike path and walk to downtown."
It would appear this combination of amenities is highly desirable. It also happens to be threatened by elements of the new Sustainable Northampton Plan (PDF). On page 51, the Plan recommends:
Avoid creating cul-de-sacs and dead ends when possible and
instead create a network of streets. Dead end streets, while desirable
to some residents, add significantly to the delivery of city services
and increases traffic flows to other local streets…
Another
objective of the Plan is to "implement ideas for maximizing density on
small lots" (p.14) and "consider amending zero lot line single family
home to eliminate 30′ side yard setback" (p.67). Both of these
ideas may well erode the "rural setting" in neighborhoods like Bradford
Street.
…there are excellent
reasons for many homebuyers to desire cul-de-sacs and leafy
neighborhoods. Planners who ignore these strong (and logical) market
preferences risk making sprawl worse, as some buyers may come to avoid
downtown Northampton and seek these amenities in the outskirts or even
out of town.
Greening Smart Growth: The Sustainable Sites Initiative
…Provide pedestrian-only precincts so children and youth can move and play without concern for traffic.
Reduce
speed and volume of traffic on adjacent streets as children often make
use of paved areas as play space, or provide for a controlled mix of
pedestrians and vehicles.