The Northampton Design Forum makes the following announcement:

Hello everyone,

We're still hard at work here at Notre Dame, finishing up our designs for Northampton, but we want to remind you that our studio will soon be returning to Northampton to present the results of our work from this semester. We'll be giving our presentation at the auditorium of the Northampton High School at 3:00pm, Saturday, December 13th. The doors will open at 2:30 for for you to view our drawings before the presentation. In advance of the 13th, (beginning on December 10th) a sampling of our work will be on display at the APE gallery at 126 Main Street. Additional work can be seen on our website:
http://sites.google.com/site/northamptoncharrette/

Thanks again for your support and enthusiasm. Please pass on this invitation to anyone you know who might be interested. We look forward to seeing you on the 13th!

The Notre Dame Studio
See also:
Notre Dame Northampton Charrette Critical of Hospital Hill Plans, Fleshes Out Alternative
Update from Notre Dame; Critique of Northampton Sector Diagram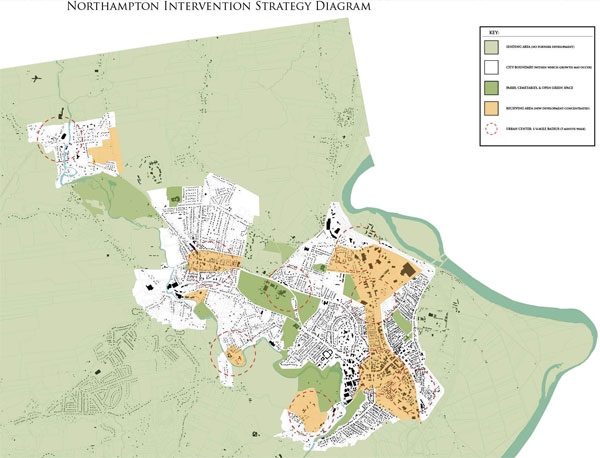 The
light green areas are tagged "no further development". Two concerns
immediately arise. First, property owners in the light green areas
might object to being shut down so completely. Second, without careful
protection for greenspace in the orange and white areas, developers
might perceive an open invitation to concrete these spaces over. Not
only will this make in-town areas less pleasant and attractive, it will
increase flooding risk, as the orange and white areas include some of
the most low-lying parts of the city.
Video and Slides: Final Presentation of Design Northampton Week