Here is a complete Google video of a meeting of the Planning Board and the City Council Ordinance Committee on January 8. This video is 4 hours and 20 minutes long, and was recorded by Lachlan Ziegler and Adam Cohen.
As shown by this agenda, the first and last portions of the meeting were Planning Board-only:
THE PLANNING BOARD meets at 7:00 P.M. in Council Chambers, Puchalski
Municipal Building, 212 Main Street, Northampton, MA for public
hearings:

7:00 P.M. Request by Mansour Ghalibaf/Hotel Northampton for Site Plan
Approval to allow decorative, unshielded lights to illuminate a
sculpture at 36 King St, Northampton, Map ID 32A-255. [0:00-0:32 on the Google video]

7:20 P.M. Request by Lee Goss for a special permit for frontage
reduction under 350.6.3 to create a single family house lot at 40-42
High St., Florence, Map ID 17C-167. [0:32-1:14 on the video]

THE PLANNING BOARD AND THE CITY COUNCIL ORDINANCE COMMITTEE meets at
8:00 P.M. in Council Chambers, Puchalski Municipal Building, 212 Main
Street, Northampton, MA for public hearings on the following proposed
zoning ordinance amendments:

8:00 P.M. [1:18-3:02 on the video]
1. Improve parking and driveway standards to allow residential driveway
access over side lot lines and allow new technologies for parking lot
surfaces. Correct scriveners error in table.
2. Simplify Zero Lot Line Development to eliminate fences, reduce 30'
side setback to 15', and allow lots next to non-zero lot projects.
3. Amend site plan submission requirements to specify traffic
mitigation payment-in-lieu of standards and require construction
materials for sites to be comparable to those required in subdivisions.
4. Zoning Map change for the parcel at 296 Nonotuck St., Map ID 22B-43 from General Industrial to Special Industrial.

9: 15 P.M. [3:07-4:20 on the video, Planning Board only]
Request by EBD, Corp for Site Plan Approval to convert a
single family house to a museum and add 3 live-work spaces at 225
Nonotuck St, Florence, Map ID 23A-281.
Below is a handout on the proposed ordinance changes (PDF) distributed by Planning Director Wayne Feiden. Some issues that arose during and after the discussion include:
1:42:15-1:45:55… Gerald Budgar, President of the Ward 3 Neighborhood Association: We need to find better ways to notify people who might be affected by ordinance changes. Few are probably aware of the proposed Zero Lot Line changes, even if they affects them or their neighbor. "…I think frankly it's one of the weaknesses of city government in Northampton, that people don't know what is being proposed either on their properties or near them. And it would seem to me that some effort should be made to notify the people who are either red or green here [see below], and the people who are around them, to let them know that this is being proposed. I think that's only fair. I don't think that people should some day just find something happening next to them that they know nothing about…

"This has wide-ranging impact on a lot of people, and if we're going to start getting into a lot of this rezoning for the city, I think we need a better process… You have to communicate with people, you have to educate them and inform them… I can tell you, I'm President of the Ward 3 Neighborhood Association–I'm speaking as an individual–we've had a lot of discussions about a lot of things on city government and the biggest complaint we hear is that 'We didn't know. We weren't told. We weren't informed.' And something like this needs to be communicated to people. People need to be told what's being proposed, and they need to be given an open opportunity to speak about something they know about. Am I angry? Yeah…that this might…have some impact on me. I didn't know it until I saw the little red dot, and I really think that this is an opportunity to find a better way to do these things. Thank you."

Land Use and Conservation Planner Bruce Young favors the adoption of "design standards in architectural ordinances… Because if we're saying we want a house between two houses, and we can't get the neighborhood to buy onto houses that are just not helping
the neighborhood…" The Planning Board should consider setting aside infill-related ordinance changes until design standards are in place. Springfield is working on its own infill housing design guidelines as we speak.
Planning Director Wayne Feiden says the proposed Zero Lot Line ordinance changes are not supposed to affect rear setbacks, but certain developments may not have a clear "front" or "rear". An example could be the condo complex proposed for North Street by Kohl Construction.
If tree canopy is given away piecemeal in our built-up wards and impervious surface spreads, this could make these wards less pleasant to live in and more vulnerable to flooding over time. The Planning Board should track tree canopy and impervious surface by ward and report it to the public annually. All infill-related ordinance changes should be evaluated in how they will impact these and other critical environmental metrics.
High traffic mitigation payments could prove burdensome to small businesses. For example, a 3,000-square-foot grocery store could face a payment of $108,000 if it was located in certain districts. This could inhibit some businesses from forming, especially in the northern and western portions of Northampton. Ironically, this could impede traffic reduction by compelling residents there to drive relatively long distances to buy basic necessities. Where there are already clusters of homes in these outlying areas, it might be better to encourage the establishment of small stores to form the center of walkable neighborhoods.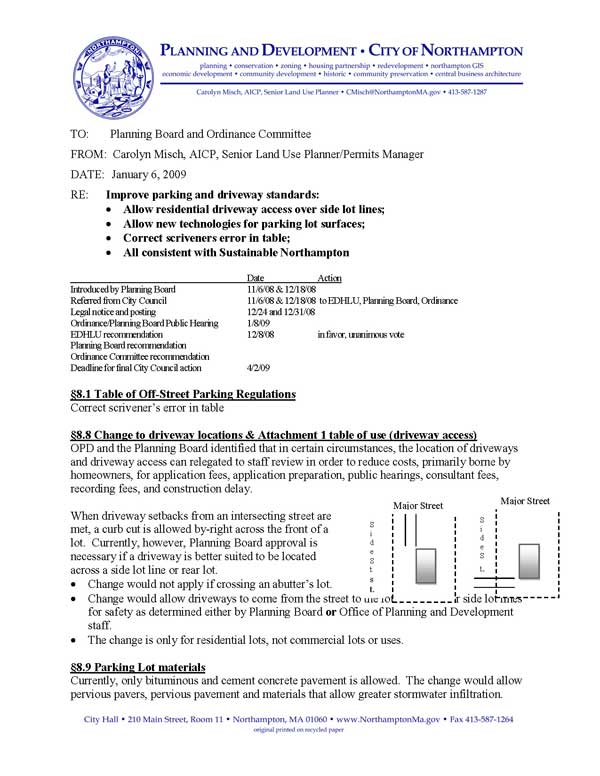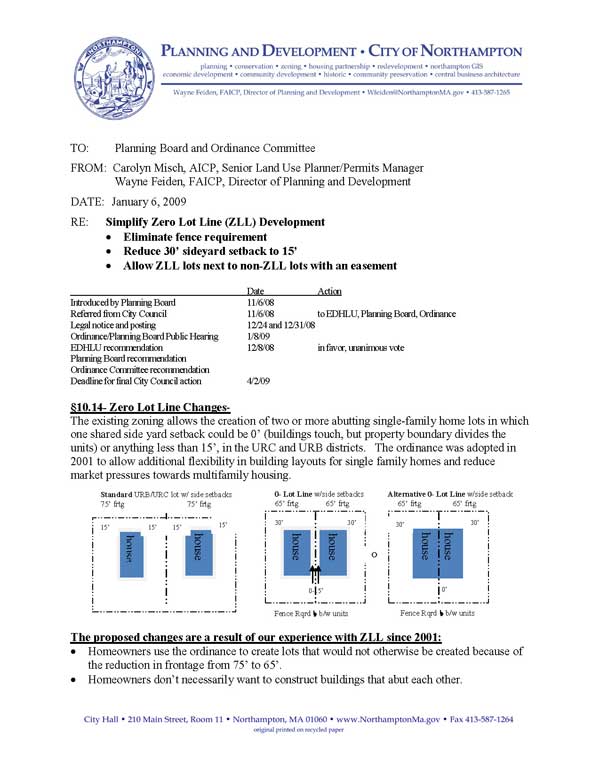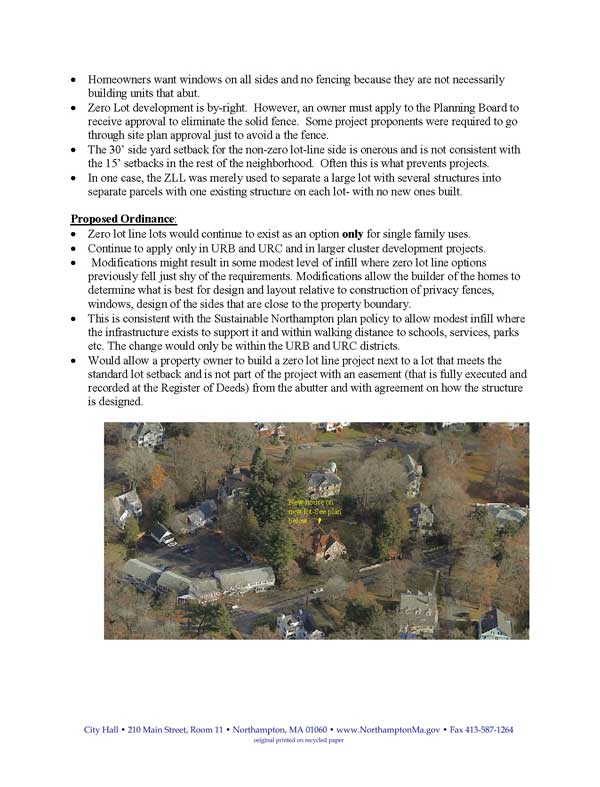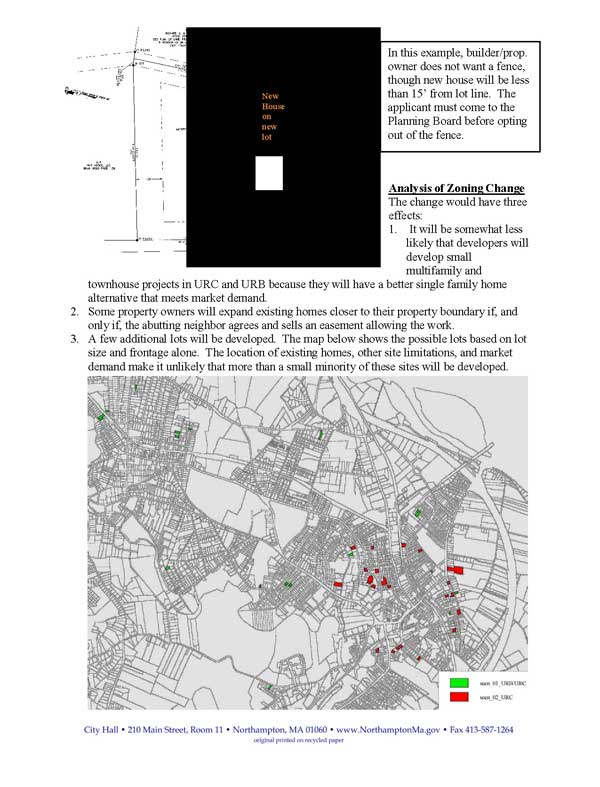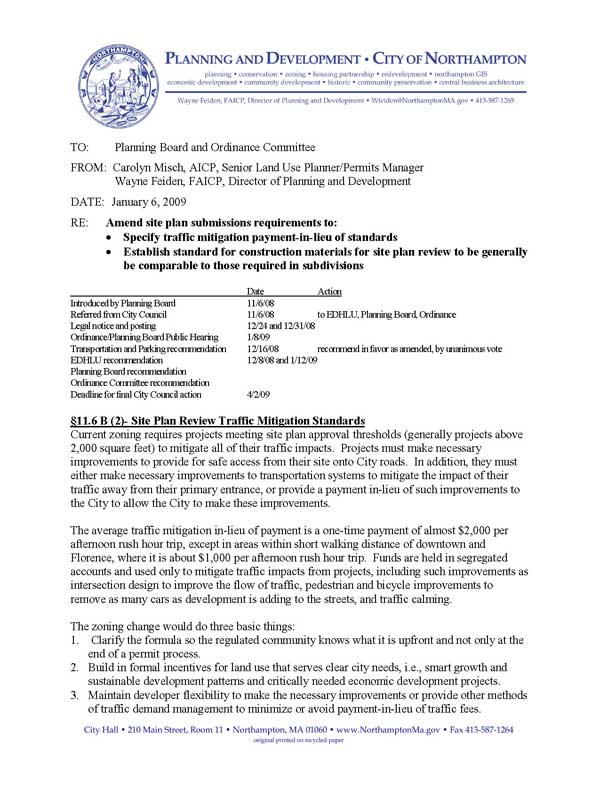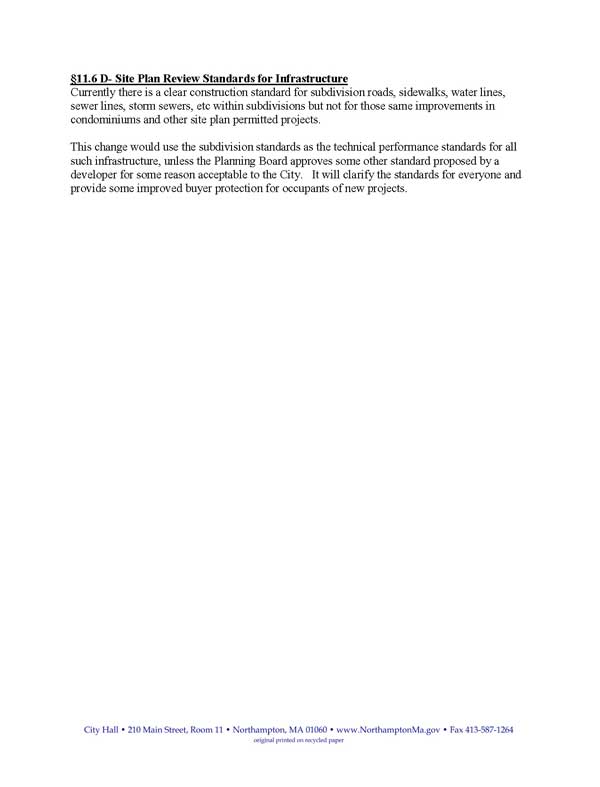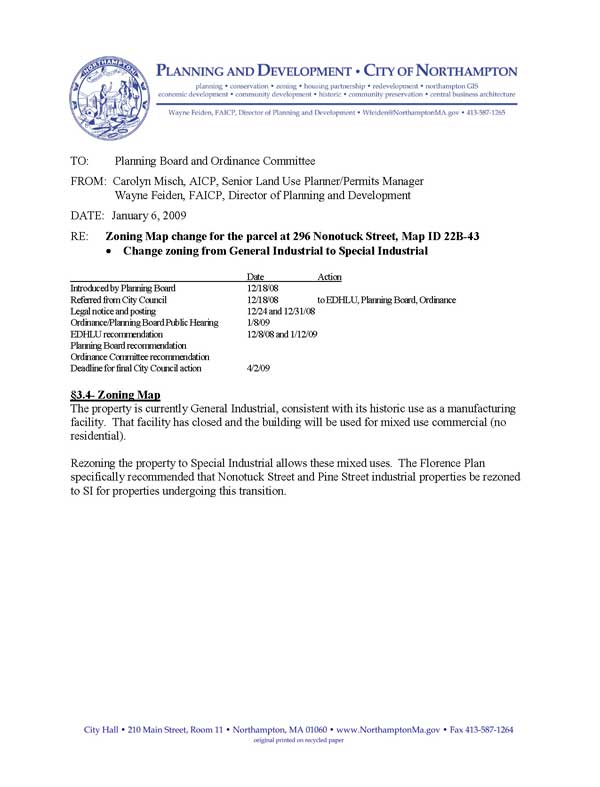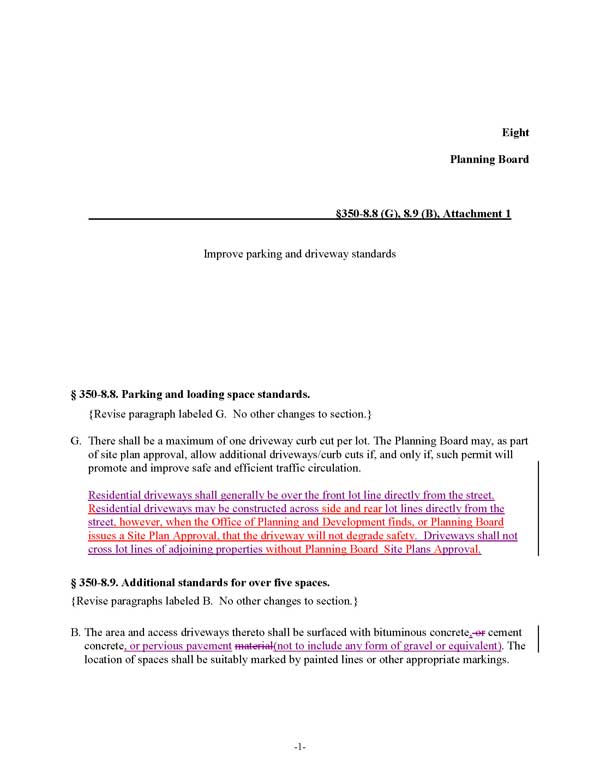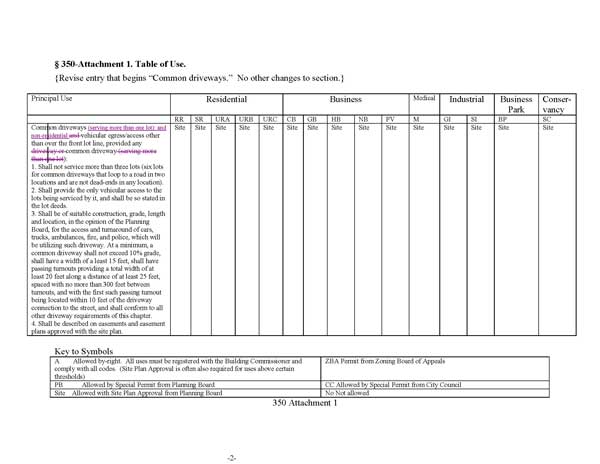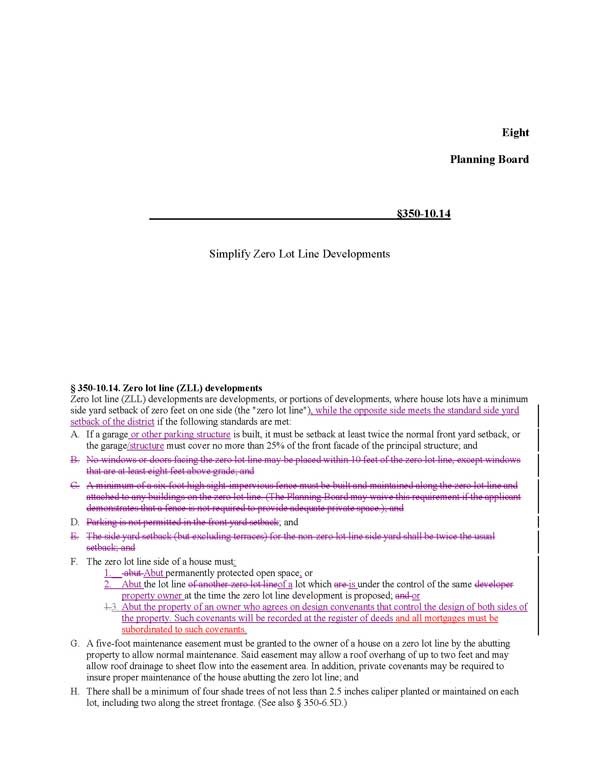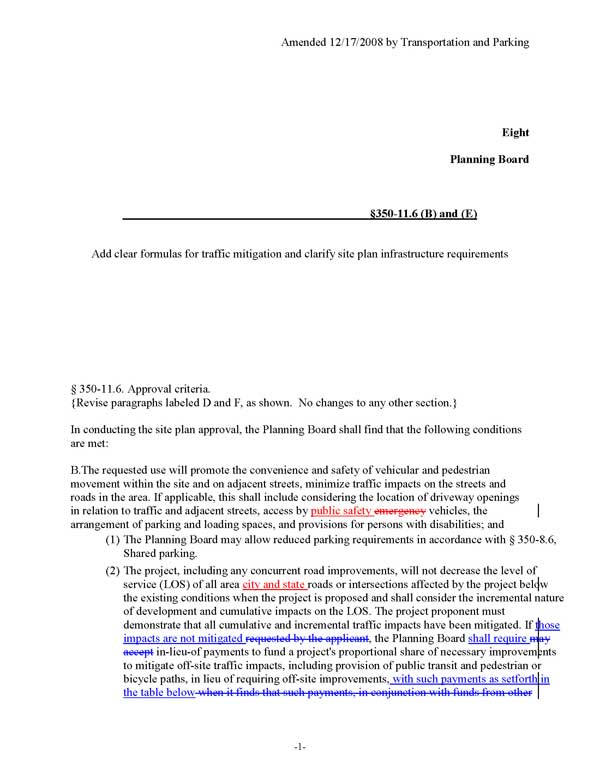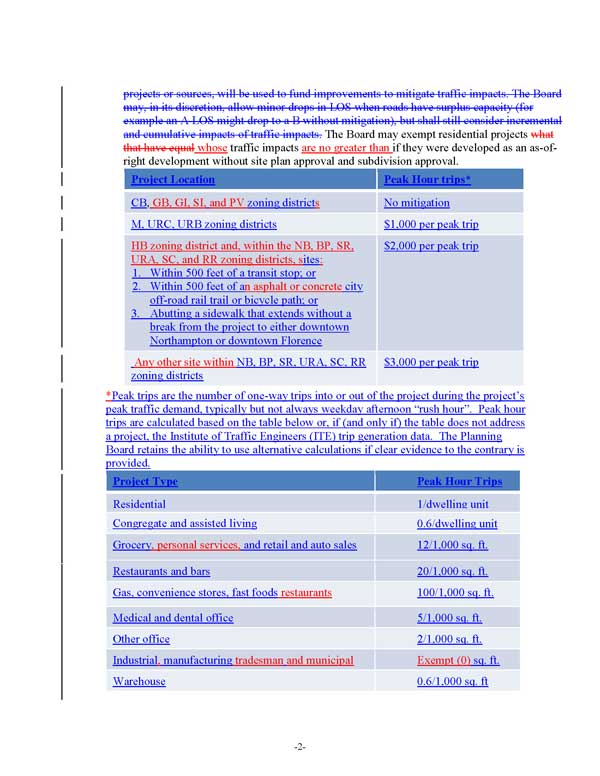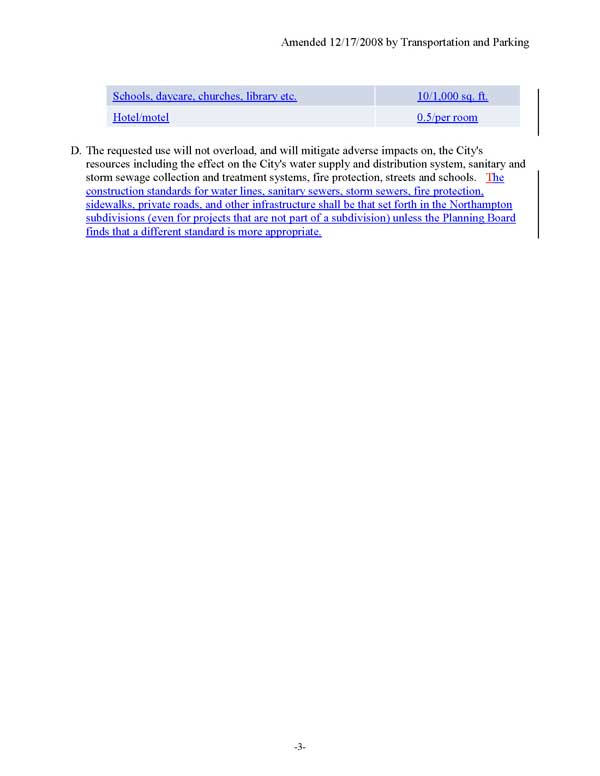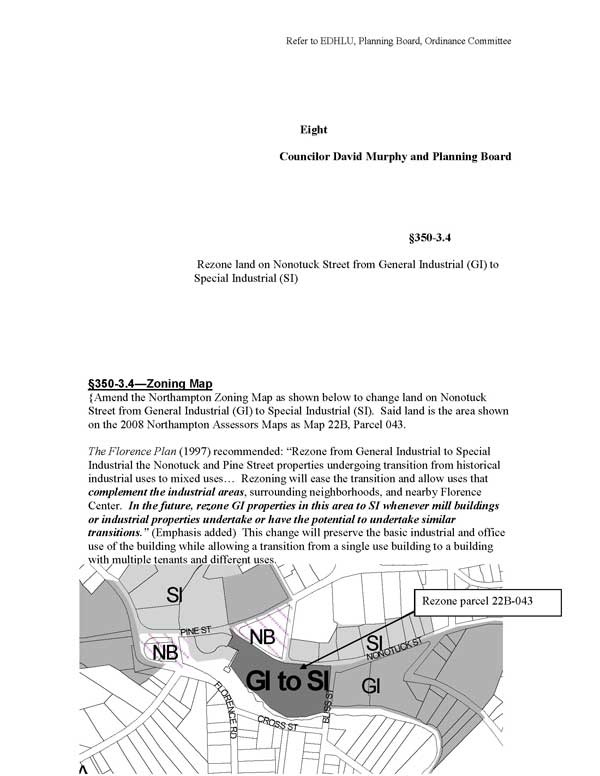 See also:
More Detail on the Zero Lot Line Proposed Changes; Evaluating Infill Impacts
Portland: A Photo Tour of Spiraling Densification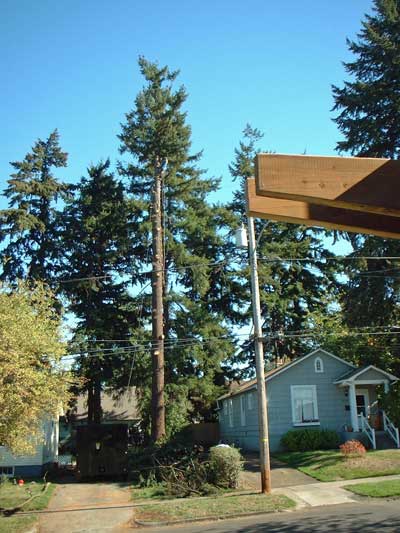 76th before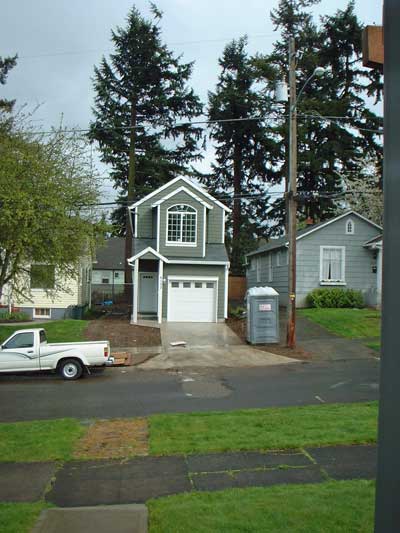 76th after
In 76th before and 76th after you see a skinny house built in the
empty space between two other houses…
Video: Conservation Commission Meeting of 1/8/09; Challenges of Building Close to Wetland No-Disturb Zones
Notice of Intent filed by Jim Harrity on behalf of EBD Corp. for the
construction of a mixed use building, associated parking areas,
driveways, sidewalks, utilities, landscaping and stormwater management
system. Project is proposed to take place in the 100-foot buffer zone
of Bordering Vegetated Wetlands. Project location is 225 Nonotuck
Street, Map Id 23A-281.