Here is a complete blip.tv video of Kollmorgen presenting a proposal for its new Hospital Hill facility to the community on May 20. This meeting took place at Cahillane Dodge, 375 South Street in Northampton. This video is 48 minutes long and was recorded by Lachlan Ziegler.
Here is the description from the meeting announcement:
Ward 4 City Councilor David Narkewicz has arranged for representatives of Kollmorgen Electro-Optical Corporation to present Hospital Hill neighbors with plans and drawings for its development of a new facility on the South Campus of the former Northampton State Hospital across Route 66 from Village Hill Road. Kollmorgen officials are scheduled to go before the Northampton Planning Board on May 28, 2009 for a Site Plan Review hearing on its new facility, so this meeting will provide neighbors with an opportunity to understand and ask questions about the project before that formal permitting process begins.
Here is the proposal as posted on the web pages of Northampton's Office of Planning and Development (see all the plans in high-resolution):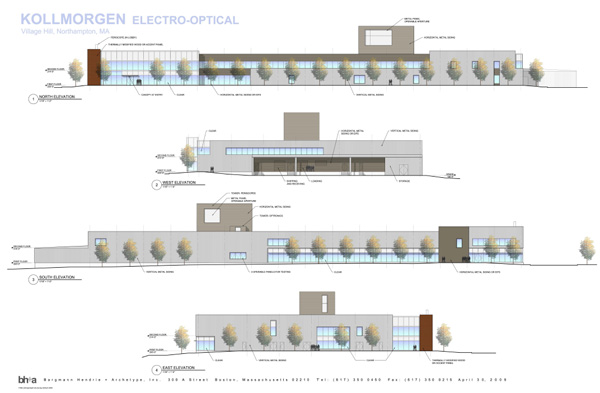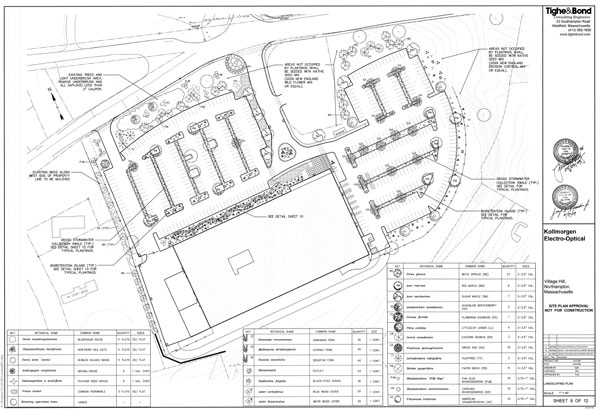 See also:
Gazette: "Neighbors get look at Kollmorgen plans" (5/21/09)
The more than 30 neighbors who attended the meeting, arranged by Ward 4 City Councilor David Narkewicz, got to speak with architects, site developers and Kollmorgen officials and view computer renderings of the proposed 140,000-square-foot manufacturing and office facility and its accompanying 485-space parking lot…
Francesca Maltese, development director for Kollmorgen's development company, O'Connell Development Group of Holyoke, said designers of the new site made a point of preserving the view of nearby mountains and planned to use existing and newly planted trees to limit views of the office building from the street…
Kollmorgen officials are scheduled to formally present design plans to the Planning Board at its regularly scheduled meeting Thursday, May 28, at 7 p.m. in City Council Chambers.
Download Envisioning Sustainable Northampton – Final Notre Dame Studio Presentation Book

The Village at Hospital Hill
Page 55: We propose a more dense, and compact development to encourage successful retail spaces, increase walkability, and reduce the number of vehicular trips into the City. The more compact development also allows the sites with the best views to the surrounding landscape and the City to be preserved as public parks.
Page 56: Incorporate the Kollmorgen building, giving it a prominent main entrance on a public plaza flanked by smaller commercial or mixed-use
buildings while allowing for mixed-use buildings along Route 66 to screen the bulk of the parking lot and manufacturing building.
Illustrations from pages 58-59: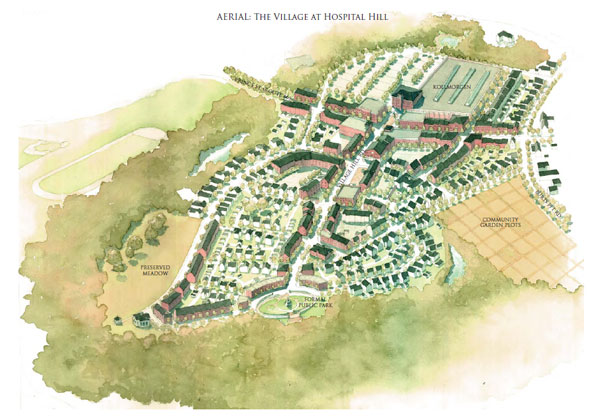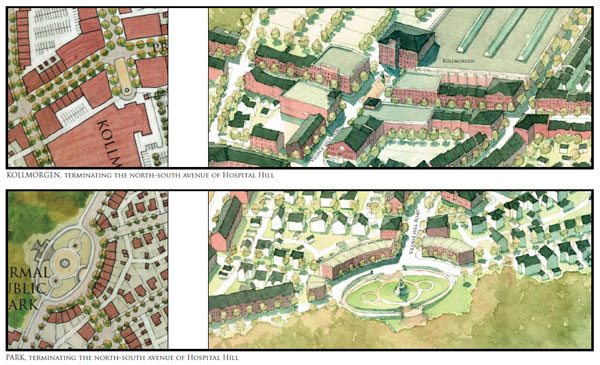 Envisioning Sustainable Northampton: Notre Dame Urban Design Presentation – Slides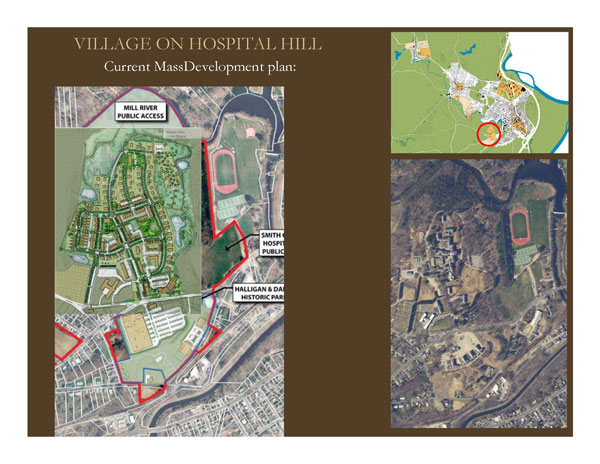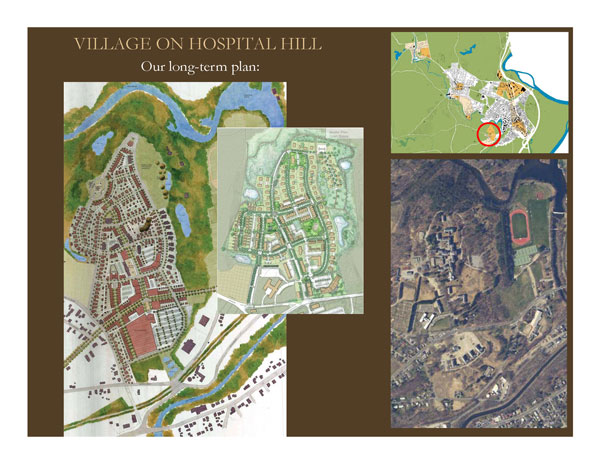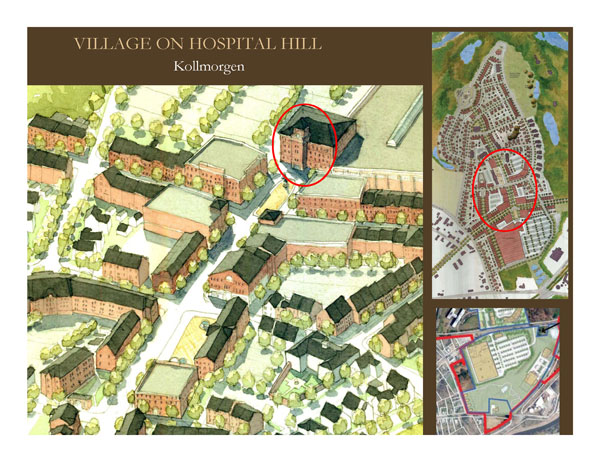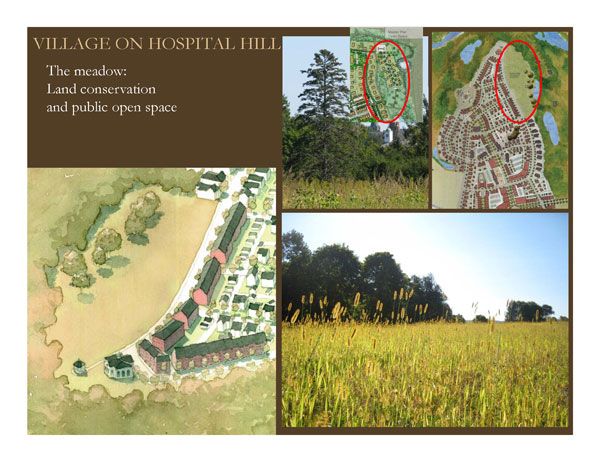 Video: Planning Board Approves North Campus Hospital Hill Subdivision, Denies Dog Kennel Permit on 4/23/09
Video: Planning Board Meeting of January 22; Hospital Hill; Kohl Condo Proposal
Hospital
Hill: 12/1/08 Joint Meeting of the Citizens Advisory Committee,
Planning Board and Housing Partnership – Video and Minutes;
MassDevelopment vs. Notre Dame Visions
Letter to the Gazette: "Criticism unfairly aimed at Notre Dame design effort" (12/29/08)
To the editor:
On viewing a video recording of the Dec. 1 joint meeting of the
Citizens Advisory Committee, Planning Board and Housing Partnership
regarding Hospital Hill, I was concerned to hear some attendees express
derision toward the alternate proposals put forward by The Notre Dame
Northampton Charrette. The video may be viewed at NorthAssoc.org. The
portion in question is 1:41:00-1:51:45.
Whether or not the Notre Dame proposals have merit, they deserve
respect as a sincere and well-intentioned effort. When efforts like
these are disrespected, I'm concerned this will discourage others from
contributing to public debates in the future.
Adam R. Cohen
Northampton
Notre Dame Northampton Charrette Critical of Hospital Hill Plans, Fleshes Out Alternative (11/30/08)
Here are some of the Design Studio's specific concerns about the MassDevelopment Plan:

…the proposal currently before the CAC fails to promote the Sustainability Plan in a number of ways:

The proposal essentially destroys the site's most valuable features.
Land is not put to its best or most efficient use. Instead, large
private lots sprawl throughout the design and inhibit the creation of
well-designed public space.
Uses are not mixed, but are primarily residential, with the
exception of one huge industrial employer. The design is essentially an
industrial park next to a residential subdivision. Residents must drive
off-site for many of their daily needs, essentially making Hospital
Hill an unsustainable suburb.
The proposal does not provide for usable public open space or
recreation areas. This is a huge loss to the Hospital Hill residents
and to the larger Northampton community. The mere preservation of
undeveloped acreage does not, by itself, create the kind of shared open
space that is conducive to community life.
The proposal does not provide for the enhancement of arts, culture,
or heritage resources. There is not enough mixed-use development or
public space proposed in which these activities might thrive.
The proposal does not create a walkable community. It is a residential subdivision that depends on cars.
Video: Northampton State Hospital Citizen Advisory Committee Meeting, 11/17/08
Video:
November 13 Planning Board Meeting: Hazards Mitigation Plan; Zoning
Revisions Committee; Hotel Northampton Complaint; Hospital Hill
Diverging from Vision of Planned Village; Comments on Notre Dame
Charrette Website

Video: June 26 Planning Board Meeting Discusses Hospital Hill, Citizens' Advisory Committee, Northampton Soccer Club
22:30-51:14
Discussion of evolutions at Hospital Hill (Village Hill) with respect to Kollmorgen's proposed new plant and other changes
"I'm not necessarily opposed to Kollmorgen or any big, industrial
type thing up there, I just want it to be done in a way that meets the
village concept."
"Conceptually, it's OK with the CAC."
"I was surprised it happened without us knowing about it."
"My feeling is it's going to be like an armed camp up there, and I
think it would be really desirable for them to design it so that they
didn't feel that the parking lot had to be secure; could be a little
bit more of a village walking places."
Valley Advocate: Northampton: No "Village" at Hospital Hill (6/12/08)