The Planning Board will take up again Kollmorgen's proposal for its site on Hospital Hill on June 11. Here is information about the hearing from Ward 4 City Councilor David Narkewicz:
Northampton Planning Board
Thursday, June 11, 2009

7:00 PM (Kollmorgen hearing scheduled for 7:20 PM)
City Council Chambers, Puchalski Municipal Building
212 Main Street, Northampton

The Planning Board will continue the Public Hearing on the application for Site Plan Approval from Kollmorgen Electro Optical Corporation for its proposed new facility on the South Campus of the former Northampton State Hospital. Drawings and plans for the project are available on the City's website here.

Plans for the new facility were recently presented to neighbors at a "Kollmorgen to Hospital Hill Neighborhood Meeting" hosted by Ward 4 City Councilor David Narkewicz on May 20th. You can watch the video of that meeting online here (with thanks to Adam Cohen and the North Street Neighborhood Association).
Hospital Hill/Village Hill neighbor Benjamin Spencer provides us with this guest column on an aspect of the development at Hospital Hill, and encourages concerned citizens to attend the June 11 hearing.

Manhan Rail Trail Extension to Village Hill Northampton

I am very concerned about the Planning Board's approval of the new bike path extension off the Manhan Rail Trail and into Village Hill. It is clear to me that there are several serious safety concerns along this new route.

The Extension would leave the trail and cross Earle Street just northeast of the driveway for VCA, INC. and another light industrial business. There was no mention of a signal or other traffic calming measures at this crossing. The bike path would share a sidewalk and follow Earle Street to the intersection with Route 66. Ideally a bike path should be "separated from car traffic, the off-road multi-use path offer(ing) families and beginning bicyclists and walkers a calm stretch for recreation and commuting." (American Institute of Architects – Northampton Sustainable Design Assessment Team (SDAT) Report – October 19, 2005 page 37, download the SDAT Final Report PDF)

Earle Street has been designated as the preferred route for all traffic traveling to and from South Street and Route 66. Along this current path the users would have to ride alongside a road that will become increasingly busy as the Village Hill project continues to develop. At the intersection with Route 66 users will cross the road at its widest point due to the turning lane for cars entering Earle Street. This crossing is located at the base of a long hill and on a significant curve in the road.

Infrastructure is already in place for an eventual signal-controlled crosswalk that would be installed when future traffic studies determine a need. There are very poor sight lines here and it is a difficult place to cross alone, let alone with kids in tow. The path would continue up the backside of the sledding hill and connect with the bike path at the top. This is contingent upon Smith College granting an easement for that section. Should you lose control riding down this stretch of the path you would be headed straight for Route 66.

I feel strongly that the bike path needs to return to the route shown on the Village Hill Site Plan presented on December 9, 2008. This plan had the bike path traveling up the southern slope of Village Hill in a series of switchbacks culminating on the crest of the hill and then traveling to Laurel Street where it connected to the network of bike path lanes already planned for Musante Drive into the North Campus of Village Hill. Additionally, I think it would be logical for the path to be extended and follow the ridge of the hill easterly towards Route 66 bringing users out by the main intersection at Village Hill Road and Route 66. Here the road could be crossed safely thanks to the traffic signals with walk buttons that are currently being installed. This is also a more centrally located entrance that would be equally convenient to everyone living in Village Hill. The bike path could serve a double purpose by acting as the fire lane that is required to run along the south side of the Kollmorgen building. This would be an improvement to the site plan that would benefit everyone.



At the Planning board meeting on Thursday, May 28th I asked if a route such as the one described above would be possible. I was told that for security reasons Kollmorgen would not allow the path to run alongside their building. I would like to know why it is that for over fifty years Kollmorgen has been able to operate at its King Street location with a sidewalk no more than twenty feet away from its front door but now a bike path is out of the question. What facts can they give me at the next Planning Board meeting to justify this new requirement?

There have been many concessions made to accommodate Kollmorgen and their desire to move to this site. The original plan of creating a small business and retail center on the South Campus has been set aside to allow an industrial facility and its required parking. It seems reasonable to ask Kollmorgen to agree to this bike route as a demonstration of their willingness to be good neighbors and to help retain the original vision of a mixed-use village open to everyone. The SDAT Report presents a comprehensive plan (based) on principles of sustainability in conjunction with the mayor's initiative for a sustainable Northampton. It was agreed at the outset that the intent of sustainable design is to take an integrated approach that balances three aspects of sustainability, namely social, economic and environmental implications. It was noted that a great advancement in one of these three areas to the detriment of one or two of the others will not be sustainable overall. (Northampton SDAT Report – page17)

From this location the views of the Pioneer Valley and the Holyoke and Mount Tom Ranges are stunning. The Overlook Bike Path would provide a common place for residents, workers, families and cyclists to share and enjoy. On this overlook the community will be able to meet each other and connect with the beautiful valley we all call home. The Northampton SDAT Report states that it is desirable to create trails and bike paths along greenways; these alternative transportation strategies provide areas of scenic beauty, improve air quality, provide habitat protection and passive recreation, and are accessible for people with disabilities. (Northampton SDAT Report page 31)

I think a much safer, more interesting and ultimately more desirable route would be the one I have tried to describe. Kollmorgen resisted the notion because it would bring the path in proximity to the south side of their facility. However, the Kollmorgen Site Plan that was presented on December 9, 2008 depicted a bike path going almost exactly where I'm suggesting. The Outlook Extension would be a return towards what had been a better, safer plan. This would be an important improvement to the Village Hill Northampton Master Plan.

Before approving Kollmorgen's Site Plan, the Northampton Planning Board needs to revoke the approval of the flawed Earle Street bike path and require the creation of the Overlook Bike Path Extension described above in its Order of Conditions. Mass Development must commit to building the Overlook Bike Path Extension. Public access to this valuable resource will help to achieve the stated goal of building a community at Village Hill Northampton.

Please attend the Planning Board meeting on Thursday, June 11th at 7:00 in the City Council Chambers to voice your support for the Manhan Rail Trail Overlook Extension. This will be the only opportunity to have your voice heard. Be there and help make your community a better place to live.

Thank You,
Benjamin Spencer

See also:
Video: Manhan Rail Trail Hearing of 4/27/09
April 27: Public Hearing for the Manhan Rail Trail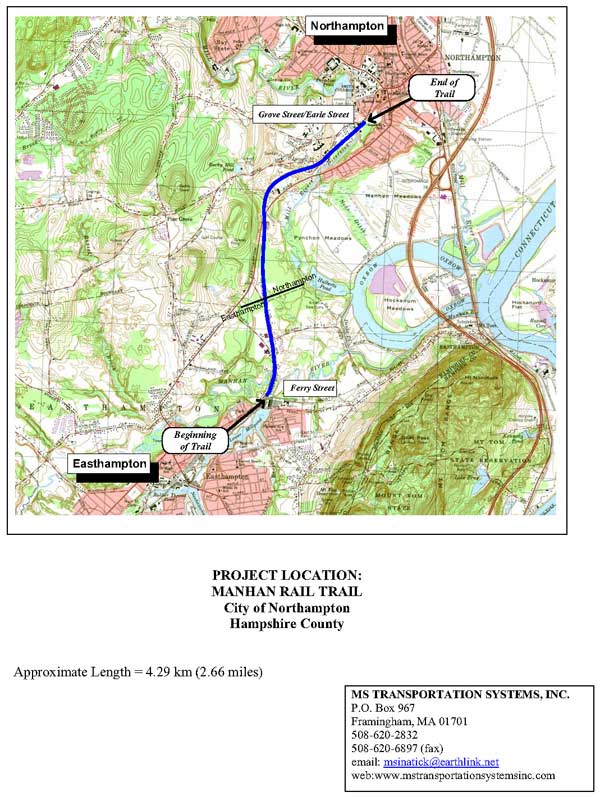 Rail Trail Map by Northampton Trails and Greenways (PDF)
Northampton Planning and Development: Sustainable Transportation
Video: Transforming Northampton's Rail Trails to a Regional Trail Network (11/18/08)
Video: Kollmorgen Hospital Hill Presentation of 5/20/09
Gazette: "Neighbors get look at Kollmorgen plans" (5/21/09)
Video: Planning Board Approves North Campus Hospital Hill Subdivision, Denies Dog Kennel Permit on 4/23/09
Video: Planning Board Meeting of January 22; Hospital Hill; Kohl Condo Proposal
Hospital
Hill: 12/1/08 Joint Meeting of the Citizens Advisory Committee,
Planning Board and Housing Partnership – Video and Minutes;
MassDevelopment vs. Notre Dame Visions
Notre Dame Northampton Charrette Critical of Hospital Hill Plans, Fleshes Out Alternative (11/30/08)
Video: Northampton State Hospital Citizen Advisory Committee Meeting, 11/17/08
Video:
November 13 Planning Board Meeting: Hazards Mitigation Plan; Zoning
Revisions Committee; Hotel Northampton Complaint; Hospital Hill
Diverging from Vision of Planned Village; Comments on Notre Dame
Charrette Website
1:55:41-2:44:55
Members of the Planning Board Are Displeased with
How Hospital Hill/Village Hill Is Diverging from Their Vision of a
Planned Village
The Citizens Advisory Committee will meet to
discuss Hospital Hill on November 17. Members of the Planning Board
expressed concern that by the time Hospital Hill proposals come to
them, they have too much momentum to be changed much.
The
Planning Board had envisioned Hospital Hill would be a planned village
with mixed uses (housing, commercial, retail). What's actually evolving
appears to be a "huge subdivision" with different levels of housing.
Ken
Jodrie: "We're going to be under tremendous pressure to approve exactly
what they [Kollmorgen] come here with… or we're going to be
criticized for being anti-development, and killing a cash cow…"
2:10:11…
Jodrie: "We have an awful working relationship with this developer
[MassDevelopment]… They're going about this in a way that's not
working with us at all… I'm extremely disappointed in this process…
It's MassDevelopment who's not listening to us [as opposed to the
Citizens Advisory Committee]. They don't hear what we tell them about
what our interpretation of this village is."
Misch suggested more communication between the CAC and the Planning Board.
George Kohout expressed dismay at how the proposed Kollmorgen facility will sit with respect to the street adjacent to it.
Francis
Johnson expressed frustration with how CAC meetings have dwelt on
minute parts of the plans for Hospital Hill. He does like how the plan
preserves beech trees and provides for greenways.
Kohout would like more information sooner about how plans for Hospital Hill are evolving.
Misch said MassDevelopment would like to move forward on their plans to tap road-building funds that are now available to them.
2:22:10…
Jodrie: "…the developer is not complying with our vision of what a
village ought to be… We need to tell the developer directly that
they're not going to get these approvals when they arrive here
regardless of what the CAC says."
2:25:25… Baker: "It does
seem as though there are these end runs like there was with the police
department [regarding their new police station] where they come to us
finally and say, 'Well, this has already been approved and there's been
all these other hearings and you know, you just can't raise that
anymore.'"
2:26:35… Dierenger: "I think that we have to fight
that pressure… What I'm sensing here is that this is what MassHousing
is doing. They have this strategy of going to CAC, getting their
approval and then things fester politically and then the pressure
mounts for us to just approve what everyone already thinks is a
foregone conclusion 'cause CAC approved it… We know that's not true.
We know what our purview is. We know what we have control over…
[Resisting the pressure is] going to suck, but…we're not the CAC."
Video: June 26 Planning Board Meeting Discusses Hospital Hill, Citizens' Advisory Committee, Northampton Soccer Club
Valley Advocate: Northampton: No "Village" at Hospital Hill (6/12/08)