Here is a blip.tv video of the 8/31/09 meeting of Northampton's Committee on Elections, Rules, Ordinances, Orders and Claims. This committee is a subcommittee of the City Council. The video is 1 hour 8 minutes long. We join the meeting just a few minutes after the start. The video was recorded by Mimi Odgers of Water Not Waste.

Video highlight:

0:29:13… Councilor Bob Reckman suggests a new rule on receiving nonbinding citizen ballot petitions. He desires such petitions to be presented to the City Clerk perhaps no later than 70 days ahead of the next municipal election. He feels that 35 days is not much time if citizens later choose to collect signatures from 10% of the registered voters to put their question on the ballot (if the City Councilors don't add it to the ballot themselves).



Here is the official agenda: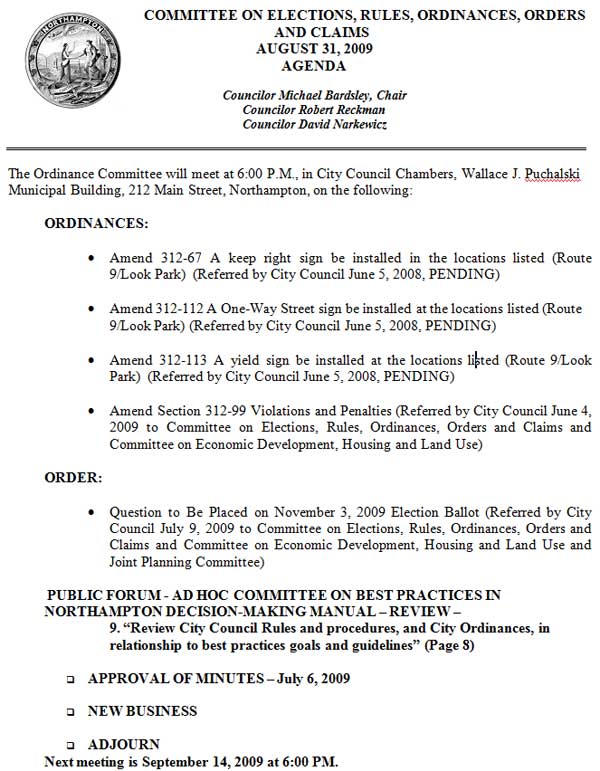 See also:

Water Not Waste Seeks Signatures, Donations

Video: Special Meeting of the Board of Public Works and the City Council, 8/21/09; Landfill Ballot Question No. 2

Video: Presentation of the Final Recommendations of the Best Practices Committee to City Council, 3/5/09
Download the recommendations online or view reference copies at Forbes Library, Lilly Library, and at City Hall in the offices of the City Council, Mayor, and City Clerk.