NorthAssoc received kind permission to record video at Saturday's Miss Trans Northampton Pageant. Lorelei Erisis was named Miss Trans Northampton 2009 from the evening's field of eight. Leslie Anne Rios was the first runner-up, followed by Lily Rin and Tammy Twotone. Here are highlights from the event. These videos were recorded by Adam Cohen.
"This is a piece I call my entire life and transition in under five minutes, hopefully."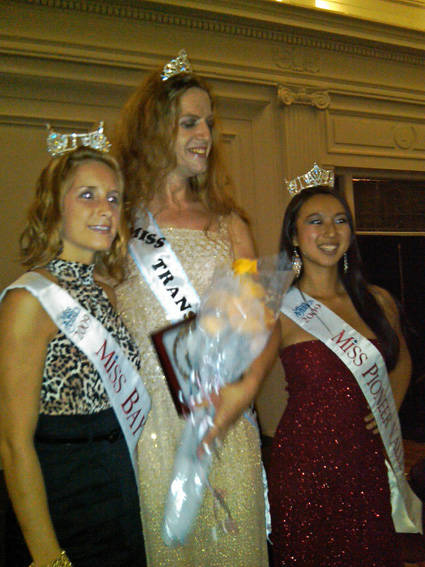 See also:
Gazette: "Miss Trans is crowned" (9/7/09)
Thought to be the first event of its kind in the region, Saturday night's pageant was conceived specifically to showcase male-to-female transgender people…
While it was a night of fun first and foremost, the pageant was also a fundraiser for the New England Trans United Pride March and Rally, scheduled for Oct. 3. Rally organizer Bet Power estimated the pageant brought in more than $3,000.
Reiter's Block: "Gender Binary Versus Gender Spectrum: Implications for Gay Rights (8/26/09)
Northampton's most fabulous transwoman, Lorelei Erisis, has a new column in The Rainbow Times, Western Massachusetts' GLBT newspaper. This month, she addresses a reader's question about the relationship between gender identity and sexual orientation.
Reiter's Block: "Northampton Pride 2009" (5/3/09)
Reiter's Block: "Hundreds Attend 'Join the Impact' Gay Marriage Rally in Northampton" (11/16/08)
Our first speaker, Lorelei Erisis: