The now 20-unit Kohl Construction condo proposal goes back before Northampton's Conservation Commission on September 10, 5:30pm in the City Hall Hearing Room, 210 Main Street, 2nd floor (enter via the back door). Concerned citizens are urged to attend. Here is the commission's agenda followed by Land Use and Conservation Planner Bruce Young's staff report.


Northampton Conservation Commission
Agenda

Date: Thursday September 10, 2009
Time: 5:30 PM
Place: City Hall Hearing Room (use back door or main Crafts Avenue door) 2nd floor, 210 Main Street, Northampton

For more information: Bruce W. Young, Land Use and Conservation Planner byoung@northamptonma.gov

Agenda

Approval of Minutes for 08/27/2009

5:30 PM
Continuation of a Notice of Intent filed by Tofino Associates, Inc. and Northern Avenue Homes, Inc. for the construction of twenty-three dwelling units and associated roadways, parking areas, driveways, sidewalks, utilities, landscaping and stormwater management system. Project is proposed to take place in the 100-foot buffer zone of Bordering Vegetated Wetlands. Project location is Northern Avenue, Map Id 25C-12 and 25C-17.

*Public hearing was closed on 08/27/2009

6:00 PM
Request by John Clapp for a support letter for a Community Preservation Act application for funds to restore the Upper Roberts Meadow Dam in Leeds.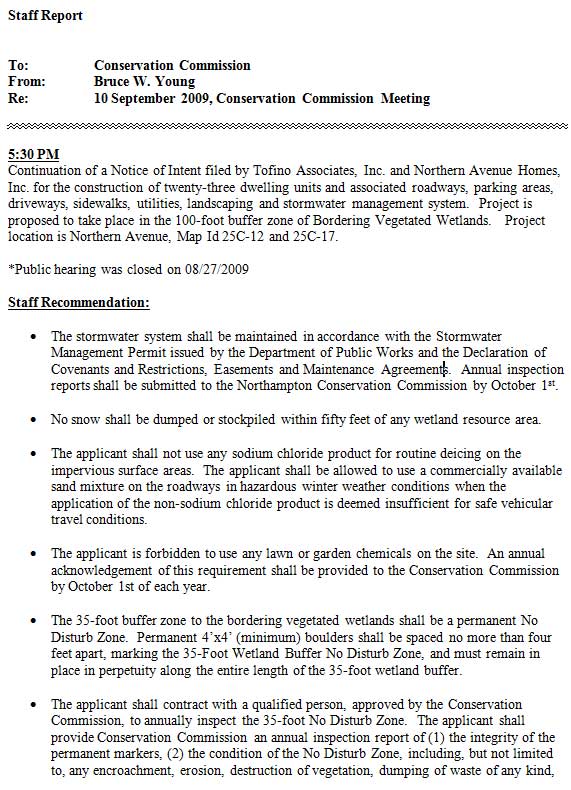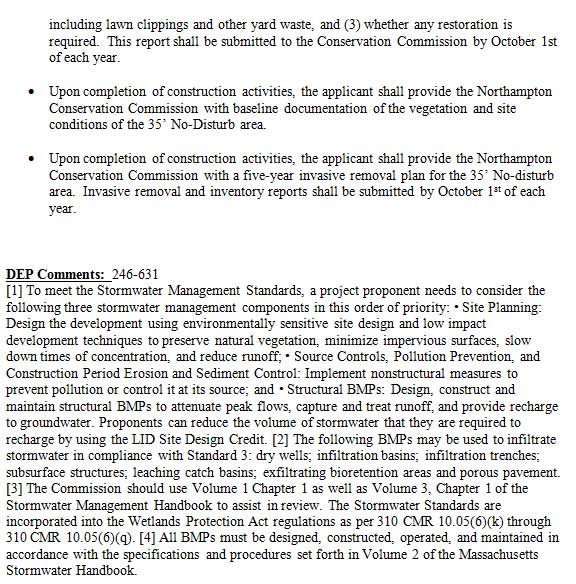 See also:
Pictures from the August 27 Conservation Commission Hearing on the Kohl Condo Proposal
The commissioners desired to refine language in the
draft covenants
and project conditions, but showed little interest in several issues raised at their
March 12 hearing
, issues we believe have not been adequately addressed in the current proposal. These include:


Units 5-12 would be in an area that [now former] Conservation Commissioner Paul Wetzel objects to building on because the ground is so wet

Wetzel also expressed concerns about how the underground stormwater detention system by Unit 10 would interact with groundwater in and around the wetland

Unit 18 appears to be slated for the same place as a unit that Conservation Commissioner Downey Meyer objected to previously as too close to the wetland

The total amount of disturbance inside the 100-foot wetlands buffer zone would remain high; Meyer objected to this on the version of the proposal reviewed on March 12
The commissioners decided to take a firm stand on requiring four-foot diameter boulders to protect most of the 35-foot no-disturb zone around the Millyard Brook wetlands. Doug Kohl had asked for something less obtrusive, but the commissioners believe that nothing less will deter encroachment over the long term, considering past experience. As you can see from the charts, these boulders might be a tight fit considering how close some condos and paths are to the 35-foot line.

Special Permit As Issued to Kohl Construction for North Street Condos

Video and Slides: Planning Board Grants Special Permit to Kohl Condos on 6/25/09

Latest Kohl Condo Proposal for North Street: 20 Units as Duplexes

Video: Conservation Commission Meeting of 1/22/09; Non-Compliance with Wetlands Protection Agreements; Kohl Asked to Revise Condo Proposal Again
0:39:00-0:51:01… Bruce Young: "Honestly I have too much going on [to closely monitor EBD's planting plan], and part of that 'too much' is enforcing encroachments on projects similar to this. So, to add to this, I'd like to say that I would recommend that the commission require large boulders two feet on center across the entire encroachment zone…four feet in diameter boulders two feet apart… I think two feet keeps people from mowing and creates a border…. Because I've spent a huge amount of time going to these projects now that we had, we started a few years ago at 30 feet apart, then we went to 25 feet apart, now we're at 15. Actually, I've had enough. I've had enough of sending enforcement orders to people and having them deny them in the mail, and then have it come back to me, and then having to send one certified mail, and then have them deny it three times before I have to issue a…someone to deliver a subpeona, and then this is a huge waste of time for someone who is mowing down a wetland that is a…what begins in the process as a fair kind of negotiation but then turns into…it gets sold to one person who gets sold to another and people…no longer respect that line…

"I'll show you a picture of another project where we asked for two-foot diameter [boulders] and I have a picture of my shoe next to it and my shoe actually is about two inches longer, and I know I don't have two-foot long feet. I have big feet but they're not that big. So I'd prefer to say four foot in diameter. Large boulders. They can't be moved. You can't pick them up. You can't roll them out of the way and mow the wetland. We're talking long term…

[Responding to a Harrity's suggestion of a white picket fence instead of large boulders:] "A hundred-year white picket fence would be difficult to find…

[Harrity: "We could put it in the association bylaws that it needs to be maintained…the annual inspection…"]

"The thing is that's all fine and dandy but what happens is somebody just decides to cut it down or move it or take it out, and it's happened on almost every negotiation we've made…since I've been here, four years, almost every single one. There's one that I can say that there is not a single encroachment, and that's Pat Melnick's new project and it has boulders all the way around it, and that's the only one…

"You can put a stone wall, or you can put boulders, what else lasts 150 years?…

[Responding to a suggestion from Commissioner Kevin Lake to combat the encroachment problem through covenants:] "We have [an agreement] with Cardinal Way. We have a covenant that says, there's a 75-foot no-disturb area, and there will be granite bollards placed every 25 feet along this 75-foot no-disturb… And what we have is, we have smashed granite bollards that are sitting in the mowed wetlands. That people have smashed the bollards, threw them back in the woods, and then mowed all the way up to edge of the woods…mowed down all the wetland vegetation and so now what we have is (and there's a shed sitting in the middle of the wetland now) and what we have is large grass and my letters that I sent to them saying, you don't have the right to do this, and them coming back to me saying, any letter that comes to them from the city is refused in the mail…

"My position has already been cut down to three days for conservation, and there's no time for this, and there's no one else out there doing it…"

Japanese Knotweed and Multiflora Rose: Is Herbicide the Answer?
[Japanese knotweed:] Once established, F. japonica is very difficult to eradicate and removal efforts may have further adverse impacts on the soil or other plants…

[Multiflora rose:] Where plants have become well established, a huge seed bank develops that can continue to produce seedlings for at least twenty years after removal of mature plants…

Based on the longevity of the seed bank, eradication might be a 20-year project or more, far longer than the year or two (or even 10) contemplated in Kohl's latest written proposal. It seems unreasonable and unrealistic to ask a developer and the Conservation Commission to implement and monitor such a lengthy program, especially when non-compliance with wetlands agreements has proven to be a widespread problem in Northampton.

In contrast to a relatively short program of toxic herbicides–extraordinary or not–the long-term, low-risk, environmentally gentle solution to these invasive species appears to be bringing the ecology back into balance, allowing and in some cases encouraging the natural predators of knotweed and multiflora rose to feast on their abundance. Additionally, preserving mature trees will help control knotweed.