This fresh AP report underscores the risks of developing areas close to streams:


Study: Urban streams contaminated by road salt

Many urban streams have become salty enough to harm aquatic life, largely because of salt used for deicing roads in the winter, according to a new government study released Wednesday.

The U.S. Geological Survey studied urban streams and groundwater for levels of chloride, a component of salt, in 20 states spanning from Alaska to the Great Lakes and Northeast.

It found chloride concentrations above federal recommendations designed to protect aquatic life in more than 40 percent of urban streams tested. The highest levels were measured in those streams during the winter — as much as 20 times the federal guidelines — when salt and other chemicals are commonly used for deicing.

…Chloride levels generally were much higher in urban than rural areas…

Eric Novotny, a researcher who worked on both the Minnesota studies, said certain species, mostly bugs at the beginning of the food chain, are typically the first affected by rising chloride levels. Either they're killed outright or it affects their reproduction, reducing biodiversity among less tolerant species, which can have consequences farther up the food chain.
See also:
Video: Conservation Commission Meeting of 9/10/09; Kohl Condos Approved
[Includes a discussion of how to minimize the use of chloride compounds for deicing in the Kohl North Street condo proposal, which calls for encroachment to within 35 feet of a wetland that surrounds Millyard Broook]
Video: Conservation Commission Meeting of 1/22/09; Non-Compliance with Wetlands Protection Agreements; Kohl Asked to Revise Condo Proposal Again
2:56:19… Commissioner
Downey Meyer
[referring to a 25-unit version of the Kohl condo proposal]: "I understand that there is every incentive to maximize the revenue generated by the project, but I don't think that you have to start with that assumption. There's plenty of examples of where developers are forced to in riverfront-area-type situations are forced to give up lots, otherwise buildable lots. There's the same issue here… Even if everything is outside of 35 feet, the project is still evaluated for its impact on the wetlands… DEP stormwater [standards] does not deal with salt. It just doesn't. As far as I know…I don't know of any effective treatment options for removing salt, and yet chloride pollution in New England is a very big problem…some areas in New England are becoming brackish water… the Commission can't ignore impacts because they're small. The jurisdiction runs to cumulative impact."
Gazette Reports on January 22 Kohl Condo Hearings; Pictures of the Latest Proposal; Conservation Staff Report; HYLA Critique
Large quantities of salt are applied to roads, driveways, and stairs and walkways around buildings in Massachusetts (17.6 tons per lane-kilometer of Mass. roadways – this and all references in this section from: N.E. Karraker. "Impacts of road deicing salts on amphibians and their habitats".
Urban Herpetology
. 2008. Pp. 211-223.) Salt is extremely soluble in water and is not extracted in any conventional stormwater treatment systems. The result is an inevitable increase in the salinity in wetlands and water bodies near newly created roadways and houses. Changes in salinity are specifically regarded as an alteration under the Massachusetts Wetlands Protection Act (310. CMR 10.04, see definition above). I have measured the conductivity (an indirect measurement of salinity) of vernal pools and other wetlands in approximately 60 areas of Westford, Massachusetts and found evidence of severe salt pollution in pools many yards from homes and roadways. Karraker (
Ibid
) reports studies noting that most salt impacts occur within 70-100 feet of roads.
The ecological consequences of increased salinity have received some degree of study and are summarized in Karraker (
Ibid
). In areas with significant de-icing salt impacts, plant species diversity has been shown to decrease, the abundance of non-native invasives, particularly purple loosestrife (
Lytrhum salicaria
) and Phragmites (
Phragmites australis
) has been shown to increase, and the salt negatively impacted aquatic invertebrates and the survival of frog and salamander eggs…
Video: "Low Impact Development: Performance Results and Implementation in the Field"; Summer vs. Winter Performance of Stormwater Systems
Here are selected excerpts from Dr. Roseen's presentation (0:13:30-0:32:12):
0:29:36… "How are you going to balance public safety with aquatic habitat? We know we're going to go with public safety. So, salt reduction is not the simple answer… and there's no way to treat salt with a stormwater BMP." Roseen goes on to recommend consideration of porous pavements. They let you use less salt and still prevent slippery surfaces.
Gazette: "The Connecticut River: A sewer runs through it" (9/15/08)
Storm water carrying road salt, automotive oils and lawn chemicals, among other pollutants, flows into the river from populated areas along its banks…

As the region continues to grow and develop, we tend to generate more storm-water runoff and pollutants. We are constantly working to address that problem," said Curtis.

U.S. Geological Survey, "Water-Quality Trends in New England Rivers During the 20th Century" (2003, chart from page 22)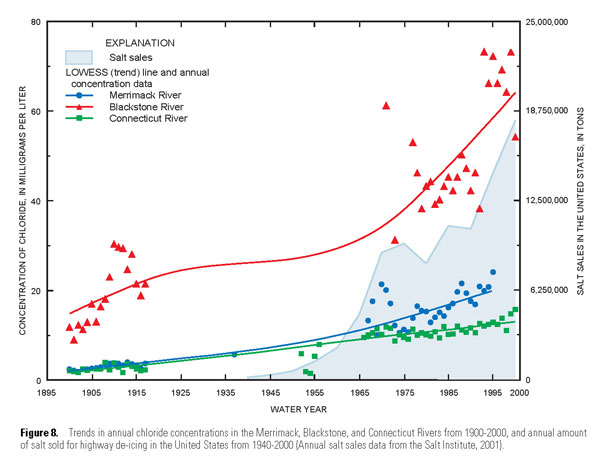 Connecticut River Watershed Action Plan: Remove impervious surfaces within 50 feet of streams
To reduce nonpoint source pollution from stormwater runoff, the Connecticut River Strategic Plan proposes the removal of impervious surfaces within 50 feet of streams and the investigation of "functional replacements" (such as the use of permeable pavement) for impervious surfaces within 100 feet of streams, in developed areas (PVPC, 2001)…

Paved Surfaces, Salt and Water Bodies: A Bad Mix
This news item from the February 17 Republican underscores why it's a bad idea to locate paved surfaces near bodies of water…
Road salt taints 9 home wells

Tests of private home wells along Route 10 have shown that three in Westfield and six in Southampton are contaminated by road salt, officials said yesterday…

All of the homes that have salt contamination in their wells are on Route 10, which is treated with road salt by the state Highway Department, said Anne M. Capra, a principal planner with the [Pioneer Valley Planning Commission]…
Gazette: "Salt suspected in Southampton well contamination" (2/19/08)
Some homes with wells on Route 10 have 14 times more salt, or 280 milligrams of salt per liter, in their drinking water than the 20 milligrams per liter recommended by the Environmental Protection Agency, according to town officials…

According to the U.S. Environmental Protection Agency's Web site, salt is a cheap and effective solution to ice-covered roads that can be a problem for drinking water systems as runoff affects local soil quality, groundwater and surface water supplies…

Intermittent Streams Merit a 100-Foot Buffer Zone in Hopkinton
Here is a bylaw from Hopkinton's Wetlands Protection Regulations (PDF) requiring a 100-foot buffer zone around intermittent (and continuous) streams. We note that just such an intermittent stream, Millyard Brook, runs through the heart of the forest behind North Street that Kohl Construction intends to build on.