The Northampton Design Forum invites the public to "An Introduction to Form-Based Zoning":



See also:

Download Envisioning Sustainable Northampton – Final Notre Dame Studio Presentation Book

Envisioning Sustainable Northampton: Notre Dame Urban Design Presentation – Video and Handout

Video and Slides: Final Presentation of Design Northampton Week
An old court house is contrasted with a new one: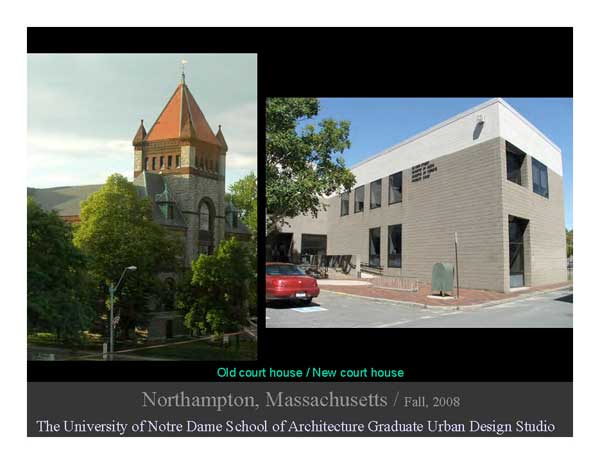 The old Post Office is contrasted with the new one: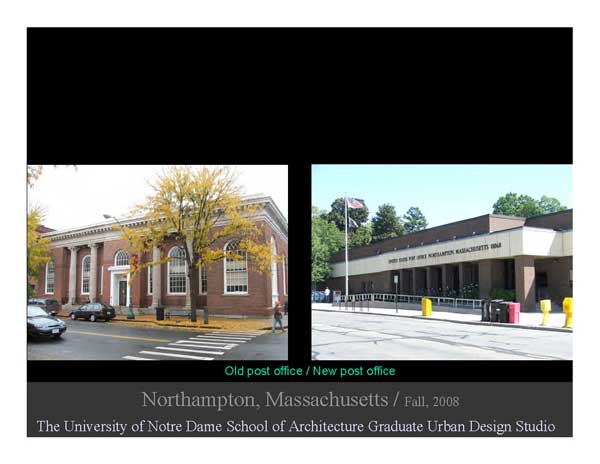 Northampton Media: "Northampton's Built Environment: Squandered Public Equity" by Tris Metcalfe, AIA (11/2/09)
It is understandable that many citizens are not aware of the importance and value of good architectural design. However, it is not acceptable for any city government to be ignorant of these needs and values, since government holds much power and responsibility to shape the world we all must inhabit on into the future long after they are gone.

Video Highlights from the 10/19/09 Mayoral Debate: Wetlands, King Street, Infill and the BID
Higgins: "I agree with Councilor Bardsley that we need to think about design standards. I think we need to think about density…and I think we need to think about things like greenspace and trees."

Bardsley: "I think we need design standards… Infill isn't simply cramming in buildings."

March 10: Zoning Revisions Committee to Meet; Our Suggestions
Before trying to facilitate infill development, might it be best to first establish infill design standards? (see Springfield)

Video: Zoning Revisions Committee Meeting of 5/20/09
1:30:09-1:38:39… Discussion of design guidelines. Jim Nash: Neighborhood groups have anxiety about what infill will look like.Specifying design guidelines up front will ease the way for other regulatory changes. Residents will have more trust in the outcome. Let's analyze mistakes from the past.

Lessons from San Diego: Why We Need Infill Design Guidelines

Our Ad in the May 6 Gazette: "How to Avoid Classic Infill Design Mistakes"

Knoxville Infill Housing Design Guidelines: Lessons from Experience

Video: Zoning Revisions Committee, 10/28/09; Attract People to Infill Areas with Amenities

Below is a handout distributed by committee chair Joel Russell (download as a PDF, 20KB). See also Danielle Kahn's presentation, "Barriers to Urban Infill in URC" (PDF, 364KB).