Northampton Media reports today:


On February 10, 2010 the Pioneer Valley Hotel Group requested another extension of sixty (60) days in order to fulfill its obligations under the existing Request For Proposals (RFP) and Purchase and Sale Agreement with the City of Northampton. The City has declined to grant any further extension to this long delayed project…

Mayor Higgins…said that she will work with the City Council Finance Committee to create a community process for exploring the potential redevelopment of this key piece of downtown city property.

Click for the full story
See also:
Northampton Media: "Hotel Developer: Project Not Dead"
(2/17/10)
Shardool Parmar, president of the Pioneer Valley Hotel Group, says that he has met all of the requirements outlined in a 2006 request for proposals (RFP), and that the Mayor's February 15 denial of a request for a 60-day extension of the purchase-and-sale agreement for the project is moot…
"The original RFP makes no specific mention of a $12 million performance bond requirement," Parmar told Northampton Media. "We've met all of the requirements of the RFP to guarantee project completion. We have a commitment letter from the bank guaranteeing construction. We've secured a guaranteed bid price with a contractor, and the contractor is bonded as well. We never agreed to the additional $12 million bonding requirement."
Gazette: "In Our Opinion: Developing downtown Northampton"
(2/18/10)
Northampton Mayor Clare Higgins is right to not extend a financing deadline for the firm that wants to build a hotel downtown. It is disappointing for all parties, but it is the right call…
The mayor insisted on a performance bond, essentially an insurance policy that would guarantee the hotel be completed. That was the prudent move to protect the city's interests…
Of the two projects bid in 2006, the hotel offered the better tax revenue return for the city and had more potential to boost tourism and promote economic activity in the downtown.
On those grounds, and given the economic tide the hotel group was swimming against, we supported extensions in the past. It is now time to start over.
When the hotel project was approved in 2006, some in the city felt it deserved more public discussion. There is a chance for that now.
Petition: "Let's start anew on the hotel"
(1/7/10)
Allowing the agreement to expire would enable the city to develop a new process for deciding the future of this site. The undersigned are not opposed to developing the site but rather want to see it developed in a manner that maximizes its value to the whole community. The Pulaski Park/Round House lot lies at the very center of our city, and should become a jewel in the crown of downtown Northampton – a Center that serves our residents, visitors, arts communities, and businesses. We need to develop a workable vision for this site. A carefully designed process that generates a wide range of ideas and public buy-in will provide the groundwork for a successful project going forward.
Northampton Media: "Northampton's Built Environment: Squandered Public Equity" by Tris Metcalfe, AIA
(11/1/09)
Summary of Public Properties Exhibiting Poor Mayoral Management


…4. Pulaski Park: Design and construction budget inflated beyond needs. Access between the Park and Veterans Field is lost because of the flawed and unimaginative Hilton Garden Inn Hotel site plan design.
5. Round House Lot and Proposed Hilton Garden Inn Hotel: Very poor site design. Illegal zoning process enabled by political rubber stamp. Owners of neighboring historic properties sued the City, winning unknown thousands of tax dollars from a judge very angry at the city's actions…
Northampton Redoubt: "Metcalfe Hilton Garden Inn design alternatives"
(7/26/07)
Northampton Redoubt: "Metcalfe Hilton Garden Inn redux"
(10/16/07)
Regardless we will live with what is built there until better renovations by demolition occur in the future when a much better city government would propose design competitions that fully illustrate to all of us what we are forcing in ourselves. We know when mistakes get built they remain for a long time due to the economics and then also they might get used as justifications for more bad design work since it's existing and therefore absurdly ok. No way, for anything anywhere near called a paradise!
Video: Best Practices Workshop Evaluates Public Forum; Hotel Decision-Making Process Scrutinized; Wanting More from Local Media
(2008)
The committee members discuss the controversial decision-making process involving the downtown
Hilton Garden Inn hotel
. Some frustration with local media is expressed–especially with the Daily Hampshire Gazette–for not giving the matter enough coverage early on.
Best Practices: Pictures and Video from the May 13 Public Forum
(2008)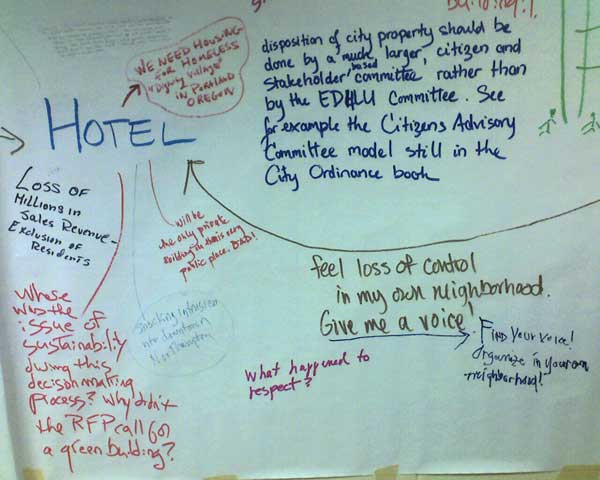 Paradise City Forum: Hilton Garden Inn at the Round House