Kirk Westphal presents a 20-minute YouTube video on what makes downtown Ann Arbor, MI so successful. There are good insights for those who'd like to extend the feel of downtown Northampton northward up King Street.
See also:
Videos: Zoning for King Street, 9/29/10; Sussman, Horton, Budgar
Videos: Zoning for King Street, 9/21/10
Joel Russell Comments on King Street Rezoning (9/22/10)
TED Video: Ellen Dunham-Jones on Retrofitting Suburbia (7/30/10)
As King Street goes under the microscope, architect Ellen Dunham-Jones talks in Atlanta about the successful reuse of empty buildings and parking lots, and enhancing the attractiveness of major thoroughfares.
Brookhaven, NY: Infill Design Guidelines in Two Pages
"We were getting plans not in accordance with what people wanted," says the town's principal planner, Diane Mazarakis. "We'd get a new building that looked like a warehouse with a gable roof. It met the setback requirements of the code. So we drilled down and started to develop architectural guidelines."
Download Envisioning Sustainable Northampton – Final Notre Dame Studio Presentation Book
Envisioning Sustainable Northampton: Notre Dame Urban Design Presentation – Video and Handout
Envisioning Sustainable Northampton: Notre Dame Urban Design Presentation – Slides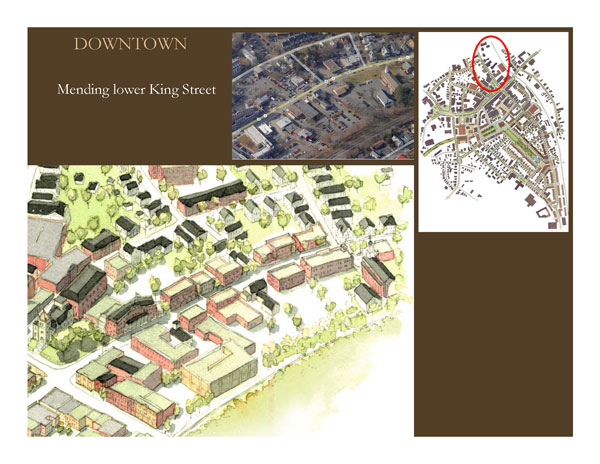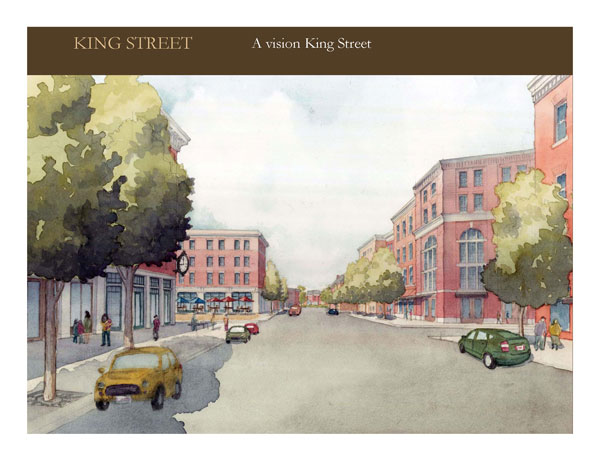 Video and Slides: Final Presentation of Design Northampton Week
The pleasing appearance of the northern portion of Pleasant Street–built before 1950–is contrasted with southern Pleasant Street: