The Ward 3 Neighborhood Association and Smith College have just released the results of an informal survey regarding open space and recreation.
Here are the top five responses to Question 7 (among the 94 respondents who answered the question correctly):

If you could tell the City three things that we needed in Ward 3 that would make it better from an open space and recreation point of view, which of the following would you choose to say?

We need to conserve as much farm land and agricultural soil as we can
The tree-lined streets are an important part of the Ward 3 experience and should be maintained and replanted when needed
The wooded areas should be protected because they provide natural play space for kids, habitat for wildlife, and give Ward 3 character
Protect the remaining wetlands in Ward 3
We need 2 or 3 small (less than an acre) neighborhood parks to promote walking and livability
See also:
October 21: Presentation by Grow Food Northampton  
Lilly will present a slide show and answer questions about what the Northampton Community Farm will look like, how it could benefit our community, and how citizens can help make it a reality. 

October 14: St. Elizabeth Ann Seton parish, Three County Fair Barns on Planning Agenda
The new building and parking lot would necessitate the removal of a number of mature trees, cover the lot with substantially more impervious surface, and bring the building edge much closer to abutting homes on Edwards Square.
Topographical Map Shows How Kohl Condo Proposal Will Eat Into a Rare Stand of Mature Trees in Downtown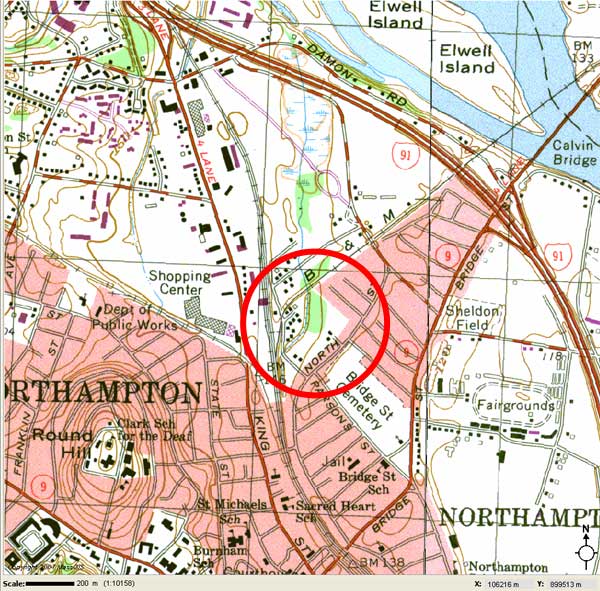 Video: Wayne Feiden Presents Draft 2011-2017 Open Space, Recreation & Multi-Use Trail Plan
Wayne Feiden, Director of Northampton's Office of Planning and Development, presented highlights from a draft of the 2011-2017 Open Space, Recreation & Multi-Use Trail Plan (PDF, 237 pages, 5MB) to the public at Northampton High School's Little Theater last night. Here is a complete blip.tv video of the presentation and discussion (1 hour 20 minutes).

Video: Second Forum on Northampton Open Space, Recreation & Multi-Use Trail Plan (9/23/10)
Video: Glynwood Presents "Keep Farming" at Agricultural Forum (9/25/10)
Springfield Republican: "Northampton task force to unveil plans for former Bean, Allard farms" (7/5/10)
Northampton Open Space Plan: "This loss of habitat and natural flood buffering areas is Northampton's most serious environmental problem" (9/5/07, emphasis added
UMass Press: "Natural Land: Preserving and Funding Open Space"
Protecting open space is often about protecting what makes a community special and unique… At the small-town or village scale, a forested hillside or surrounding farmland helps create a unique sense of place. Furthermore, preserving open space helps to create distinct edges that stop the blurring of community boundaries that is characteristic of urban sprawl. Defining what is unique about one's community and identifying places that are special to local residents is an important part of the overall planning process (Hester 1990)…

Bay State Village Visioning Project: Survey Results  


The Ecological Cities Project: Greenspace in "The Humane Metropolis"
A metropolis (i.e., metro region or citistate) is considered green if it fosters humans' connections to the natural world — an idea Anne Whiston Spirn promoted in her seminal 1984 book The Granite Garden. Spirn rejected the idea — easily absorbed if one watches too many "concrete jungle" films, or even televised nature documentaries — that the natural world begins beyond the urban fringe. "Nature in the city," she wrote, "must be cultivated, like a garden, rather than ignored or subdued."
Photo Essay: 10 Reasons People Like Trees Around Them; Will the Sustainable Northampton Plan Put Urban Trees at Risk?