Here is a complete blip.tv video of the 10/12/10 meeting of Northampton's Committee on Elections, Rules, Ordinances, Orders and Claims. The latter part of the meeting (starting at 1:04:30 on the video) includes a discussion of the public comment periods at City Council meetings and "Concerns Expressed about City Council meetings running past 11:00 PM and possible solutions (e.g. meeting start time, consent calendar, etc.)" This recording is 1 hour 47 minutes long and was made by Ken Mitchell.
Here is a blip.tv excerpt from the meeting where the commitee and Ken Mitchell discuss where and when public comment periods should take place and how much time should be alotted to them. This excerpt is 25 minutes long.
Selected quotes from this discussion:

Maureen Carney, Ward 1 City Councilor: "The concerns that I've heard from our colleagues (councilors) is that when it gets to be 11 o'clock, it's really hard to be conducting business…and this is important business that we have to deal with at 11 o'clock at night. Typically, ordinance changes and language…and I think it's probably more appropriate for us to switch, and put the public comment at the, you know, I mean possibly putting public comment at the end of the meeting… What that would do is it would allow us to take care of serious business and then, you know…I'm not saying that people…what I'm saying is that we'd be able then to sit and listen to public comment at 10…it's more inconvenient, obviously, for the public."
Ken MItchell, Videographer: [speaking behind the camera] "…David's suggestion is saying, that when there's an issue that comes up, you can have public comment before that issue… What you're going to do is get one person [who will] bring an issue up, and everyone else who was going to bring that issue up at least sees that it's addressed [potentially saving time]. And the biggest problem is that these things don't get addressed because people talk in public comment, two hours later you start deliberating on an issue, most councilors have an idea what they're going to vote for or what they're going to say and these people are ignored and people feel like they are not being represented."
See also:
Best Practices Committee with Final Recommendations
"Meeting chairs should welcome public attendees, orient them to both the agenda and committee rules/practices, and make meetings as interactive as reasonably possible…
"Review Council Rules, including alternative approaches to facilitating public comment and feedback at City Council meetings."
Video: Presentation of Final Recommendations of the Best Practices Committee to City Council, 3/5/09
The Best Practices presentation and discussion takes place during 1:02:07-1:18:50 on the video. Here are the first two pages from Appendix 16, which contains comments gathered during the 90-day public review (PDF, 353KB).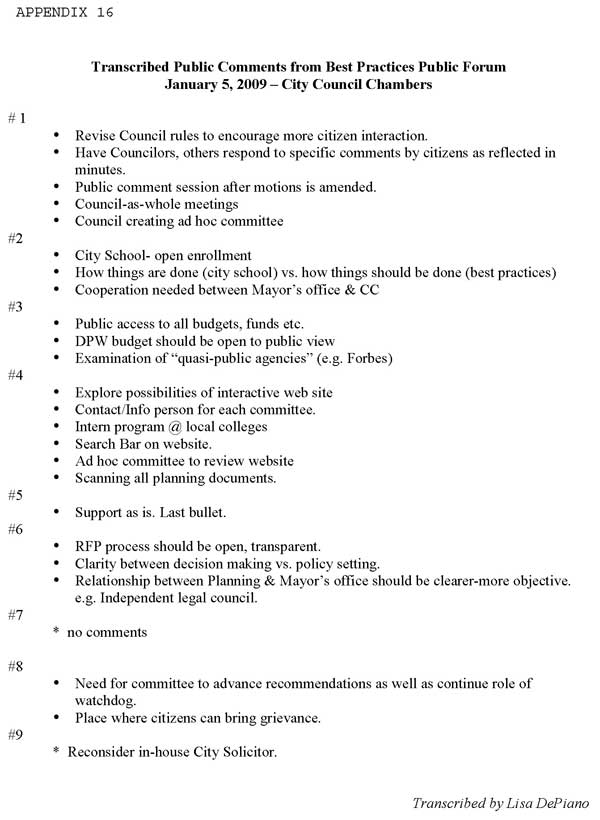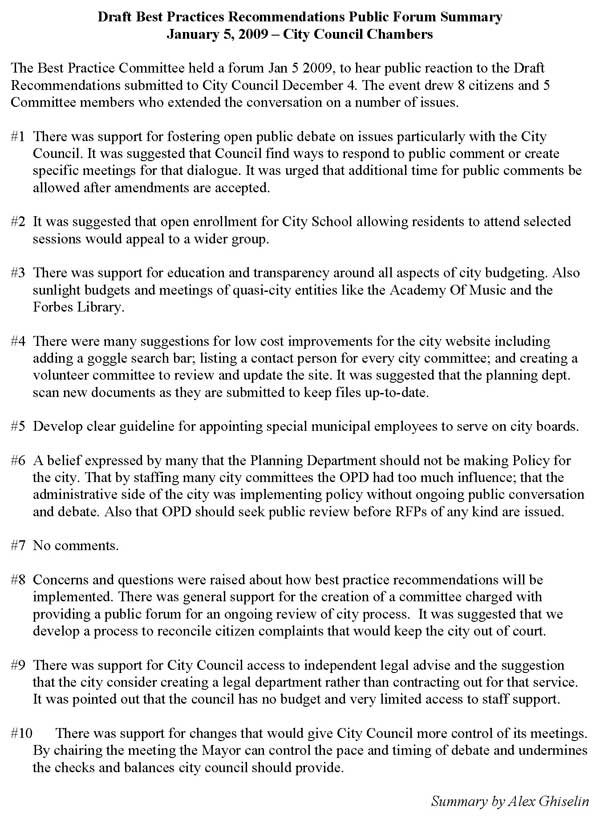 Videos: Charter Review Committee Debates Scope of Mission, How to Solicit Public Input (4/29/10)
Adams: "I absolutely disagree [with trying to channel most public comment into a single big forum as opposed to also making a regular place for public comments at the committee's business meetings]… I think that that serves an extremely valuable function, having people come before our business session [at City Council]…and letting it be open to the public. I absolutely think that we should begin with public comment."
Best Practices: Pictures and Video from the May 13, 2008 Public Forum