Here is a complete YouTube video of the 3/23/11 meeting of Northampton's Board of Public Works. The board votes to authorize lower tipping fees at the municipal landfill to better compete with other waste disposal options in the region. One large customer in particular, Duseau Trucking, has virtually stopped using the landfill. The Department of Public Works would like to entice them back. This recording is 1 hour 50 minutes long and was made by Craig Odgers.
The competitive environment in which Northampton's landfill operates would seem to contradict Mayor Clare Higgins' assertions during the 2009 campaign season that allowing the landfill to close would lead to dramatic increases in waste disposal costs (at least in the near term).
See also:
Video: Mayoral Debate, 10/27/09; Landfill Risks; Costs of Alternatives to Landfill Expansion
…Mayor Higgins says (emphasis added), "We could close the landfill, create a transfer station where people could bring their recyclables and their trash, and it would be picked up and taken to some other landfill. Currently, it would go to one of the three remaining landfills in Western Mass if we close–Chicopee, South Hadley, Granby–and once those close it would probably end up being trucked out of state or on a train out of state, or out of the region, including as far away as the Midwest. And the cost, that would probably double, up to about $120 per ton…"
It's not clear to us how Mayor Higgins estimates such dramatically higher costs for out-of-state waste disposal. Here is page 30 from Stantec/HDR's 8/17/09 Landfill Alternatives Study presentation (630KB, PDF). It shows how Northampton's current $68.07/ton average net tip fee for commercial customers compares to some out-of-state disposal options: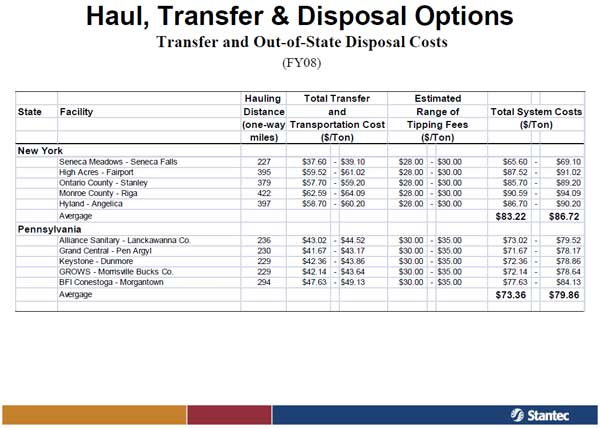 It would seem that Northampton could ship its trash today to Seneca Meadows – Seneca Falls, NY for a cost that's comparable to the fee the Northampton landfill currently charges its commercial customers.
Valley Regional Recycling & Transfer Facility Open for Business (2/25/11)
"The facility is operated by Volume Recycling Associates Inc. (VRA) which together with Duseau Trucking is owned by the Duseau Family. Founded in 1947 by Armand Duseau Sr., Duseau Trucking is an independent, family-owned and operated small business that has been responsibly handling the waste and recycling needs of thousands of businesses and residents in the Pioneer Valley for more than half a century."
Video: Solid Waste Task Force Hears from Haulers (12/20/10)
Video: Duseau, Bouquillon Comment on Proposed "Regulations for Refuse and Recycling Collection"