We salute Lady Bird Johnson (1912-2007), one of the leading conservationists of our time. The Lady Bird Johnson Wildflower Center tells the story…
Mrs. Johnson was First Lady of the nation before she was able to
translate her love for the land into national policy. Once started, she
has amassed a lifetime of achievement as the Environmental First Lady.

Today,
perhaps most people think of Lady Bird Johnson as the reason why we see
wildflowers blooming along the nation's highways and fewer junkyards
and billboards. The Beautification Act of 1965 was one tangible result
of Mrs. Johnson's campaign for national beautification. Known as "Lady
Bird's Bill" because of her active support, the legislation called for
control of outdoor advertising, including removal of certain types of
signs along the nation's Interstate system and the existing federal-aid
primary system. It also required certain junkyards along Interstate or
primary highways to be removed or screened and encouraged scenic
enhancement and roadside development…

In 1964 Mrs. Johnson formed the
Committee for a More Beautiful Capital, responding to Mary Lasker's
suggestion that she make Washington, D.C., a "garden city" and a model
for the rest of the nation. Soon afterward Mrs. Lasker, a
philanthropist who lobbied for medical research as well as for natural
beauty and Mrs. Johnson founded the Society for a More Beautiful
National Capital, which received private donations for the project. The
first planting took place on the mall where Mrs. Johnson planted
pansies. She then planted azaleas and dogwood in the Triangle at Third
and Independence Avenue and ended her first planting effort at a public
housing project.

Mrs. Johnson's view of this project went far
beyond planting daffodil bulbs. She was concerned with pollution, urban
decay, recreation, mental health, public transportation and the crime
rate. The Committee agreed to plant flowers in triangle parks all over
the city, to give awards for neighborhood beautification and to press
for the revitalization of Pennsylvania Avenue and the preservation of
Lafayette Park. The committee also generated enormous donations of cash
and azaleas, cherry trees, daffodils, dogwood and other plants in
evidence today in Washington's lovely parks and green spaces. Perhaps
most importantly, Mrs. Johnson's effort prompted businesses and others
to begin beautification efforts in low-income neighborhoods hidden from
the much-visited tourist attractions.
Here are some views of the forest by the bike trail behind North Street. You'll see the flags that Kohl Construction has placed indicating where they believe the wetland boundary is. Note the evidence of water on the base of the big tree below.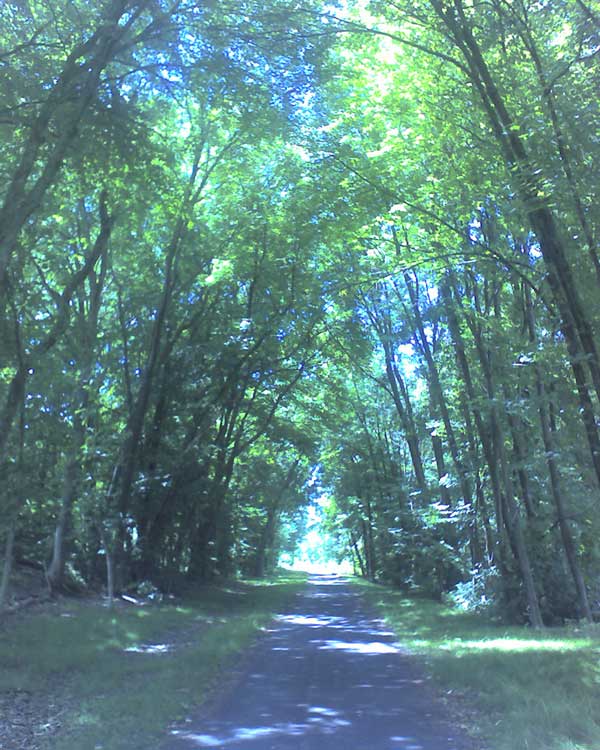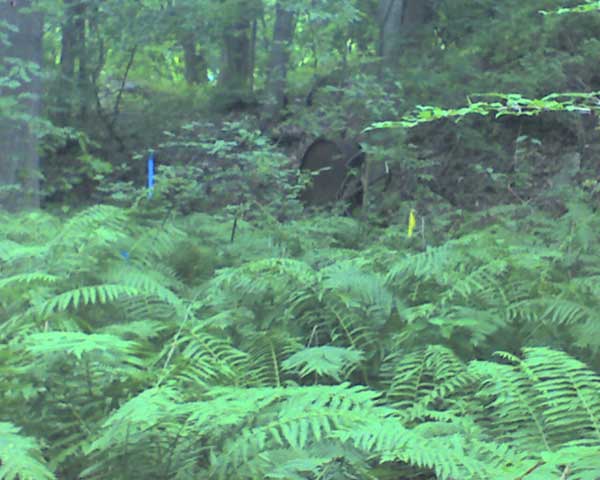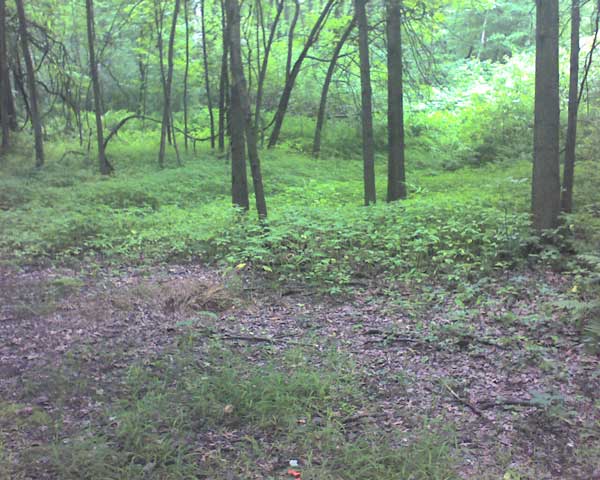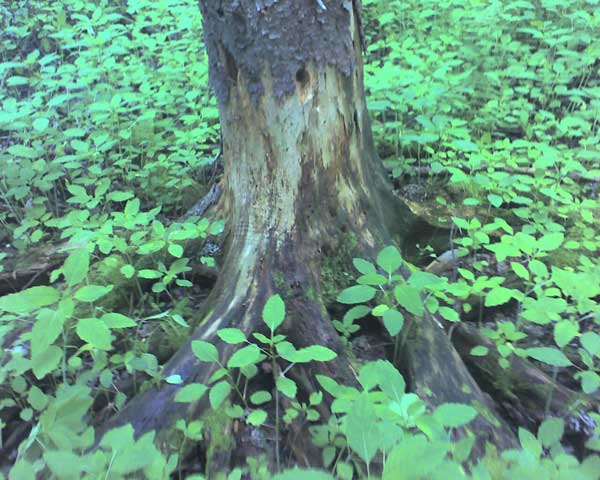 See also:
Pictures of Kohl Construction's Condo Plans
Total Parcel Size: 5.49 [acres]
Total Number of Units Proposed: 31
Total Parking Spaces Proposed: 66
Kohl Construction's Wetlands Application
Here for your reference is Kohl Construction's Wetlands Application
(PDF) relating to its proposed condos behind North Street. Kohl is
doing this project under the business names Northern Avenue Homes, Inc.
and Tofino Associates, Inc. In the application, Kohl asserts there are
no existing or potential vernal pools on the development site.

Community Tree Ordinances and Bylaws for Massachusetts Communities
See our Citizen Forester article for November 2003 "Air Quality, Public Health and the Role of Urban Forests".
Cooling Our Cities
[PDF]: A fact sheet on tree planting as a way to save money and
electricity. [Original link pointed to withdrawn resource – we found
another source for this fact sheet]
Trees and Sustainability: Urban Air Quality:
This 12 part brochure from the University of Lancaster in the UK,
nicely summarizes the issues around urban trees and air quality with
graphics.
Beginning in 2003, many Massachusetts communities will be faced with a
mandate from the USEPA to develop and implement non-point source
pollution and stormwater management plans. Fortunately, urban forestry
strategies can help satisfy many of these stormwater management
requirements in a cost effective manner. Trees, forests, and other
natural areas effectively manage water through interception,
evopo-transpiration, and infiltration. Together, these processes can
significantly reduce peak stormwater flows, stabilize base flows, and
naturally filter drinking water.