Some city officials have said that NSNA is late arriving on the scene. The new wetlands ordinance has been on the table for two years, they say, and we are disinclined to discuss it further. Many of our arguments are not new, however. They are articulated in Northampton's
Flood Mitigation Plan
, approved by the City Council in 2004, and the
Open Space Plan
, approved by the Council in 2005.
More recently, the Nonotuck Land Fund signaled its concerns about wetlands buffer zones in May. We reproduce their letter with permission:


May 21, 2007

To the City Council Ordinance Committee, Mr. Michael Bardsley, Chair

Re: Proposed Amendments to the Northampton Wetlands Ordinance

Dear Councilors,

Honoring our mission to protect and advocate for open space in Northampton:




The Nonotuck Land Fund endorses the re-attachment of Vernal Pool protections to the proposed amended Wetlands Ordinance (Conservation Commission, 5/10/07). These Vernal Pool provisions represent essential protections for open space of critical ecological value.


We strongly urge continued protection, per existing local regulations, as well as enhanced vernal pool protections for all Business Park zoning, including the undeveloped open space and wildlife corridor leading from Arcadia Wildlife Sanctuary across Route 10.


We strongly urge you to rescind the proposed rollbacks of wetland buffers (Table 1). This loosening of current standards would represent a dramatic acreage loss to development of currently protected open space and wildlife habitat.

Please help set standards that will move our community forward in the sustainable protection of our environmental assets and open space for future generations.

Nonotuck Land Fund is hopeful that our Wetlands Ordinance will make the protection of wetlands, and attendant open space and wildlife habitat, its highest and only goal.

Sincerely,

For the Board of Directors:

Steve Ferrari, Co-Chair Joanne Montgomery, Co-Chair
See also:
The proposed ordinance is not consistent with past practice, and favors substantial new encroachments on Northampton's wetlands
…the
proposed new ordinance
…positively invites developers to encroach within 10 feet of wetlands in several districts:
To encourage infill development, which is considered more sustainable under the principals of smart growth and generally has a smaller environmental footprint than development in outlying areas, in the Central Business, General Business, Highway Business, Neighborhood Business, General Industrial, Special Industrial, Planned Village, Medical, Urban Residential-B and Urban Residential-C zoning districts, within those portions of the Water Supply Protection overlay district which was zoned industrial as of 1/1/2006, the Conservation Commission hereby waives any of the Section 24-10 performance standards that are over and above state law with the exception of the setback requirements in Table (1). The reduced setback requirements in Table (1) shall apply…


The following chart makes clear that the proposed ordinance is not consistent with past practice, that it favors substantial new encroachments on Northampton's wetlands, and that recent revisions have made it ever more lopsided in favor of developers: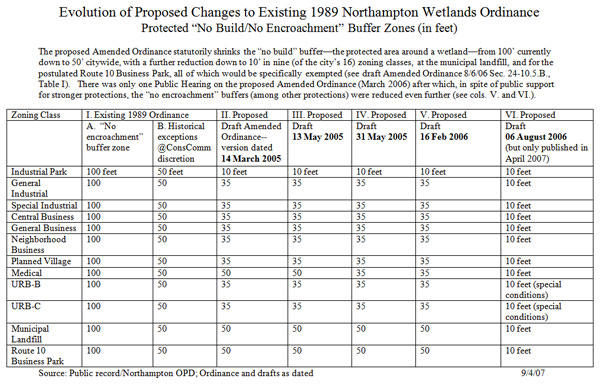 Note: Public officials have given us to understand that at least one permit to encroach within 10 feet of wetlands has been issued in the Industrial Park district in recent years. Nevertheless, we believe that a 50-foot no-build buffer zone has been the more general rule.


Where We Stand on Wetlands: A Review of the Issues
The City Council should table the flawed wetlands ordinance until it has been revised to better reflect the people's concern for our environment and the future health of our town.
The Wetlands Policy Lawsuit that City Officials Are Afraid Of

We can accept that Northampton should have its key wetlands policies specified by ordinance. However, we disagree that the city needs to lock itself into a
buffer zone policy
that's about as weak as any we can find in the
state
, and at variance with Northampton's
Flood Mitigation Plan
of 2004 and its
Open Space Plan
of 2005. A more balanced ordinance will better serve the long-term interests of the people.
Springfield
, for example, calls for a 50-foot no-touch buffer zone around wetlands.