Several public officials have asserted that the proposed Wetlands Ordinance, scheduled to return to the City Council's agenda on 9/20, is a continuation of existing policy, or even a strengthening of it. We encourage you to judge for yourself. First we present the current policy, in effect since 10/23/03: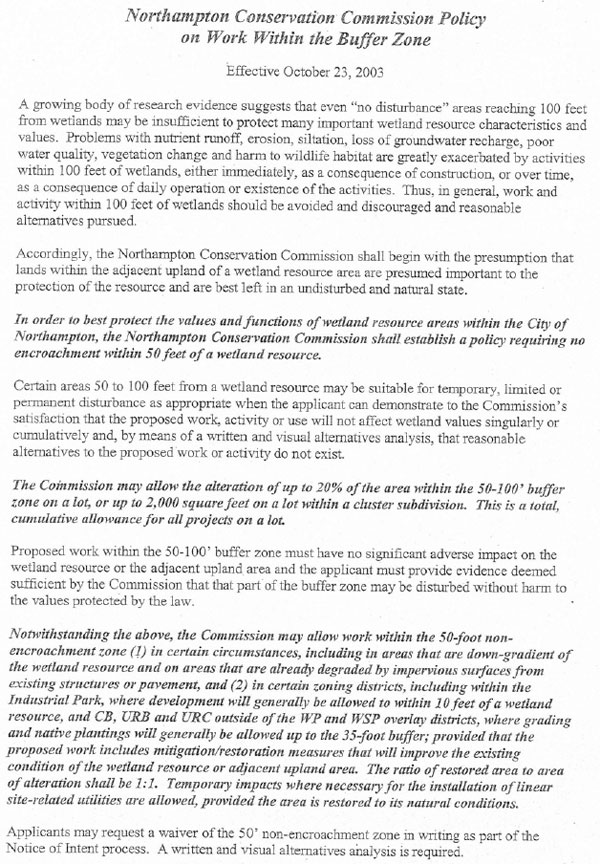 While the Conservation Commission has granted limited exceptions to this policy, members of the Commission confirm in recent conversations that the policy has generally been adhered to. Along these lines, in a review of the Commission's minutes from 2004 (
PDF
), we found one case where the applicant proposed to disturb 26% of a 50-foot buffer. The minutes report: "Sweetser asked if the NCC has ever permitted a project with this much disturbance. Body and Carbin said no."
Now compare this to the
proposed Wetlands Ordinance
, which dramatically expands the number of zoning districts open to 10-foot encroachment, and this encroachment includes structures, not just "grading and native plantings". More generally, the new language positively encourages developers to build near wetlands in the name of infill, setting the bar high for anyone inclined to object to such encroachment:
To encourage infill development, which is considered more sustainable under the principals of smart growth and generally has a smaller environmental footprint than development in outlying areas, in the Central Business, General Business, Highway Business, Neighborhood Business, General Industrial, Special Industrial, Planned Village, Medical, Urban Residential-B and Urban Residential-C zoning districts, within those portions of the Water Supply Protection overlay district which was zoned industrial as of 1/1/2006, the Conservation Commission hereby waives any of the Section 24-10 performance standards that are over and above state law with the exception of the setback requirements in Table (1). The reduced setback requirements in Table (1) shall apply…


The following chart shows how successive drafts of the new Wetlands Ordinance have diverged farther and farther from the 2003 buffer-zone policy statement, becoming ever more favorable to developers: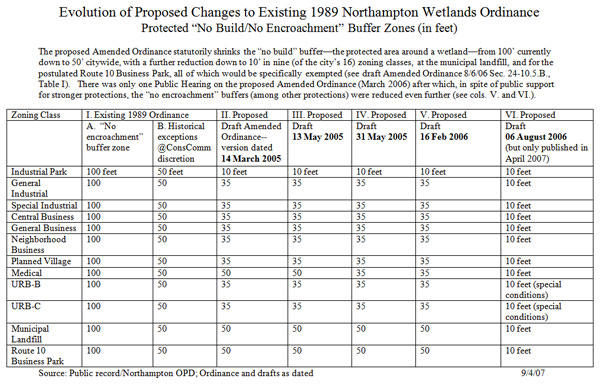 Some people appear to be consoling themselves that an increased amount of artificial or replacement wetlands will balance the harm from the stepped-up level of encroachment. Unfortunately, the failure rate for these mitigation schemes is high. See these pictures of
mostly dead, polluted detention ponds
from South Carolina, or just walk over to the detention ponds at Northampton High School (problems with silt build-up, water overflows into Mill River) and Carlon Drive (vegetation dead).
See also:
The Wetlands Policy Lawsuit that City Officials Are Afraid Of

We can accept that Northampton should have its key wetlands policies specified by ordinance. However, we disagree that the city needs to lock itself into a
buffer zone policy
that's about as weak as any we can find in the
state
, and at variance with Northampton's
Flood Mitigation Plan
of 2004 and its
Open Space Plan
of 2005. A more balanced ordinance will better serve the long-term interests of the people.
Springfield
, for example, calls for a 50-foot no-touch buffer zone around wetlands.