In 2001, ECONorthwest prepared a "Fiscal Impact Analysis Relating to City Growth and Annexations" for the City of Salem, Oregon. This 60-page report is available from the City of Salem Community Development Department, 555 Liberty Street SE, No. 305, Salem, Oregon 97301-3503.
Among the most interesting findings are how different land uses affect municipal revenues and expenses. In particular,
…single-family, commercial/office, and industrial uses contribute more in revenues to the general fund than they generate in service costs. Multi-family and government uses have service costs in excess of revenues.
ECONorthwest cautions against simplistic applications of this finding, noting that a particular land use may have benefits beyond its contribution to municipal revenues:
…one might conclude that the City should aggressively pursue commercial and industrial development to strengthen its fiscal position. However, an exclusive focus on these activities would not be sustainable in the long run. Indeed, a non-residential focus with little accompanying housing would produce a community with traffic congestion and long commutes. Moreover, were the City to shun multi-family housing to foster its budget, the policy would have impacts on neighboring communities and would deprive Salem businesses of access to workers, not to mention conflicts with other City and state goals and policies.

These differential impacts do, however, underscore the importance of balanced growth.
If infill and Smart Growth skew towards multi-family housing, their impact on Northampton's already precarious budget situation should be considered. The distinctive merits of both single- and multi-family housing need to be understood and respected.
Here are snapshots from the ECONorthwest report (p.57-58):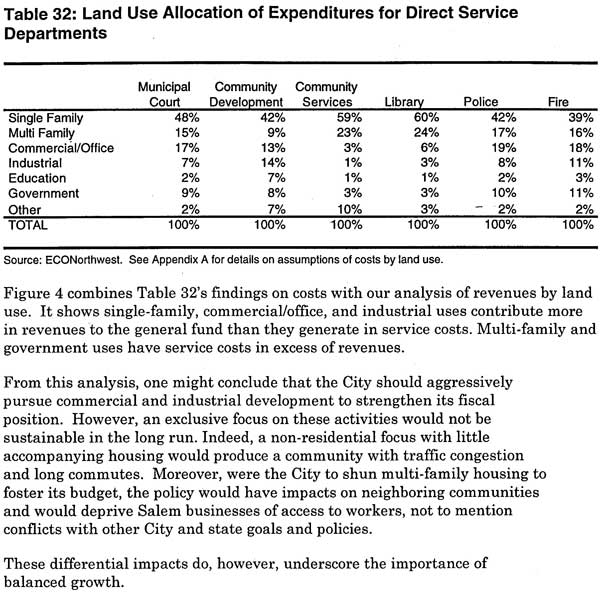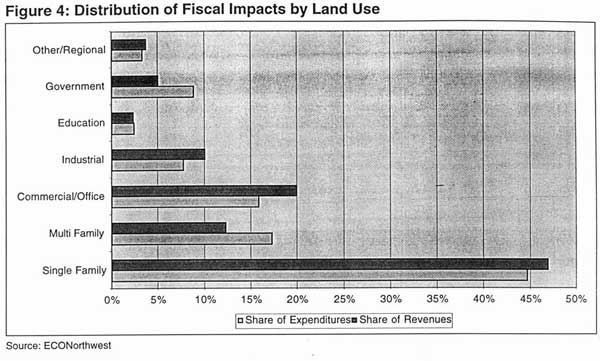 Background Information about Salem, Oregon: Population, Housing Stock and Acreage Estimates for 2000 (ECONorthwest, p.11)
| | | | |
| --- | --- | --- | --- |
| Population | | | |
| | Single Family | 89,322 | 69% |
| | MultiFamily | 35,554 | 27% |
| | Other | 4,612 | 4% |
| | Total | 129,487 | 100% |
| | | | |
| Dwelling Units | | | |
| | Single Family | 33,082 | 63% |
| | MultiFamily | 19,818 | 37% |
| | Total | 52,900 | 100% |
| | | | |
| Total Acreage | | | |
| | Single Family | 10,159 | 42% |
| | MultiFamily | 1,651 | 7% |
| | Commercial/Office | 2,027 | 8% |
| | Industrial | 2,905 | 12% |
| | Public/Institutional | 7,528 | 31% |
| | Total | 24,270 | 100% |
Dwelling units per acre, Single Family: 3.3
Dwelling units per acre, MultiFamily: 12.0
Persons per acre, Single Family: 8.8
Persons per acre, MultiFamily: 21.5
Persons per dwelling unit, Single Family: 2.7
Persons per dwelling unit, MultiFamily: 1.8
See also:
The New Draft Sustainable Northampton Plan: Balancing Compact Growth Against Taxes, Urban Greenspace, Homeowner Preferences
An
objective of the Plan is to "implement ideas for maximizing density on
small lots". (p.16) It calls for the City to "consider amending zero
lot line single family home to eliminate 30′ side yard setback". (p.69)
Planning Board Adopts Sustainable Northampton Plan
Traditional Neighborhood and Receiving Zone — These are currently the
most developed areas with planned expansion of developable area to
accommodate expected demand for new growth. These areas can accommodate
the vast majority of new smart growth residential development…
Ask for creative designs and cluster developments that allow higher
density to improve the yield of housing in the downtown and village
centers. Use the downtown and more densely developed areas to build
high and medium density housing (12 to 65 units/acre; see Density Study
prepared by the Office of Planning and Development for illustrations).
Condo Monotony: The Future of Ward 3?
Our Column in Today's Gazette: The Hidden Risks of 'Smart Growth'
Many homebuyers, especially those with children, began to avoid
Portland in their quest for affordable, conventional homes with yards.
This ironically fostered sprawl (PDF) and traffic as people migrated to cities outside the region's authority, such as Vancouver, Wash…
We are not down on all aspects of Smart growth. We applaud the revitalization of urban brownfields,
underused commercial parcels and dilapidated buildings. This is an area
where government intervention can truly make a difference, helping to
clean up contamination, secure funding, and relieve developers of legal
and regulatory uncertainties.
We have the sense, though, that
structural problems with Northampton's finances are a major force
driving the desire for growth. As former mayor Mary Ford said at the
Nov. 8 Sustainable Northampton hearing, without new growth, the city's
expenses exceed its revenues. It would be a shame if we irrevocably
gave up major portions of our remaining in-town greenspace, and tried
to impose unwanted densities on urban neighborhoods, just to patch up
budget holes that will recur in the future. Before we transform the
character of the city, we need to step back and evaluate why we need growth. If the task is to bring the municipal budget into balance, there may be better approaches.
Taking
the long view, we are concerned that smart growth could gradually
transform Northampton into a community that's inhospitable to families
with young children. It's easy to see how they might pack up for
Easthampton, Hadley, or other surrounding towns…
Gazette: "Dire forecast for area municipal budgets" (12/12/07)
Up
against their tax caps and watching health insurance, pension and
energy costs far outpace their ability to raise revenue, communities
around the region and across the state are eyeing a nightmare
scenario…