As reported in today's Gazette, the newly signed Environmental Bond Bill includes an offer of funds to help conserve the woods off North Street. We are deeply grateful for this support from the state to preserve our urban greenspace.
Here is the relevant portion of "An Act Providing for the Preservation and Improvement of Land, Parks, and Clean Energy in the Commonwealth", as signed by Governor Deval Patrick on August 14 (emphasis added):
2000-7015.. For the acquisition, development and construction of parks
in urban neighborhoods currently underserved with parks consistent with
attainment of environmental equity, including planning related thereto;
completion of urban forestry and tree planting projects, assessment and
remediation of brownfield and greyfield sites intended for reuse as
parks, drafting of architectural renderings, construction documents,
and other technical documents necessary for parks construction,
acquisition of land or interests in land for the creation of parks
under Article 97 of the Amendments to the Constitution and construction
of parks and all related facilities; provided, that the secretary of
energy and environmental affairs may issue grants to public and
non-public entities to implement these programs; provided, that not
less than $10,000 be expended for the Squantum Seaside Gardeners for
the purposes of environmental beautification projects in the City of
Quincy; provided further, that no less than $10,000 shall be expended
for the Wollaston Garden Club for the purposes of environmental
beautification projects in the City of Quincy; provided further, that
no less than $200,000 be expended for the Quincy Park and Forestry
Department to be allocated for the purpose of city tree plantings in
the City of Quincy; and provided further, that not less than $100,000
be expended for the acquisition of wooded land to be used for
conservation and passive recreation in the North Street neighborhood of
the city of Northampton, provided that the abutters of said property
provide matching funds for said acquisition…
See also:
MA Secy of Energy and Environmental Affairs: Urban Parks Deserve Protection as do Habitat Reserves and Working Landscapes
[Ian Bowles:] We need smart land conservation along with smart growth. That's why,
going forward, the commonwealth is going to concentrate its land
protection efforts on three priorities, which complement the
administration's smart-growth goals:
Urban Parks: For smart growth to succeed, urban life needs to be
attractive. From a land perspective, the best thing we can do to
improve urban living is to make sure there are beautiful parks within
walking distance of every urban dweller. So we plan to create visionary
urban parks in 10 to 15 cities in neighborhoods that don't have them,
and to significantly [improve] parks in all 51 Massachusetts cities
over the next four years…
CommonWealth Magazine: "Urban greenery can bring better health, more attractive neighborhoods, and even safer streets"

Photo Essay: 10 Reasons People Like Trees Around Them; Will the Sustainable Northampton Plan
Put Urban Trees at Risk?
Rutherford Platt, "Regreening the Metropolis: Pathways to More
Ecological Cities"
UMass Press: "Natural Land: Preserving and Funding Open Space"
Downstreet.net: "Despite Tree City USA Honor Northampton Planting Lags"
Each year, the city removes more dead or hazardous trees than it
replaces, leaving a net decrease in the population of our mature shade
trees…
Topographical Map Shows How Kohl Condo Proposal Will Eat Into a Rare Stand of Mature Trees in Downtown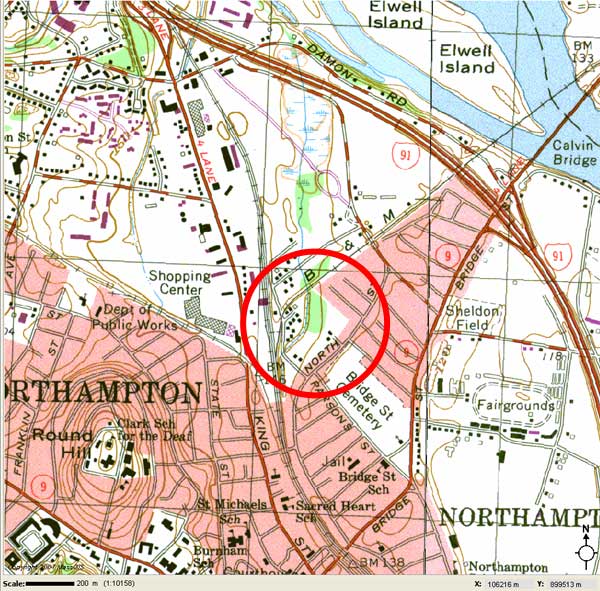 Photo Essay: Arbor Day and the North Street Woods