Here is a complete Google video of a Public Forum on Planning and Sustainability that took place at Bridge Street School on March 11. This event was co-sponsored by the Northampton Design Forum and the Ward 3 Neighborhood Association, and included presentation of work by the Notre Dame Urban Design Studio. The video is 1 hour and 43 minutes long and was recorded by Adam Cohen. It is also available on Vimeo.
Here is an overview of the event from the promotional announcement:
The Northampton Design Forum (NDF) is a local citizen group which invited the Notre Dame Urban Design Studio to Northampton last fall. This was funded entirely by private donations. We have planned a public forum to discuss the intersection of Planning and Sustainability on March 11, 2009 at 7 PM in the Bridge St. School cafeteria. We hope that you will be able to join us then.

The event will have two components. The first is a brief introduction to the report to the public followed by a general discussion of the intersection of planning and sustainability. This will be moderated by Joel Russell (who is the chair of NDF and a member of the rezoning committee) and will include comments by Wayne Feiden, the Director of the Office of Planning and Development. We will provide copies of the "10 Principles of Good Neighborhood Design" to stimulate the conversation. There will be ample time for questions and comments.

After a short break Aaron Helfand, a Northampton native who is one of the Notre Dame Urban Design Studio members, will use their schematic proposal for the area now occupied by parking lots along Hampton Ave. and the old Mill River bed as a specific example of the type of creative thinking that could help us imagine how we want our community to be in the future. City Council and NDF member Bob Reckman will moderate this portion of the program. Wayne Feiden will provide some background about the City's hopes for the old river bed. We expect a substantial discussion after Aaron's presentation. There are both printed and electronic copies of Envisioning Sustainable Northampton, the book they produced, at Forbes and Lilly Libraries if you want to see the drawings before the forum… It is important to emphasize that the schematic design is simply a vision, not an actual proposal.

Here are the "10 Principles of Good Neighborhood Design", also available as a PDF (30 KB):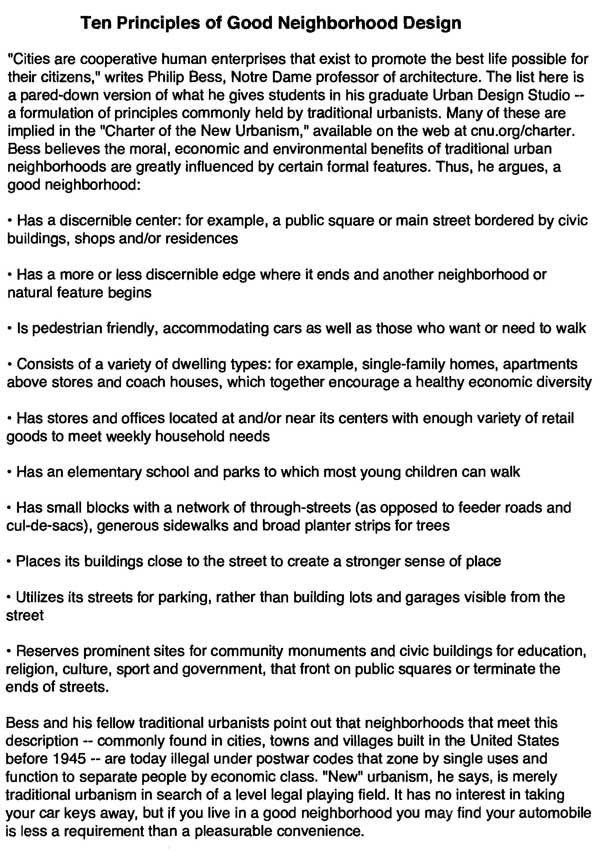 See also:
Download Envisioning Sustainable Northampton – Final Notre Dame Studio Presentation Book

Joel Russell at the Northampton Design Forum has kindly authorized us to make Envisioning Sustainable Northampton, the final presentation book from the Notre Dame Northampton Urban Design Charrette, available as a free PDF download (131 pages, 26MB).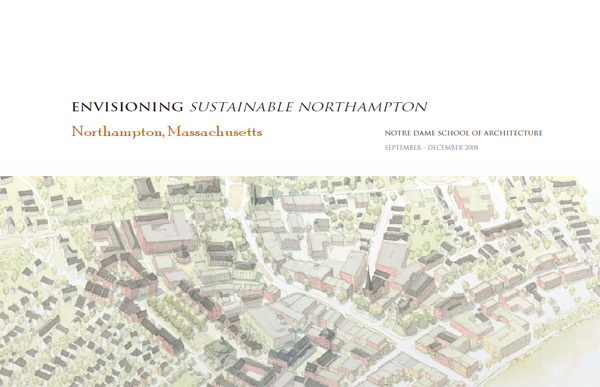 This book was prepared by the University of Notre Dame School
of Architecture Urban Design Studio for the Northampton Design Forum to
stimulate discussion about urban design and sustainability in
Northampton. It represents the opinions of only the Notre Dame Urban
Design Studio, and was not written or reviewed by the Northampton
Design Forum. Also, it is not an official document of the City of
Northampton or the North Street Neighborhood Association. [You may buy a printed copy of the book for $40 at Paradise Copies, 21 Conz Street.]
Envisioning Sustainable Northampton: Notre Dame Urban Design Presentation – Video and Handout
Envisioning Sustainable Northampton: Notre Dame Urban Design Presentation – Slides
Video and Slides: Final Presentation of Design Northampton Week
Video: Zoning Revisions Committee Meeting of 3/10/09; Draft Sustainable Northampton Regulatory Implementation
March 10: Zoning Revisions Committee to Meet; Our Suggestions
How will proposed rule changes affect the quality of life within
in-town districts? Changes that erode amenities (e.g. greenspace),
raise safety issues (e.g. more flooding) or create hassles (e.g. more traffic jams) may defeat the purpose of the Sustainable Northampton Plan by motivating homebuyers to sprawl out elsewhere.
Planning Board Adopts Sustainable Northampton Plan