Here is a complete Google video of the first meeting of Northampton's Zoning Revisions Committee. The meeting took place on March 10 in City Council Chambers. This committee is charged with recommending zoning revisions to the Planning Board that implement the Sustainable Northampton Plan. The video is about two hours long and is also available on Vimeo. It was recorded by Adam Cohen. The next meeting will take place on April 1.
Much of the meeting had a best practices flavor as members discussed how to obtain public input and ensure the credibility of the process. View the last 15 minutes to see a discussion over whether the committee should dig into the implementation phase or take some time at the beginning to build more public consensus about the vision for Northampton's future. The committee does intend to hold a session within the next few weeks for the public to air opinions and concerns, and the public is always welcome at any meeting of the committee.
Here are the members of the committee: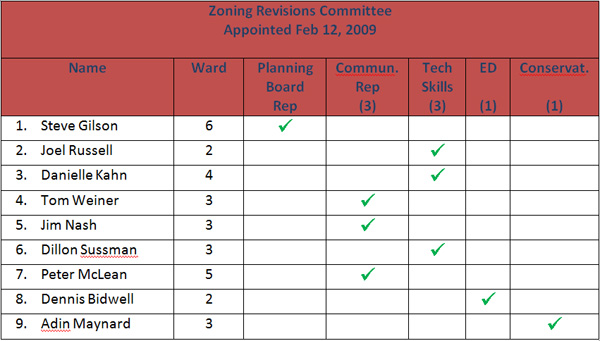 Below is a to-do list for regulatory implementation suggested by Northampton's planning staff (download the full worksheet as a PDF, 57KB):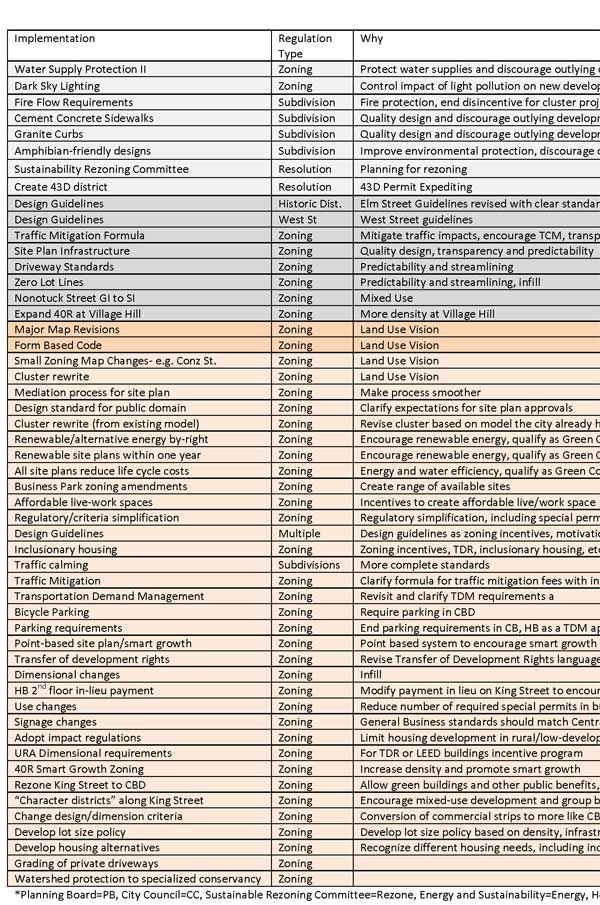 See also:
Gazette: "New zoning group named – Big job ahead for committee in Northampton" (2/14/09)
Three members represent broad-based community interests.
They include Jim Nash, of 18 [Montview] Ave., a business owner and vice president of the Ward 3 Neighborhood Association; Tom Weiner, of 11 Linden St., a sixth-grade teacher who has been involved with community planning issues for 10 years; and Peter McLean, of 298 Riverside Drive, a substance abuse counselor and president of the Bay State Village Association.
Adin Maynard, of 73 Bridge St., who promotes and develops energy efficiency through the Harold Grinspoon Charitable Foundation's ener-G-save program, will represent environmental and conservation interests.
Also, Dennis Bidwell, of 19 Forbes Ave., will represent economic development interests. He chairs the economic development committee of the Greater Northampton Chamber of Commerce.
Zero Lot Line Workshop Rescheduled to March 17
March 10: Zoning Revisions Committee to Meet; Our Suggestions