The Ward 3 Neighborhood Association is distributing these cards in neighborhoods around the Meadows area: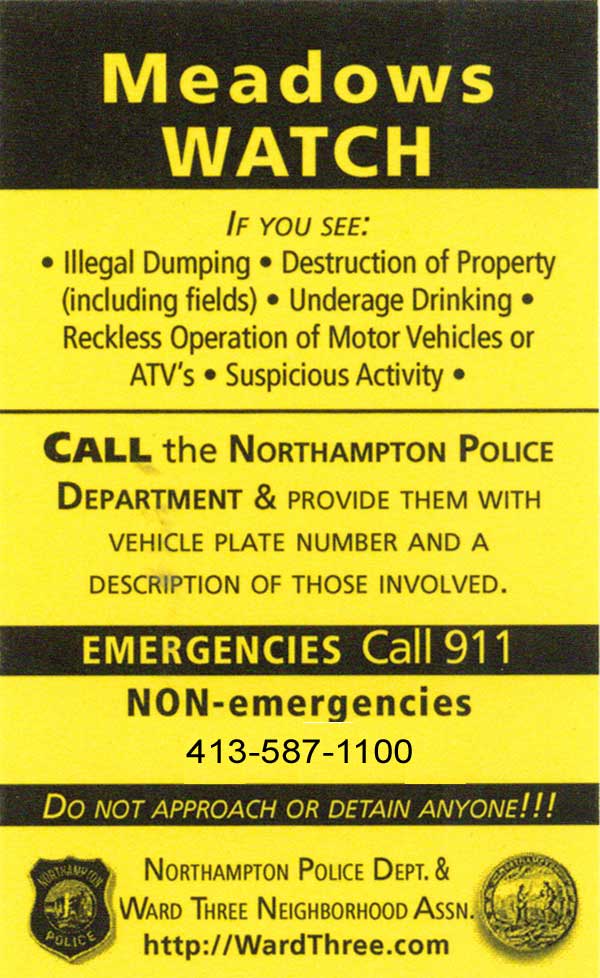 In other news from W3NA…
On Tuesday, May 19, at 4:00 PM in the City Council Chambers the Transportation and Parking Commission will review the Montview Neighborhood application for a Traffic Calming Study. (This is for the neighborhood bordered by Bridge St, Pleasant St, and Hockanum Rd.) The neighbors are invited to attend (and, if they wish, to speak in favor of the study).

The Commission will vote later in the meeting on whether or not to move the applications forward to the DPW for an engineering study. (It is
not necessary to stay for the meeting; they'll let us know if our application was approved.) David Narkewicz, the chair of the Transportation & Pkg Commission, says, "Later on after the DPW completes it assessment the Commission will hold another larger hearing to hear the DPW's findings and discuss/vote on final recommendations…" We'll let you know when that might be also.
See also:
Gazette: "Northampton neighbors, police join to protect Meadows" (5/9/09)
In March, the City Council approved a measure to increase littering fines from $100 to $250 in conservation areas, including the Meadows…
In addition to the neighborhood watch, Patenaude said, officers have begun patrolling the Meadows more frequently in an attempt to catch people damaging the farmland by littering or four-wheeling.
Traffic Calming in Northampton
Web pages of the Transportation and Parking Commission. Download a copy of the Northampton Traffic Calming Manual.
Video: Traffic Calming Informational Discussion, 2/26/09
City
Council
Takes Up Traffic Calming Manual on 9/18/08; Traffic Concerns from Ward
3; Impact of Traffic Calming on Bicyclists and Snow Removal