NSNA has five different 0:60 spots running this week on WHMP-AM 1400. The spots draw on material from our latest flyer to voice our objections to Kohl Construction's condo proposal for North Street. Have a listen to these MP3 files (each file is less than 1MB in size):
Spot 1: Quick summary of our objections to the condo proposal; don't infill away our trees and wetlands buffers, target cleared land, paved land and vacant buildings instead

Spot 2: True Smart Growth respects green infrastructure and preserves the character of neighborhoods; cookie-cutter condos are out of character with the design and variety of homes in the North Street area

Spot 3: Wetlands buffers of less than 50 feet are generally ineffective at protecting wetlands, but Kohl proposes to encroach to within 35 feet; Conservation Commissioner Downey Meyer says the wetland around Millyard Brook deserves respect even though it's not pristine

Spot 4: Because of the high groundwater on the site, Kohl proposes to use slab-on-grade foundations. The long-term durability of such foundations is questionable. Maintenance of systems that run through the slab (such as electrical, plumbing and HVAC) can be difficult

Spot 5: The end of View Avenue reported flood damage from Tropical Storm Floyd in 1999. Since this is one of the more elevated portions of Kohl's land, we infer that much of Kohl's property may be at risk from heavy rainfall events. Some of the site may also be "filled wetlands". Building on these is disfavored by Northampton's 2004 Flood and Natural Hazard Mitigation Plan (PDF), as it is associated with shifting foundations and flooding.
Here is the latest schedule for the Kohl Construction condo hearings on May 14. Please attend!
Conservation Commission
Date: Thursday May 14, 2009
Time: 5:30 PM
Place: City Hall Hearing Room (use back door or main Crafts Avenue door) 2nd floor, 210 Main Street, Northampton

…6:00 PM
Notice of Intent filed by Tofino Associates, Inc. and Northern Avenue Homes, Inc. for the construction of twenty-three dwelling units and associated roadways, parking areas, driveways, sidewalks, utilities, landscaping and stormwater management system. Project is proposed to take place in the 100-foot buffer zone of Bordering Vegetated Wetlands. Project location is Northern Avenue, Map Id 25C-12 and 25C-17.

Planning Board
THE PLANNING BOARD meets at 7:00 P.M. in Council Chambers, Puchalski Municipal Building, 212 Main Street, Northampton, MA for public hearings:

…7:00 P.M. (LIKELY TO BE CONTINUED TO 8:15 PM) Continuation of North Street Condominiums by Kohl Construction.

See also:
Flyer for May 14 Hearings; Get Your Free Yard Sign
Please encourage your friends and neighbors to attend the May 14 hearings on the latest Kohl condo proposal. Download our flyer (PDF, 394 KB) and pass it around freely. The flyer includes a review of our major objections to the proposal.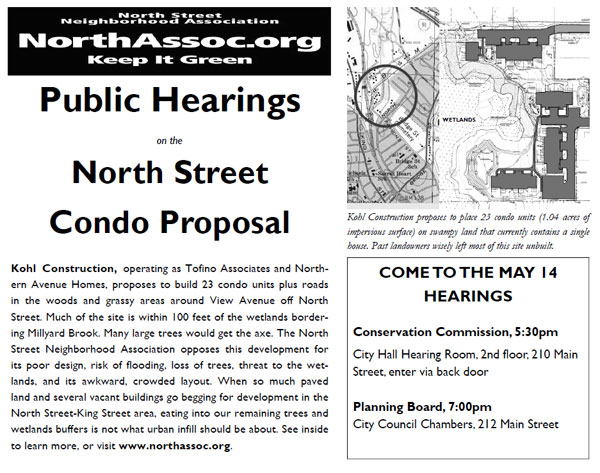 Kohl Files New Notice of Intent Ahead of May 14 Hearings

Despite the fact that two of four Conservation Commissioners eligible to vote on March 12 (Downey Meyer and Paul Wetzel) disapproved
of Kohl's previous proposal and a third (Kevin Lake) voiced concerns
about its density, Kohl Construction has dropped no units from their
new proposal. They did rotate units 1-4 so they intrude a bit less into
the 100-foot wetland buffer zone. However, units 5-14, which
particularly concerned Wetzel for their proximity to groundwater, are
basically unchanged, as is the drywell next to them. Kohl's test pit
data below shows that seasonal high groundwater is as close as 14-16″
to the surface on this site, and that's before any watering-up due to the extensive tree cutting that is contemplated.
Our Ad in the May 6 Gazette: "How to Avoid Classic Infill Design Mistakes"

With the guidelines from Knoxville, Portland and Toronto in mind, problems with the Kohl condo proposal are readily apparent:
The development would convert close to an acre of urban greenspace into impervious surface, with many mature trees cut down
The monotonous repetition of design throughout the development would be out of character with the individuated appearance of the existing homes, a key part of our neighborhood's charm
The condos would exhibit "monolithic massing" in contrast to the fine-grain neighborhood pattern
The condos' slab foundations would put them in different relation to grade than the surrounding homes, most of which sit on basements or crawl spaces
Most condos would lack the setbacks, "green edges" and porches that characterize how nearby homes typically greet the streets in front of them
No consistent street wall would enclose and frame the condo access roads; no 'urban room' would be created. Several units would have front entrances that don't face the roads. Contrast this with the cozy feel of nearby Northern Avenue, with its consistent street wall on both sides
The access roads would be an awkward cross between private driveways and regular streets. They wouldn't resemble the surrounding city streets. The visual and physical links to the existing neighborhood would be poor. Most of the condo units would be hidden from North Street
Compounding the disconnection, the access roads would be dead-ends and uninviting to neighbors walking by
The condos would intrude on the backyard realm of the existing homes next to them
Good Cul-De-Sacs and Bad Ones
What makes some cul-de-sacs good and others bad?
Professor Bill Hillier and Simon Shu offer clues in their 2003 paper, "Do Burglars Understand Defensible Space?"
…In
remarkably interesting study, Tim Pascoe of the BRE asked burglars
which type of space they preferred as targets. Many, it turns out,
liked small cul-de-sacs, especially if they were visually broken up…
Laurence Aurbach scrutinizes cul-de-sacs in "Connectivity Part 5: Neighborhood Crime" (2007):
Researchers look at the configuration of a cul-de-sac, the placement of
homes within it, and its connection to the larger-area street network.
Those are some of the factors that make a difference in crime rates.

In general, the hot spots of crime are the locations with low
pedestrian traffic and low visibility of homes and entrances. Hidden or
partly visible homes, on long, curvy cul-de-sacs that are part of a
dendritic (i.e., "tree-like") network of thoroughfares, have the
highest crime rates.

Conversely, the safest locations are on well-connected streets with
plenty of foot traffic and many highly visible dwellings. The safest
cul-de-sacs are short and straight, with many highly visible dwellings,
and connect directly to through streets…

Segregated footpaths that connect cul-de-sacs — the classic Garden City
formula — can be highly vulnerable to crime if they are secluded…
…Northern Avenue has several aspects that likely improve its safety:
It is linear
The homes are well-integrated with good intervisibility
It is well-connected to a main road (North Street)
You can stand on North Street and see down to the end of Northern Avenue
Access to the rear of homes on Northern Avenue is relatively restricted
Homes line both sides of the street
By contrast, the cul-de-sacs in Kohl's latest condo proposal give reason for concern:
The roads would not be straight
The space would be visually broken up
The homes would be isolated from North Street
Many units would be difficult or impossible to see from North Street
Footpaths (shown in pink) and the woods would give easy secondary access to the units
Homes would only be present on one side of the street
Smart Growth and Crime
…[Newman's] 1972 book Defensible Space…showed that the
safest neighborhoods maximized private space and minimized common
zones. Safe areas also minimized "permeability," that is, the ease of
entry to and exit from the neighborhood or housing area…
"The larger the number of
people who share a communal space," [Newman] found, "the more difficult
it is for people to identify it as being in any way theirs or to feel
they have a right to control or determine the activity taking place
within it."
"Housing Choice and Smart Growth" (2002, emphasis added)

A survey sponsored by the National Association of Home Builders and the National Association of Realtors:
The survey asked
consumers to rate the importance of 11 quality of life factors. Quality
of community and neighborhood was rated very important by 80 percent of
respondents. This was followed closely by crime rate, 79 percent, and
price of home, 78 percent. Some 67 percent of the respondents rated the
size and features of the home as very important, followed by builder's
reputation, 62 percent; size of lot, 54 percent; quality of the school
district, 44 percent; highway access, 34 percent; and close to work, 31
percent. Scoring lowest were convenience to public transportation, 11
percent, and close to shopping, 24 percent.
"Results of the Fannie Mae Foundation Affordable Housing Survey,"
conducted by Hart Teeter Group, May/June 2002, cited in "Bibliography
of References on Growth Controls and the Price/Supply of Housing/Land",
available at the website of the National Association of Home Builders (MS Word document, emphasis added)
What people want in a place to live: Low Crime Rate 67%;
Stable Jobs 53%; Schools with Good Test Scores 52%; Low Taxes 50%;
Affordable Homes 45%; Schools with Smaller Class Sizes 41%; Short
Commute to Work 30%; Single Family Detached Homes 24%; Bigger Homes
13%.
NeighborhoodScout.com: Property Crime Rate Comparison (as of 4/12/09)
Northampton: 29.88 per 1,000 residents
Massachusetts: 23.82 per 1,000 residents
Our Guest Article at Northampton Redoubt: "The Kohl condo proposal and the Struggle Over the Meaning of Infill"
Planning Board Debates Kohl Condo Density – Quotes from the March 26 Hearing

Northampton's planning staff argues that Kohl's proposed architecture…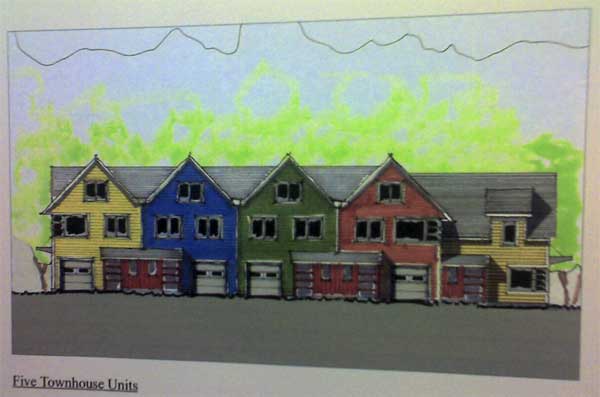 is "very similar" to this duplex on Woodmont Road…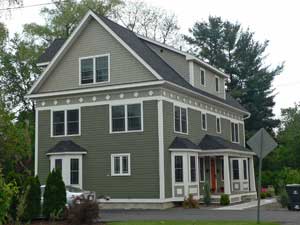 and
is thus in harmony with the neighborhood. Even if one agrees that the
designs are similar, this argument is unreasonable. The duplex has two
units. Kohl proposes 23. Any design multiplied 23 times would not be in
harmony with the neighborhood, which is characterized by the diverse appearance of its homes.
The planning staff also argues that Union Street and Graves Avenue are
"within the North Street Neighborhood area", and thus Kohl's proposal
acceptably resembles the denser land use patterns of those streets.
However, the map of "Assessors Neighborhoods of the City of
Northampton" (detail shown below; complete map: 2.7MB PDF) classifies Kohl's parcel in a distinctly different neighborhood (number 8) than Union and Graves (number 16).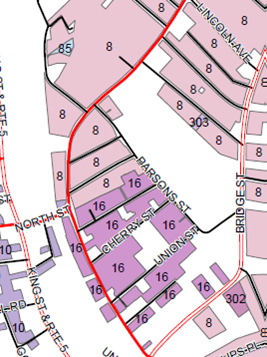 Moreover,
Kohl's parcel is in zoning district URB, whereas Union and Graves are
in district URC, where higher densities are expected. There is simply
no apples-to-apples comparison between Kohl's area of North Street and
Union/Graves. And dense as they are, Union and Graves are still
well-integrated with the surrounding street network, unlike Kohl's
latest proposal.
Video: Conservation Commission Meeting of 3/12/09; Deadlock on Kohl Condo Proposal
3:11:40… Wetzel: "So to me, getting rid of these guys [points
to condo units 1-10]…is a big help" because they are at a relatively
low elevation close to the water table. He wants more room to be made
for the development's normal operations, such as snow clearing and snow
storage. He believes that violations of wetlands protection covenants
are likely to occur over time…
3:38:39… Meyer: "… this is the wetland
that the people living in this part of the city have. It's their
wetland. It might not look as beautiful as a pristine brook out in
Mineral Hills that someone may have behind their house up there. But it
is the wetlands that these people have…and I don't think I can say
that because it's ugly now, because it has been abused, that lets just
keep on, let's keep on impacting it.
Our Ad in the April 11 Gazette: Slab-on-Grade Foundations Raise Questions of Durability
Wikipedia notes this technique is less common in cold climates and describes the drawbacks:
"Slab-on-grade foundations are…most often seen in warmer climates, where ground freezing and thawing is less of a concern and where there is no need for heat ducting underneath the floor…

"The disadvantages are the lack of access from below for utility lines, the potential for large heat losses where ground temperatures fall significantly below the interior temperature, and a very low elevation that may expose the building to flood damage in even moderate rains. Remodeling or extending such a structure may also be more difficult. Over the long term, ground settling (or subsidence) may be a problem, as a slab foundation cannot be readily jacked up to compensate…"
Tree Loss and Slab-on-Grade Foundations: A Poor Fit with the Sustainable Northampton Plan
Tasha Lucas…from Monster Constructors, adds:
Slab-on-grade foundations are constructed with reinforced concrete and
are usually shallow, quickly built, and inexpensive. For a builder that
doesn't have to live in the homes that he builds, slab foundations are
a dream. Slab foundations are used with homes that do not have
basements. A major disadvantage to slab-on-grade foundations is that
they are not resistant to seasonal movement changes and moisture
disbursement due to root growth. In other words, slab foundations are
not a long-term option for homes in North Texas…