Here is a blip.tv video of the last eight minutes of the 6/17/09 meeting of the Northampton State Hospital Citizen Advisory Committee. Planning Director Wayne Feiden, Benjamin Spencer, Mayor Clare Higgins and others discuss the route of the bike trail that is to pass near the planned new facility for Kollmorgen Electro-Optical.

Here are additional comments provided to us by Benjamin Spencer (refer to the diagram below):
From the South Campus the views of the Pioneer Valley and the Holyoke and Mount Tom Ranges are stunning. The Manhan Rail Trail Extension to Village Hill Northampton could travel up the hill in a series of switchbacks to the crest and then travel west towards Laurel Street. From here it could connect to the network of bike path lanes planned for the North Campus of Village Hill. The path could also extend east and follow the ridge of the hill bringing users out by the main intersection at Village Hill Road. Here Route 66 can be crossed safely at the traffic signals that are currently being installed. This is a centrally located entrance that is equally convenient to everyone living in Village Hill. The Overlook Bike Path would provide a common place for residents, workers, families and cyclists to share and enjoy. It would offer a calm path for beginning cyclists and provide everyone with scenic views. On the Overlook the community would be able to meet each other and connect with the beautiful valley we all call home.

The Overlook Bike Path could also serve as a memorial to Dr. Thomas Story Kirkbride and the former Northampton State Hospital. Dr. Kirkbride played a significant role in improving the quality and effectiveness of mental healthcare in America. The asylum buildings and their rural surroundings were central to Dr. Kirkbride's ideas of treatment for patients suffering from mental illness. He understood that fresh air, natural light, and beautiful views of a natural environment would make a patient's experience more comfortable and enhance their treatment. It is thanks to his vision that this beautiful location is available.

I ask Kollmorgen, MassDevelopment, the CAC and the City of Northampton to work together to see that this improvement to the site plan is thoroughly investigated and considered before any site work begins on the South Campus of Village Hill Northampton.
See also:
Video and Guest Column: Planning Board Approves Kollmorgen for Hospital Hill on 6/11/09
Gazette: "Kollmorgen HQ project at Village Hill approved" (6/12/09)
Although
the board OK'd the site plans in a 5-1 vote, with Kenneth Jodrie the
lone dissenter, disapproval of the redesigned bike path was a
consistent theme among speakers. Rust Avenue resident Benjamin Spencer,
who spoke a number of times at the meeting, said he thought changes to
the bike path made it unsafe for children and that the company's claim
that a bike path would cause a security problem was insincere.
Guest Column: Manhan Rail Trail Extension to Village Hill Northampton; June 11 Kollmorgen Hearing (6/10/09)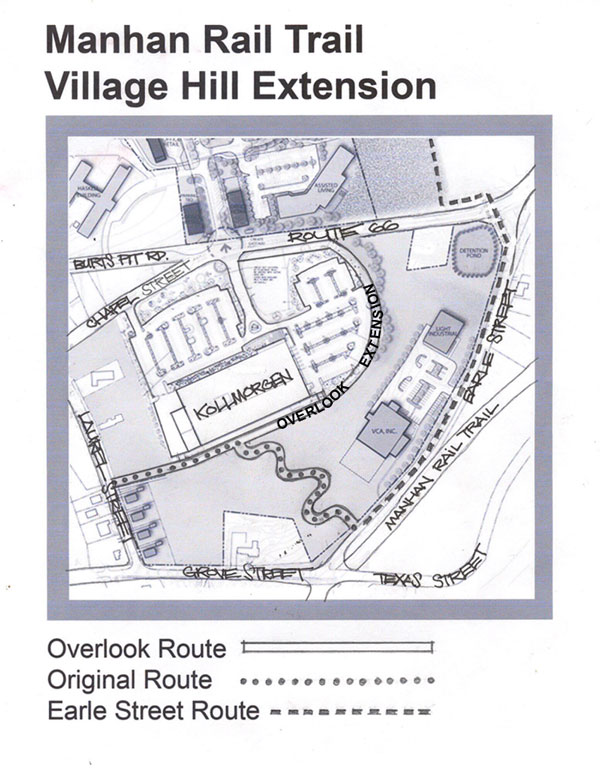 Video: Kollmorgen Hospital Hill Presentation of 5/20/09
Video: Manhan Rail Trail Hearing of 4/27/09
April 27: Public Hearing for the Manhan Rail Trail
Boston Globe: "How the city hurts your brain" (1/2/09)
…scientists have begun to examine how the city affects the brain, and
the results are chastening. Just being in an urban environment, they
have found, impairs our basic mental processes. After spending a few
minutes on a crowded city street, the brain is less able to hold things
in memory, and suffers from reduced self-control…
One of the main forces at work is a stark lack of nature, which is
surprisingly beneficial for the brain. Studies have demonstrated, for
instance, that hospital patients recover more quickly when they can see
trees from their windows, and that women living in public housing are
better able to focus when their apartment overlooks a grassy courtyard.
Even these fleeting glimpses of nature improve brain performance, it
seems, because they provide a mental break from the urban roil…
A city is so overstuffed with stimuli that we need to constantly
redirect our attention so that we aren't distracted by irrelevant
things, like a flashing neon sign…
Natural settings, in contrast, don't require the same amount of cognitive effort…
Natural settings are full of objects that automatically capture our
attention, yet without triggering a negative emotional response —
unlike, say, a backfiring car. The mental machinery that directs
attention can relax deeply, replenishing itself…