Here is a blip.tv video of the complete Northampton City Council meeting of 7/9/09. This video is 3 hours and 54 minutes long, and was recorded by Mimi Odgers from Water Not Waste. We have also broken out shorter segments of this video that cover the public comments period, ballot questions on expanding the landfill (two segments), local option meals and hotel taxes, and land conservation. The meeting agenda is reproduced below (or download it as a PDF, 39KB).

Complete City Council Meeting (3 hours 54 minutes)



Public Comment Period (1 hour 9 minutes)



Land Conservation, with extensive comments from Planning Director Wayne Feiden (23 minutes)



Mayor and City Council Discuss Landfill Expansion Ballot Questions – Segment 1 of 2 (43 minutes)



Local Option Meals and Hotel Taxes (44 minutes)



Mayor and City Council Discuss Landfill Expansion Ballot Questions – Segment 2 of 2 (16 minutes)




Meeting Agenda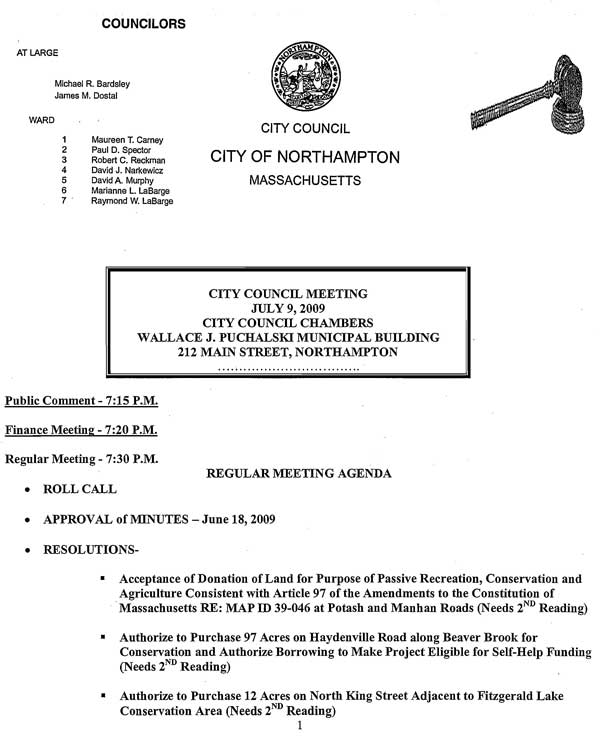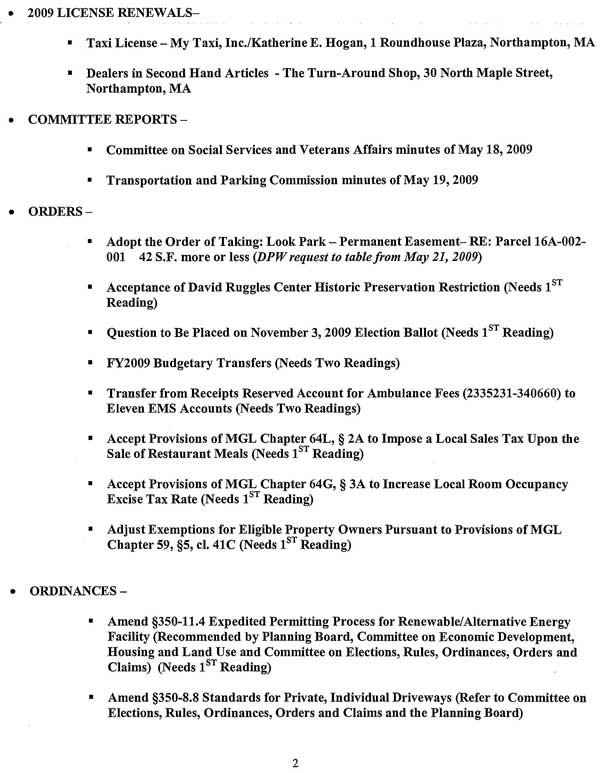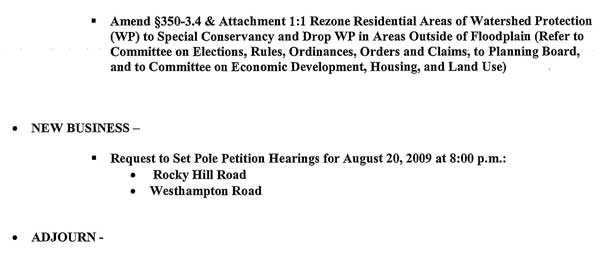 See also:

Water Not Waste Launches to Save Barnes Aquifer

Mary Serreze: "Public Comment, City Council, 070709"
Tax and fee advocate Pamela Schwartz, who's running for city council, spoke in favor of the proposal [local option meals tax]. "Northampton does not have a spending problem, it has a revenue problem," she opined. The city council apparently agreed, as it approved the meals tax proposal later in the evening.

Gazette: "A duel of votes, voices: On landfill future, two possible paths to city's fall ballot" (7/11/09)
Most who spoke at the panel's public comment period expressed frustration that their concerns are not being heard because of a gag order placed on councilors regarding the landfill expansion…

One of the ballot questions is proposed by At-large City Councilor Michael R. Bardsley and Ward 6 City Councilor Marianne L. LaBarge, and will likely be amended by the City Council. Another comes through a citizens petition – although having two ballot questions is something most of the council hopes to avoid.

At Thursday's City Council meeting, Bardsley and LaBarge presented a resolution, at the request of a group of residents, that calls on councilors to place the nonbinding question on the ballot asking voters: "Shall the City of Northampton expand the Northampton landfill over the Barnes Aquifer?"

Gazette: "City Council approves rooms, meals tax: Council to revisit vote next month" (7/9/09)
The 7-1 decision – Ward 5 City Councilor David A. Murphy voted no and Ward 7 City Councilor Raymond W. LaBarge was absent – came despite pleas from restaurant owners who said the tax would be an additional burden on their already fragile industry. While most of the business owners would like to see the idea axed entirely, many requested that the tax not take effect until Jan. 1. If approved on second reading, and unless amended, the taxes would go into effect Oct. 1…

Higgins and the City Council have urged the state for years to allow municipalities to approve local options taxes, particularly on restaurant meals and hotel rooms. Legislators had balked at the idea until this spring's unprecedented budget crisis at both the state and local levels.

That crisis led Gov. Deval Patrick and legislators, as part of the fiscal 2010 budget, to increase the state sales tax from 5 to 6.25 percent, beginning Aug. 1. That tax also applies to meals. The state budget also gives cities and towns the right to tax an additional 0.75 percent for meals and 2 percent for hotel rooms.

Paradise City Forum: Landfill and Aquifer

Department of Public Works: Proposed Phase 5 Expansion Information

City Councilors Michael Bardsley and Marianne LaBarge Seek a Non-Binding Public Vote on the Fate of the Landfill
"I think it's only right that the voters of Northampton have a chance to clearly express their opinions on the landfill expansion," said Councilor LaBarge. "On the Proposition 2 1/2 Override and the Community Preservation Act, the people had their say. We want to give them the same opportunity on this critical and controversial decision."

Wall Street Journal: "In the U.S., water managers in 36 states anticipate shortages by 2013" (2/17/09)

"Bringing Agriculture Back to Water – A Sustainable Solution for the 21st Century" (PDF)
Because of water supply concerns, many observers and agricultural scientists (Postel 1992, Reisner, 1986) point out that desert irrigated agriculture is unsustainable. Salt build up due to evaporation in an arid climate eventually makes soils useless. Only enhanced flushing of the soils requiring ever-increasing amounts of water can stave off the inevitable poisoning (Postel 1992, Arax and Wartzman 2003)…

Based on the past, present and gloomy outlook to the future, we believe that the more natural and sustainable agricultural system for the U.S. is irrigated assisted rain-fed agriculture in the east and not desert irrigated agriculture in the west. Because of natural rainfall in the south only 6-9″ of irrigated water are needed for crops rather than the four feet needed in Arizona and California…

Video: Board of Public Works Discusses Scope of Waste Management Alternatives Study at 1/21/09 Special Meeting

Video and Slides: Public Forum on Innovative Approaches to Manage Northampton's Solid Waste, 11/19/08

Salem, Oregon Analysis: Balanced Land Use Key to Balanced Municipal Budget, Quality of Life
Among the most interesting finding
s are how different land uses affect municipal revenues and expenses. In particular,


…single-family, commercial/office, and industrial uses contribute more in revenues to the general fund than they generate in service costs. Multi-family and government uses have service costs in excess of revenues.
ECONorthwest cautions against simplistic applications of this finding, noting that a particular land use may have benefits beyond its contribution to municipal revenues:
…one might conclude that the City should aggressively pursue commercial and industrial development to strengthen its fiscal position. However, an exclusive focus on these activities would not be sustainable in the long run. Indeed, a non-residential focus with little accompanying housing would produce a community with traffic congestion and long commutes. Moreover, were the City to shun multi-family housing to foster its budget, the policy would have impacts on neighboring communities and would deprive Salem businesses of access to workers, not to mention conflicts with other City and state goals and policies.

These differential impacts do, however, underscore the importance of balanced growth.
If infill and Smart Growth skew towards multi-family housing, their impact on Northampton's already
precarious budget situation
should be considered. The distinctive merits of both single- and multi-family housing need to be understood and respected.
Planners' Assumptions about Future Household Size and Car Usage May Prove Wrong