The Zoning Revisions Committee hosted a public forum on "Rezoning Northampton for a Sustainable Future" on March 17. Download a PDF of the presentation (2.6MB). We'll provide a video of this forum within a few days. In the meantime, here are selected slides from the presentation: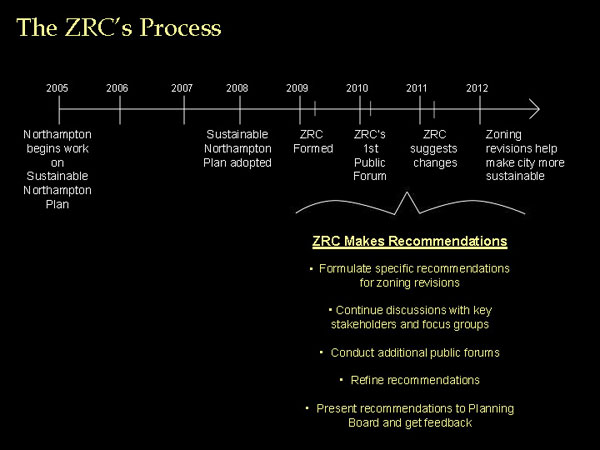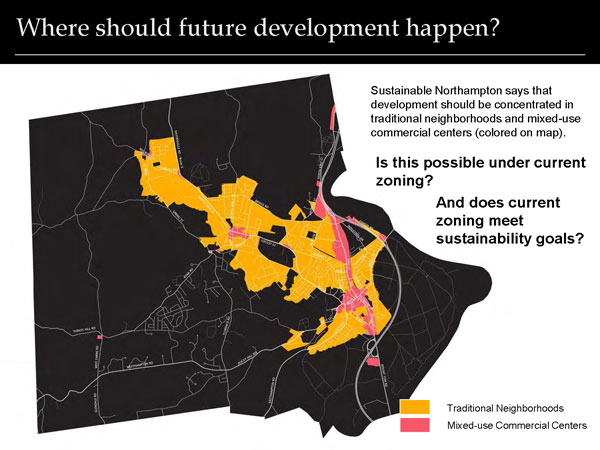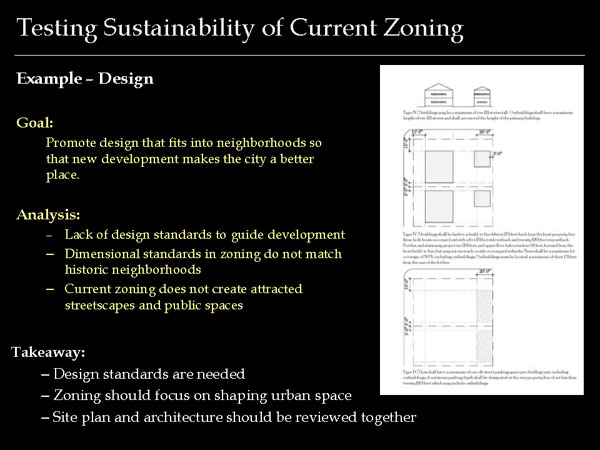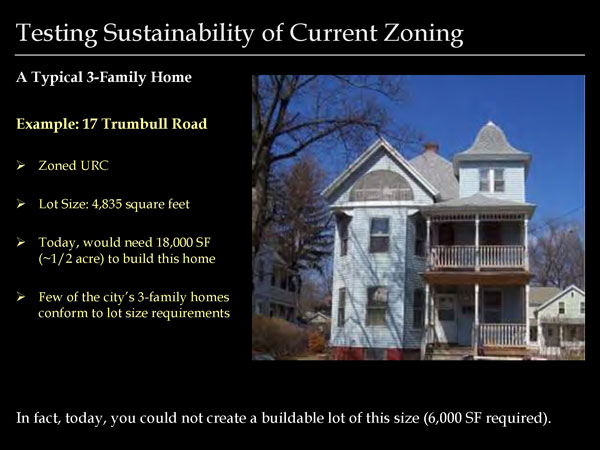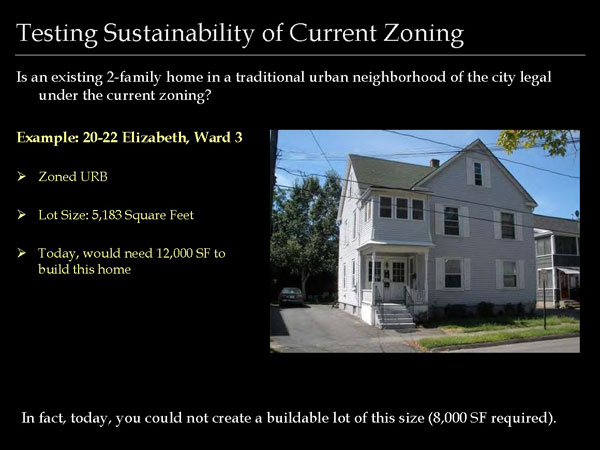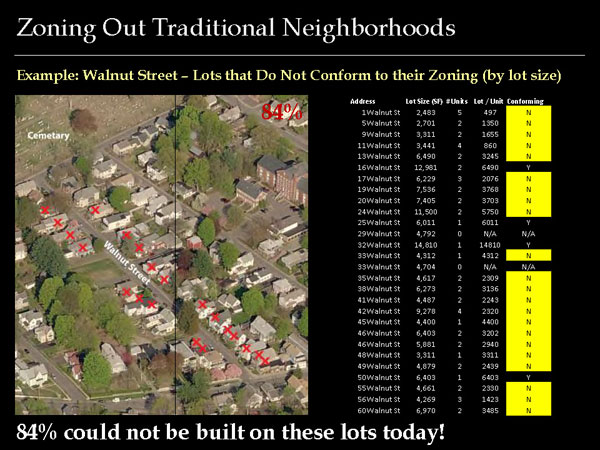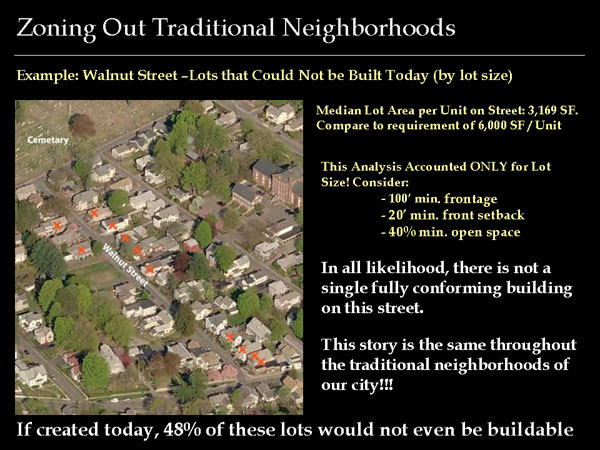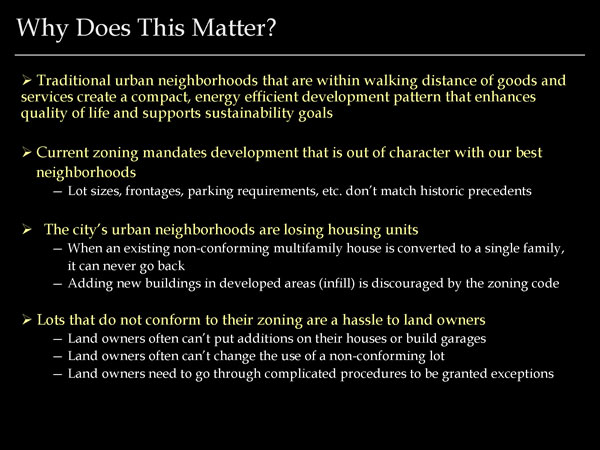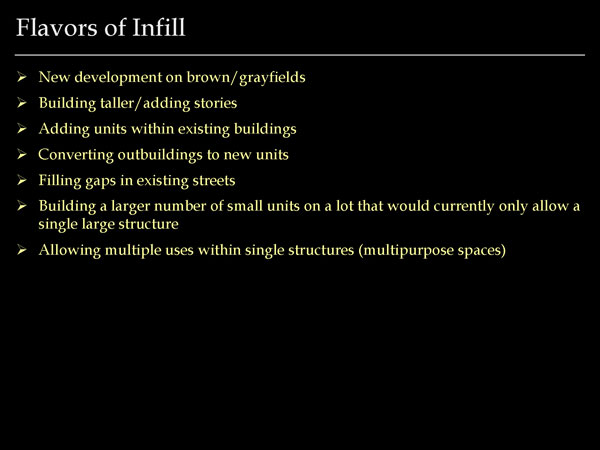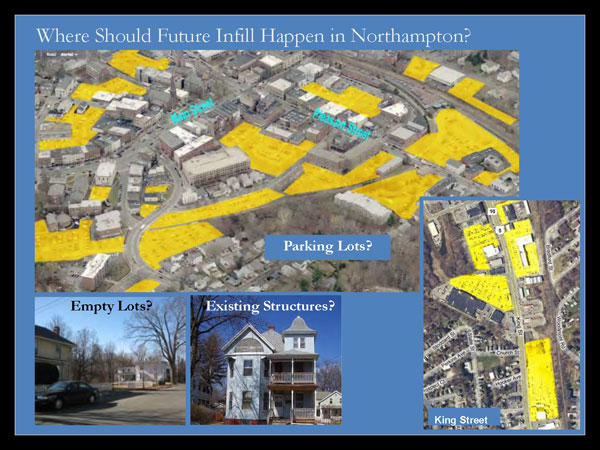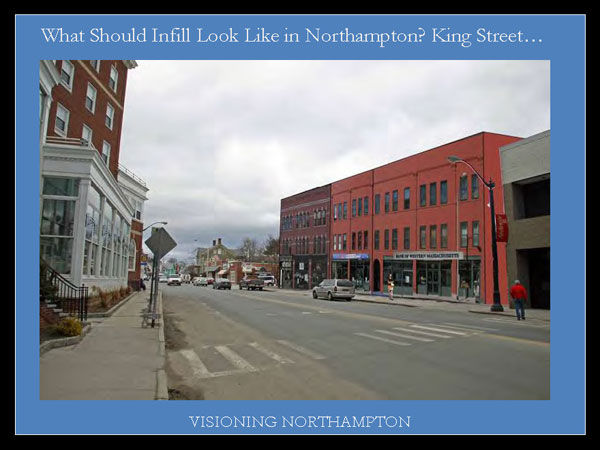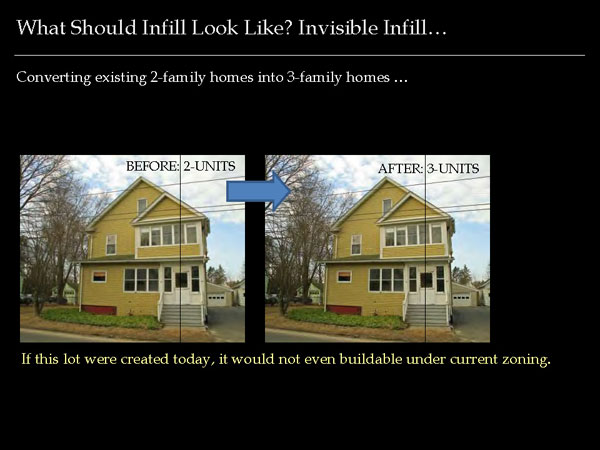 See also:

As Hurricane Threat Builds, Has Complacency Set In about Flooding?
Infill sounds great on paper, but when it means paving over green space in downtown Northampton, it runs contrary to sound flood mitigation practice. The reality is that much of the remaining green space in downtown is in low-lying areas that are most susceptible to flooding. It makes sense to go along with the collective wisdom of the past 350 years and leave them undeveloped.

Gazette: "Region's storms going to extremes, report finds" (12/5/07)
Massachusetts saw a 67 percent rise in severe storms during [1948-2006], trailing only Rhode Island and New Hampshire…

…the top 10 severe storms in the state all occurred in the past decade…

Environment Massachusetts: Global Warming Solutions Reports – "When It Rains It Pours" (12/4/07)
In 1999, researchers at the Illinois State Water Survey and the National Climatic Data Center (NCDC) found that storms with extreme precipitation became more frequent by about 3 percent per decade from 1931 to 1996. Our findings are consistent with this result.

In 2004, scientists at NCDC concluded that most of the observed increase in storms with heavy and very heavy precipitation levels since the early 1900s had occurred in the last three decades. In other words, they found that the change in extreme precipitation frequency is unusual and relatively recent.

Moreover, NCDC found that extremely heavy storms are increasing in frequency more rapidly than very heavy storms – which in turn are increasing in frequency more rapidly than heavy storms.

Latest Kohl Condo Proposal for North Street: 20 Units as Duplexes
While the new condo proposal is a move in the right direction, many important issues remain:




Units 5-12 would be in an area that Conservation Commissioner Paul Wetzel objects to building on because the ground is so wet (March 12 hearing)

Wetzel also expressed concerns about how the underground stormwater detention system by Unit 10 would interact with groundwater in and around the wetland

Unit 18 appears to be slated for the same place as a unit that Conservation Commissioner Downey Meyer objected to previously as too close to the wetland

The total amount of disturbance inside the 100-foot wetlands buffer zone would remain high; Meyer objected to this on the version of the proposal reviewed on March 12

The two cul-de-sacs of the development would be awkward, with poor sight lines, and poorly integrated with the surrounding neighborhood. This would likely impair neighborhood cohesion and might lead to security issues. The Sustainable Northampton Plan disfavors cul-de-sacs

A 1999 Tropical Storm Floyd flood damage report for the end of View Avenue (near proposed Unit 1) suggests much of the site may be at risk of future flooding (View Avenue is at a relatively high elevation on the property)

The density would still be too high relative to the amount of land suitable for building. The proposed units look like they are squashed into North Street's backyard space. This disrupts the character of the neighborhood and intrudes on neighbors' privacy. The units would not be in harmonious relation to their surroundings, a condition of the special permit Kohl needs

Would the View Avenue duplexes have a monotonous repetition of design? That would contrast with the charm and variety of the existing neighborhood

We presume the condos would still be built on slab foundations. This is also out of character with the neighborhood and raises durability questions

This site is swarming with mosquitoes during the summer months. It would be hard to blame residents for spraying insecticides so they could use their outdoor spaces in safety and comfort. That could put them on a collision course with the health of the wetlands.
Video and Slides: Joel Russell Presents Form-Based Zoning

Joel Russell's Introduction to Form-Based Zoning, as Presented to the Northampton Design Forum, 1/26/10 (PDF, 10MB)

Download Envisioning Sustainable Northampton – Final Notre Dame Studio Presentation Book

Envisioning Sustainable Northampton: Notre Dame Urban Design Presentation – Video and Handout

Video and Slides: Final Presentation of Design Northampton Week

Northampton Media: "Northampton's Built Environment: Squandered Public Equity" by Tris Metcalfe, AIA (11/2/09)

Video Highlights from the 10/19/09 Mayoral Debate: Wetlands, King Street, Infill and the BID

March 10: Zoning Revisions Committee to Meet; Our Suggestions
How will proposed rule changes affect tree canopy ward by ward?

Video: Zoning Revisions Committee, 10/28/09; Attract People to Infill Areas with Amenities

Lessons from San Diego: Why We Need Infill Design Guidelines