Here is an illustration and table that reflect King Street concepts that are currently under discussion within the Zoning Revisions Committee. There will be a charrette on the morning of Saturday, November 13 to see where consensus might be found. More details on this will be forthcoming.
Click the "full" button on the bottom of the document window to enlarge the table.
A member of the Zoning Revisions Committee cautions, "Please note that this [alternative] proposal has not been endorsed by the Zoning Revisions Committee… It has been used for the purposes of discussion, and reflects an effort to formalize a number of ideas the committee has discussed and also to try to respond to what we heard at the public meeting."
See also:
Video: Zoning Revisions Committee Meeting of 10/6/10; King Street Forum Comments; Planning Staff Offer Suggestions
Danielle Kahn: "I think that I would be willing to serve as chair…but…I wouldn't want to bring us through a process–particularly, obviously with regard to King Street–if we weren't all on board that there might be significant compromise to the Chamber proposal, like that there could be changes to it…if there's going to be like a lot of resistance to any change to it at all, then I think it's going to be really difficult for me to help us to do that, you know, or any chair for that matter."
Joel Russell Explains Resignation from Zoning Revisions Committee; Comments on King Street Rezoning (9/22/10)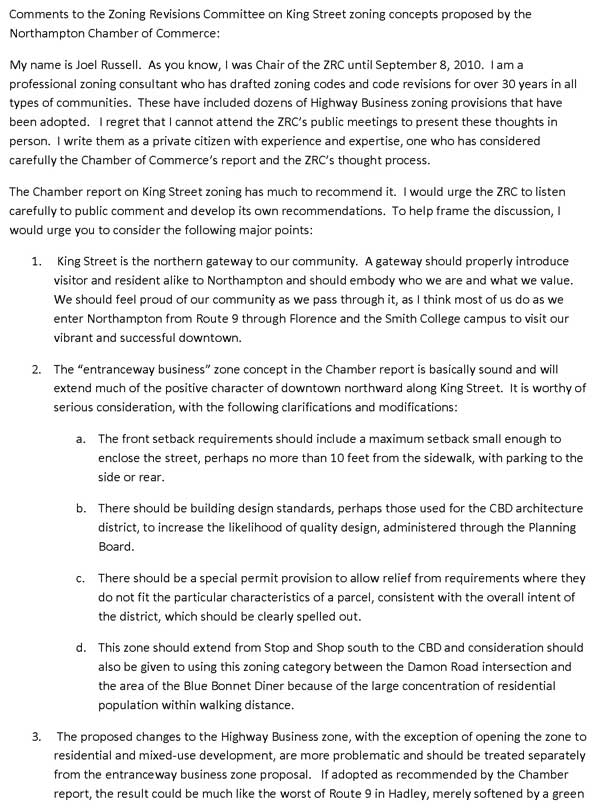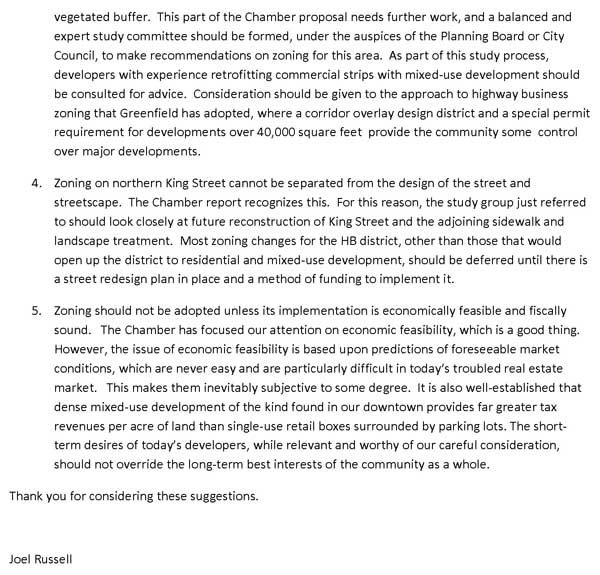 Videos: Zoning for King Street, 9/29/10; Sussman, Horton, Budgar
Videos: Zoning for King Street, 9/21/10
The first hour is a presentation of proposed zoning changes (PDF, 2MB), including those suggested by the Chamber of Commerce (PDF, 1.3MB). The second hour is devoted to questions and comments from the public.
Video: Zoning Revisions Committee Continues to Deliberate King Street, 7/21/10
These charts summarize the zoning changes the Chamber would like to see (download the charts as a high-resolution PDF).
Chamber Plans to Take King Street Proposals to Planning Board if Zoning Revisions Committee 'Bogs Down' in Process (6/25/10)
Dennis Bidwell, member of the Zoning Revisions Committee and chair of the Chamber of Commerce's Economic Development Committee, advises: "If we get to September, we get to October, and we're feeling like it's bogged down in process, and meanwhile, folks are waiting for something to happen, we [the Chamber] would go to the Planning Board and say, 'Act on it'."
Video: Chamber Presents "Rezoning King Street" to Planning Board (6/13/10)
Potential areas of controversy include:
Allowing more uses without a Special Permit, including hotels. A recent proposal to build a Hilton Garden Inn downtown was extremely controversial. One way to address the public's desire for good design would be robust infill design standards.

Reducing the setbacks between commercial areas and residential neighborhoods

Stormwater management problems caused by an increase in impervious surface