Here is a video of the 3/12/09 meeting of Northampton's Planning Board. It is 1 hour and 38 minutes long. It was recorded by Lisa Maloney and is available on Vimeo.
Here is the agenda of the meeting:
Board Elections
Sustainable Northampton Implementation (1:04:20-1:36:50 on the video. Discusses priority of various initiatives.)
More training (0:00:00-0:38:20 on the video)
Minutes
Here is a PDF (6.3MB) with all 116 slides from the training presentation for the Planning Board.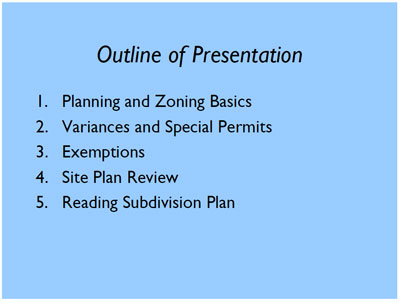 See also:
Video: Public Forum on Planning and Sustainability, 3/11/09
Download Envisioning Sustainable Northampton – Final Notre Dame Studio Presentation Book
Joel Russell at the Northampton Design Forum has kindly authorized us to make Envisioning Sustainable Northampton, the final presentation book from the Notre Dame Northampton Urban Design Charrette, available as a free PDF download (131 pages, 26MB).
Video: Zoning Revisions Committee Meeting of 3/10/09; Draft Sustainable Northampton Regulatory Implementation
Below is a to-do list for regulatory implementation suggested by Northampton's planning staff (download the full worksheet as a PDF, 57KB):