In a session that ran over two hours last night, Northampton's Conservation Commission found itself unable to advance a proposal by Kohl Construction to build 23 condo units off North Street. Four members were eligible to vote on the proposal: Chair Kevin Lake, Susan Carbin, Paul Wetzel and Downey Meyer.
Lake and Carbin expressed that they were fundamentally willing to approve the proposal, although Lake still had concerns about the number of units. Wetzel and Meyer, however, said they were inclined to reject the proposal. Wetzel in particular was concerned about units 1-10 below (image from the February 26 hearing), that the ground was relatively low in that area and the water table high. He was also concerned that the underground stormwater mitigation equipment there might interact hydrologically with the wetland/buffer zone system.
Meyer was unable to find that the proposal, taken as a whole, would improve the buffer zone around the wetland. He believes this is what Northampton's Wetlands Ordinance requires from this proposal, which would involve disturbance closer than 50 feet from the wetland. The high intensity of development throughout the wetland buffer zone was a factor in his thinking–there was not much open space left available to make improvements. Meyer expressed particular concern about unit 21, which is especially close to the wetland.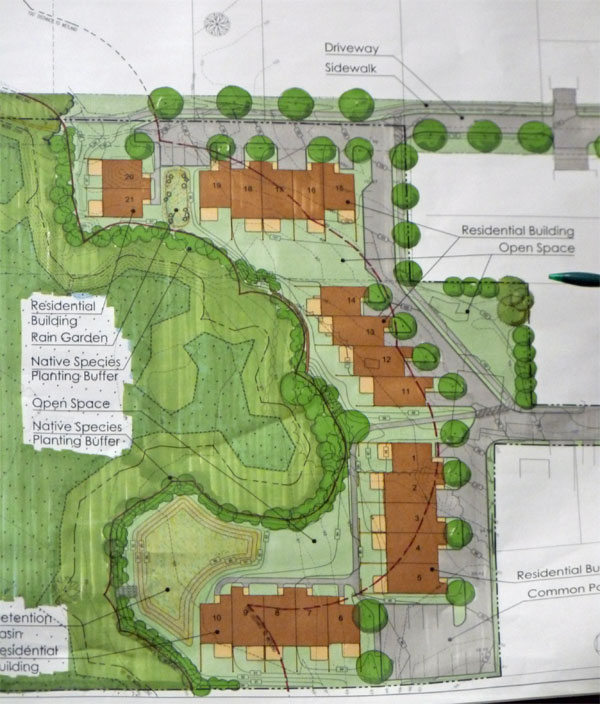 Conservation Commission rules require that a majority of members eligible to vote approve a proposal before it can advance. As it became clear that Kohl's proposal would only receive 50% approval, Kohl asked the Commission if he could withdraw his proposal before a vote took place. The Commissioners were unsure if this could be allowed at this stage. They said they would seek the advice of the City Solicitor. The hearing was continued until March 26.
We will provide a video of the hearing within a few days.
See also:
Kohl Files Narrative and Drainage Report with Revised Condo Proposal; Interpreting the Wetlands Ordinance
Here are the documents Kohl submitted [on March 6]:
Letter to Conservation Commission, 3/6/09: Introduction and Brief from Attorney Michael Pill (PDF, 192KB)
Stormwater Drainage Report Summary (PDF, 594KB)
Stormwater Drainage Report – Main Body (PDF, 2.8MB)
Notice of Intent Plans for North Street Condominiums (oversize charts) (PDF, 10.2MB)
Here are new documents submitted by Kohl on March 9:
Draft Restrictions and Covenants (PDF, 38KB)
Cold Spring Environmental Consultants re: Effects of Norway Spruce Removal on Hydrogeology (PDF, 42KB)
See Jono Neiger's contentions about these effects and our further research.
Letter to Conservation Commission, 3/9/09: Kohl Proposes Alternatives to Boulders at the 35-Foot No-Disturb Line (29KB)
Letter to Conservation Commission, 3/9/09: LEC Presents What Kohl Would Do to Improve the Wetland and Buffer Zone (3.7MB)
LEC neglects to address the impact of tree removal on Kohl's land, which could be substantial.
Video: Kohl Presents Revised Proposal to Conservation Commission on February 26
Planning Board Gives Initial Critique of Kohl Condo Proposal: Jan 22 Video
Video:
Conservation Commission Meeting of 1/22/09; Non-Compliance with
Wetlands Protection Agreements; Kohl Asked to Revise Condo Proposal
Again
Gazette Reports on January 22 Kohl Condo Hearings; Pictures of the Latest Proposal; Conservation Staff Report; HYLA Critique
Kohl Submits Revised Proposal Ahead of January 22 Hearings; Modest Concessions to Conservation Commission
Video of December 11 Kohl Condo Hearing at Conservation Commission; Hearing Continued to January 8
Kohl Construction Applies for Special Permit and Site Plan Review