Kohl Construction this week filed a new Notice of Intent to the Northampton Conservation Commission regarding its proposal to build 23 condo units off North Street. The Conservation Commission will hear this new proposal on May 14, 5:30pm in the City Hall Hearing Room, 210 Main Street, 2nd floor (enter via the back door). A Planning Board hearing will follow at 7pm in City Council Chambers.
The filings mentioned in this Notice of Intent may all be downloaded below.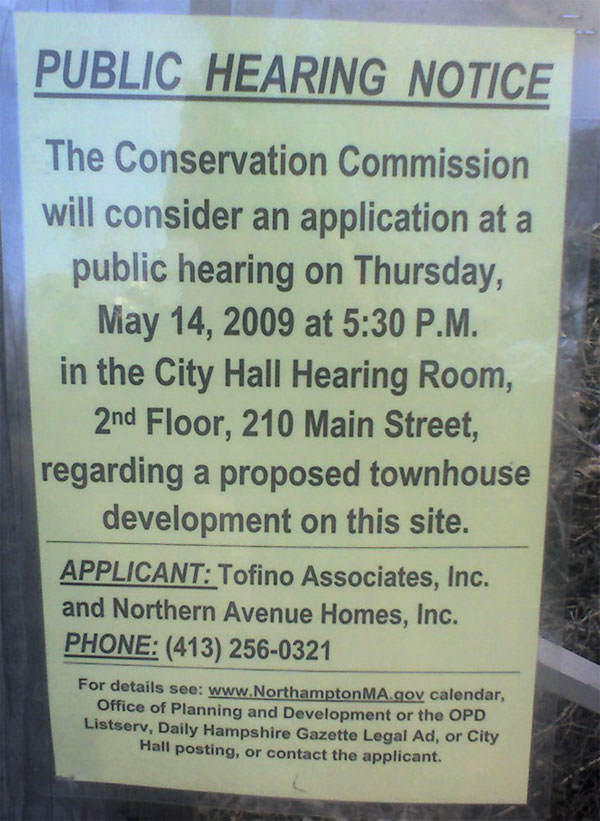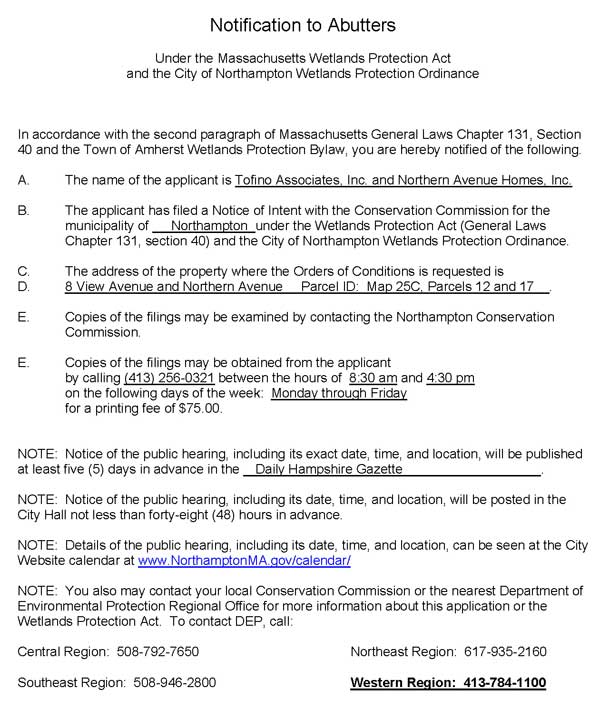 Here is the portion of the current proposal for the end of Northern Avenue, followed by the main body, centered around View Avenue: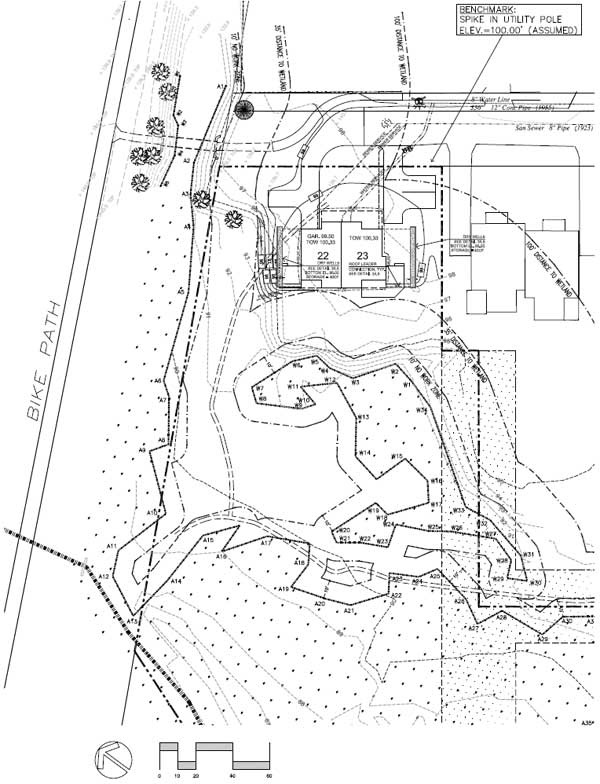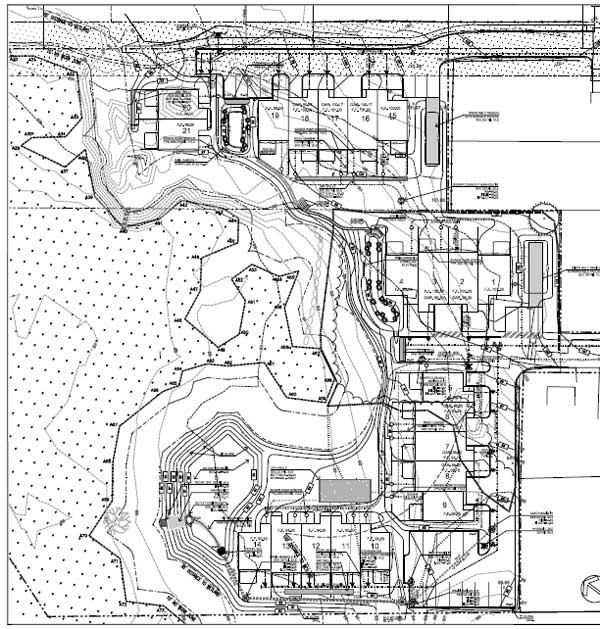 While some modest improvements have been made over the March 12 proposal in reducing impervious surface (from 1.10 to 1.04 acres) and routing more runoff from the new impervious area to infiltration (from 42.4% to 66.4%), our fundamental objections remain, and new concerns about security have arisen due to the introduction of two awkward cul-de-sacs.
Two longstanding open issues in need of investigation include:
There was flood damage around 8 View Avenue in 1999, but there has been no analysis of this event or the current condition of 8 View Avenue. We first raised this issue in 2007. A good start would be to inspect the basement of 8 View for evidence of past water intrusion. It seems logical that Kohl's proposed condos would be even more vulnerable to flooding than 8 View, since the bulk of them would be at a lower elevation, closer to the wetland, built on slabs, and with over an acre of impervious surface added to the immediate area.
Kohl's own project narrative (below) reports some of this land is "degraded by historic filling". The 2004 Hazard Mitigation Plan (PDF, 1.5MB) says, "Historically filled wetlands are commonly related to problems with wet basements, flooding, shifting foundations and failed septic systems.
Development in historically filled wetlands should be discouraged
through zoning in order to protect health and safety." Starting in 2007, we questioned whether some of the condos would be sited on filled wetlands. At a January 2009 Planning Board hearing, Doug Kohl said he would provide data to answer this question. We haven't seen it yet.
Despite the fact that two of four Conservation Commissioners eligible to vote on March 12 (Downey Meyer and Paul Wetzel) disapproved of Kohl's previous proposal and a third (Kevin Lake) voiced concerns about its density, Kohl Construction has dropped no units from their new proposal. They did rotate units 1-4 so they intrude a bit less into the 100-foot wetland buffer zone. However, units 5-14, which particularly concerned Wetzel for their proximity to groundwater, are basically unchanged, as is the drywell next to them. Kohl's test pit data below shows that seasonal high groundwater is as close as 14-16″ to the surface on this site, and that's before any watering-up due to the extensive tree cutting that is contemplated.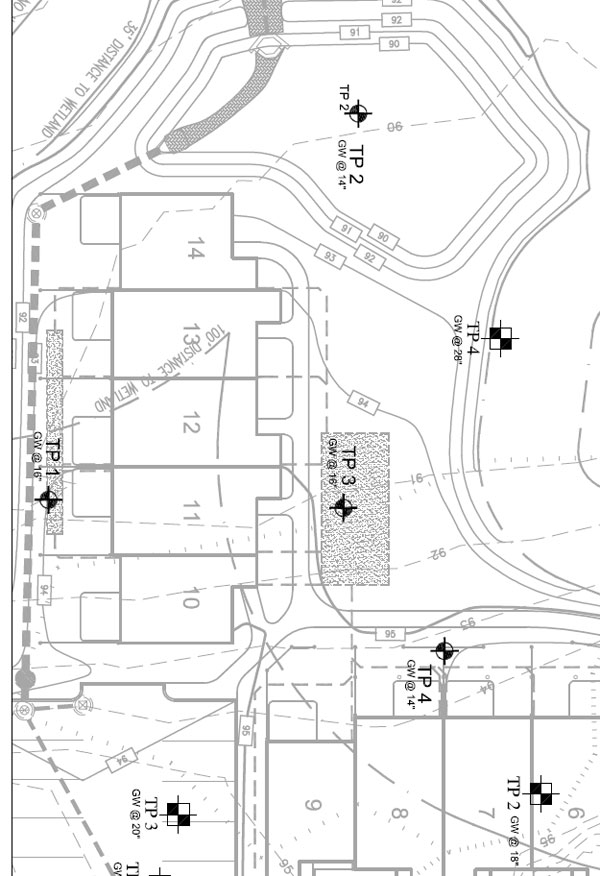 Heading off flooding and mold problems is best done at the design stage. It's too late for many residents of Meadowbrook Apartments and Winslow, Nutting and Elm Streets. Those homes are built and remediating their water problems is a costly business. As former City Councilor Alex Ghiselin told the Conservation Commission on December 11:
I have to tell you as somebody who represented a ward that has a
considerable amount of wetlands, and building in those wetlands, that
that was the knottiest, the most difficult problems that we dealt
with… Once the houses are built there's really no good solution. I
think of on Winslow, on Nutting, on Elm Street, I think of a continual
problem that has bedeviled people who have owned those houses. The
developers are long gone. These are houses built 25-30 years ago. I
think of my friends John and Sue Norton on Winslow, who spent in excess
of $8,000 last year to move water around their house. Almost everybody
on the northeast side of Winslow has that problem. It's built along a
series of wetlands and streams…
The Conservation Commission and the Planning Board need to take the warning signs on Kohl's property seriously and look out for the interests of future homebuyers.
Here is the current condo project narrative: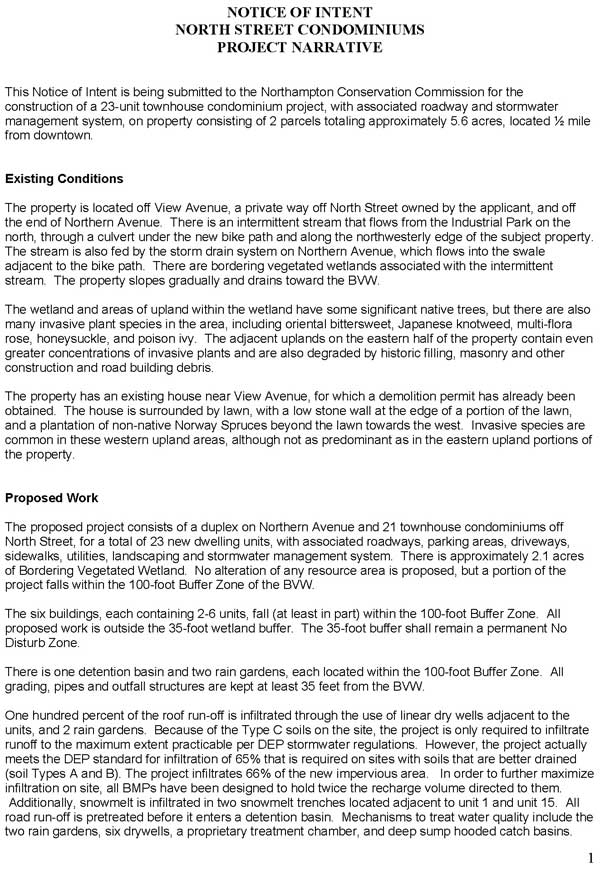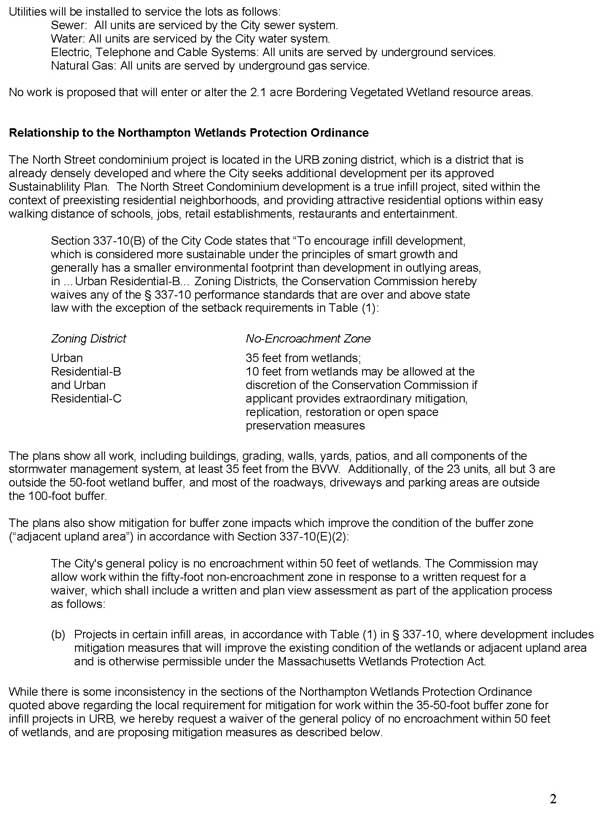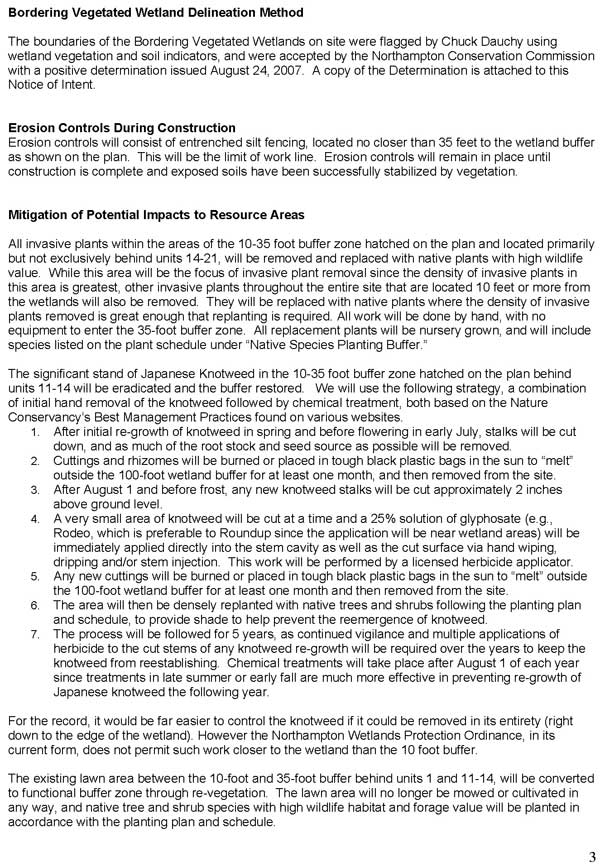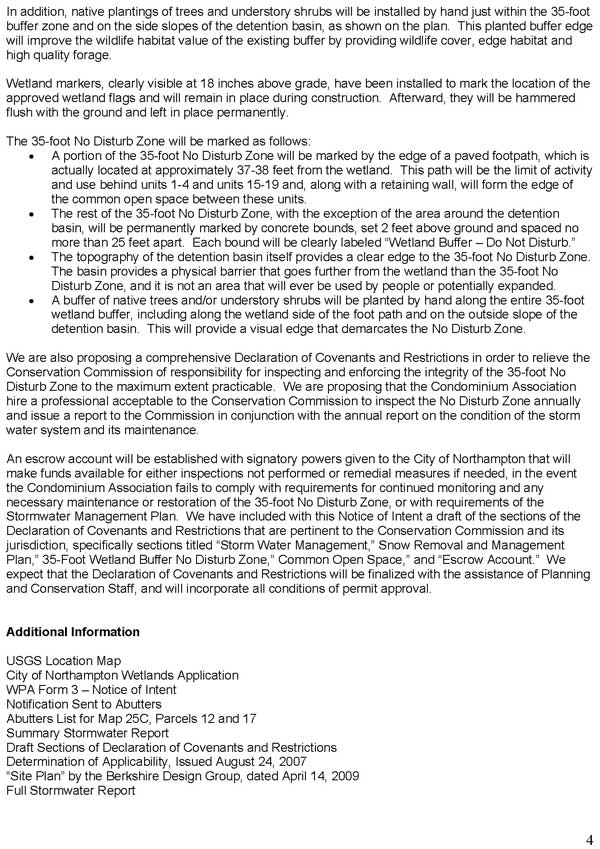 Below are draft covenants proposed for the condo association. The covenants call for a ban on salt for deicing. Keeping salt out of the wetlands is good, but the covenants need to be much more specific about what will be used in its place. Someone experienced in snow removal will tell you that without the inclusion of 5-10% salt, a bulk pile of sand will freeze up and become unworkable. Effective eco-friendly alternatives might be expensive–so expensive that the condo association would be tempted to turn a blind eye to covenant violations. All the costs to be asked of the condo owners need to be mapped out and added up to verify that the development would be financially sustainable and competitive with similar housing options elsewhere.
Many of the problems confronting the condo proposal would be eased not by attempting to impose elaborate rules on the residents but by keeping the buildings out of the 100-foot wetland buffer zone and replicating the neighborhood pattern of detached 1-3 family homes. Reduced density and impervious surface would put less strain on the wetlands, uplands, stormwater management, parking and storage of residents' personal property.
Conservation and Land Use Planner Bruce Young recently noted that compliance with wetlands protection agreements has been a big problem in Northampton. Conservation Commissioner Downey Meyer spoke to the crux of the matter at the hearing of January 22 (commenting on a prior version of Kohl's proposal with 25 units):
…it's not a question of our intentions but…imagine the worst, the
Holmesian 'bad man'…you have to draft rules for the worst actor, for
the least responsive landowner, especially if they're supposed to
protect a resource that is supposed to last in perpetuity… I think
that…space prevents incursion.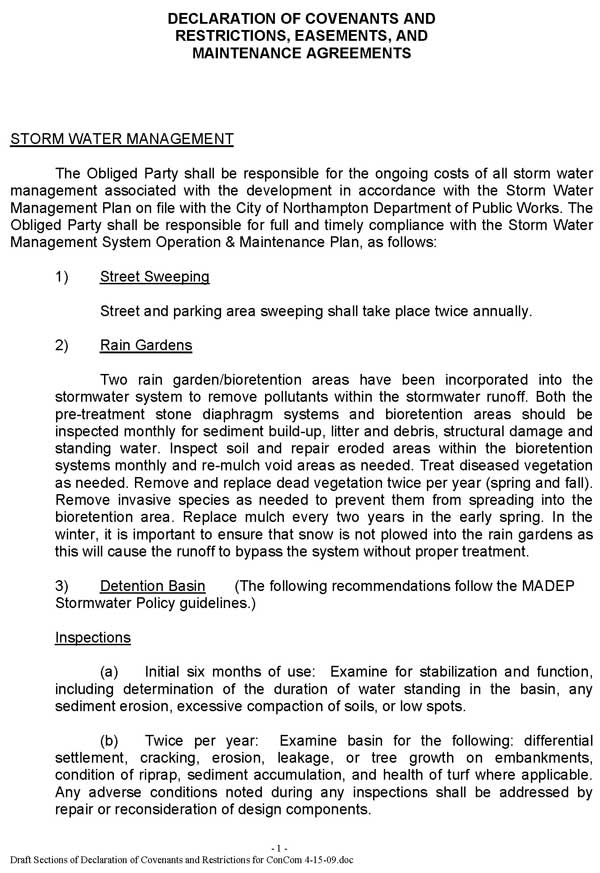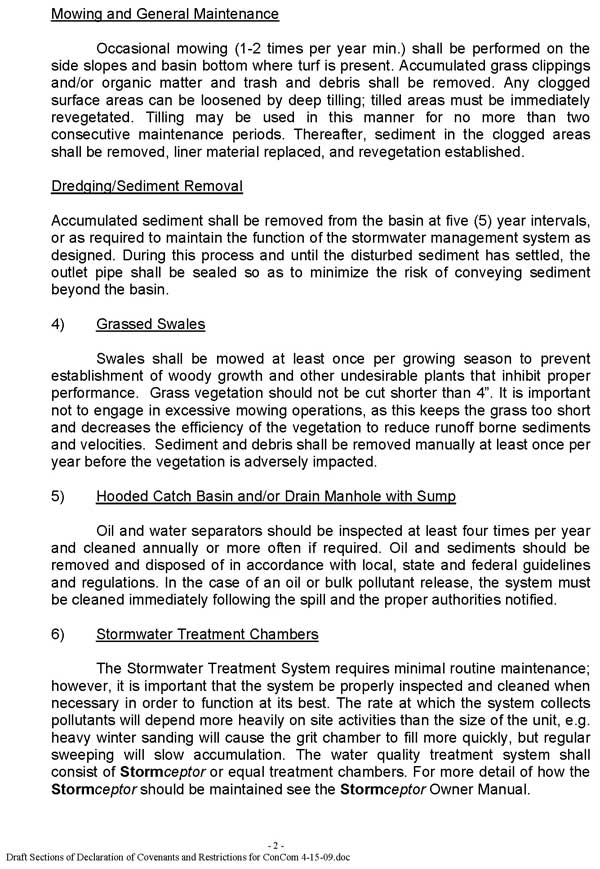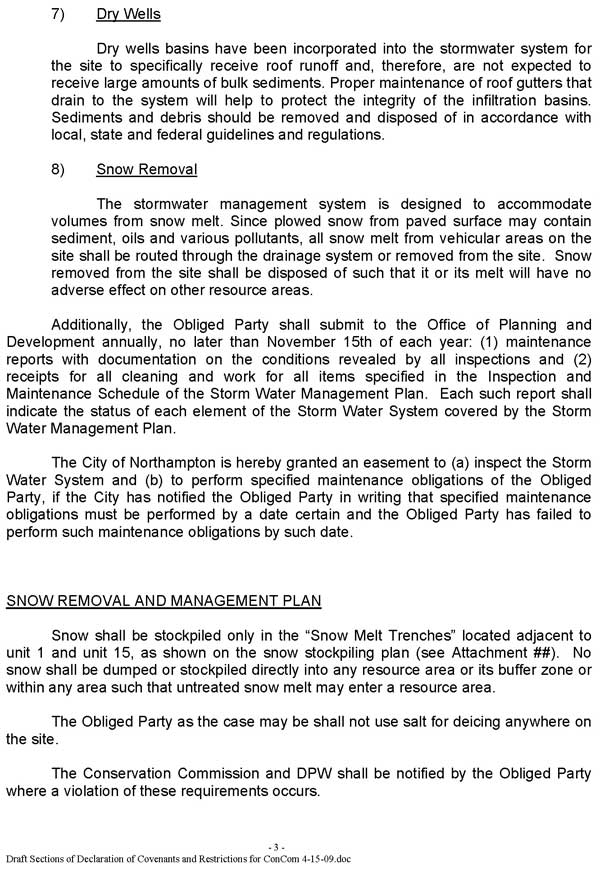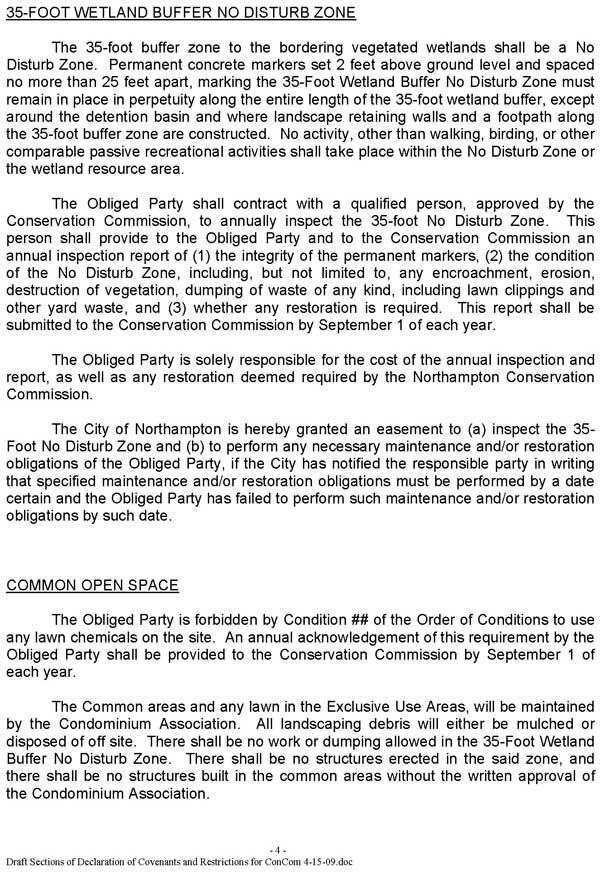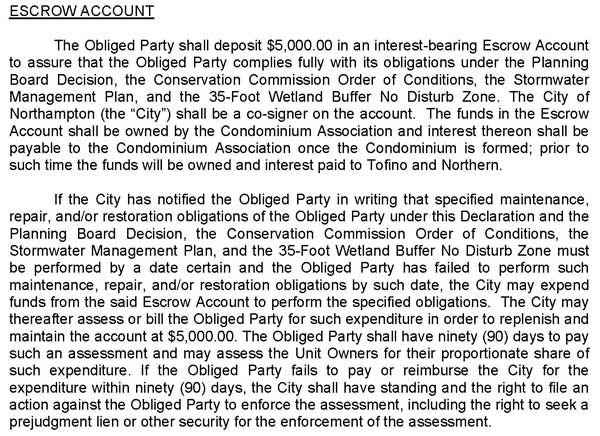 Here are PDFs of the documents submitted by Kohl Construction this week:
Notice of Intent: Cover Page (7KB)
Notice of Intent: Project Narrative (37KB)
Notice of Intent Plans: Cover Page (3.3MB)
Notice of Intent: Chart EC1, Erosion Control Plan (1.1MB)
Notice of Intent: Chart L1, Existing Conditions (842KB)
Notice of Intent: Chart L2a, Layout and Planting Plan – Main (1.1MB)
Notice of Intent: Chart L2b, Layout and Planting Plan – Northern Avenue (713KB)
Notice of Intent: Chart L3a, Grading and Utility Plan – Main (1.4MB)
Notice of Intent: Chart L3b, Grading and Utility Plan – Northern Avenue (534KB)
Notice of Intent: Chart L4, Details (Paving Surfaces, Curb, Catch Basin, etc.) (715KB)
Notice of Intent: Chart L5, Details (Rain Garden, Dry Well and Roof Connection, Stormwater Treatment Chamber, etc) (1.0MB)
Draft Covenants and Restrictions (21KB)
Stormwater Drainage Report – Summary (83KB)
Stormwater Drainage Report – Summary with Massachusetts Department of Environmental Protection Checklist and Figures (2.5MB)
Stormwater Drainage Report – Appendix A: Pre- and Post Development Hydrologic Calculations (81KB)
Stormwater Drainage Report – Appendix B: Soil Test Pit Information (4.3MB)
Stormwater Drainage Report – Appendix C: TSS Removal Summary (2.2MB)
Stormwater Drainage Report – Appendix D: Standard 3 Recharge Calculations (2.7MB)
Stormwater Drainage Report – Appendix E: Proposed Stormwater Management System Operation & Maintenance Plan (229KB)
Stormwater Drainage Report – Appendix F: Long Term Pollution Prevention Plan (35KB)
Stormwater Drainage Report – Appendix G: Stormwater Pollution Prevention Plan (166KB)
City of Northampton – Wetlands Application Page 1 of 2 (1.0MB)
City of Northampton – Wetlands Application Page 2 of 2 (1.0MB)
Massachusetts Department of Environmental Protection: WPA Form 3 – Notice of Intent (64KB)
Notification to Abutters (12KB)
Abutters of Parcel 25C-12 (8KB)
Abutters of Parcel 25C-17 (7KB)
We'll give the Lorax the last word. This is a picture taken today of a sidewalk painting at the corner of Bridge and Market Streets. A timely coincidence…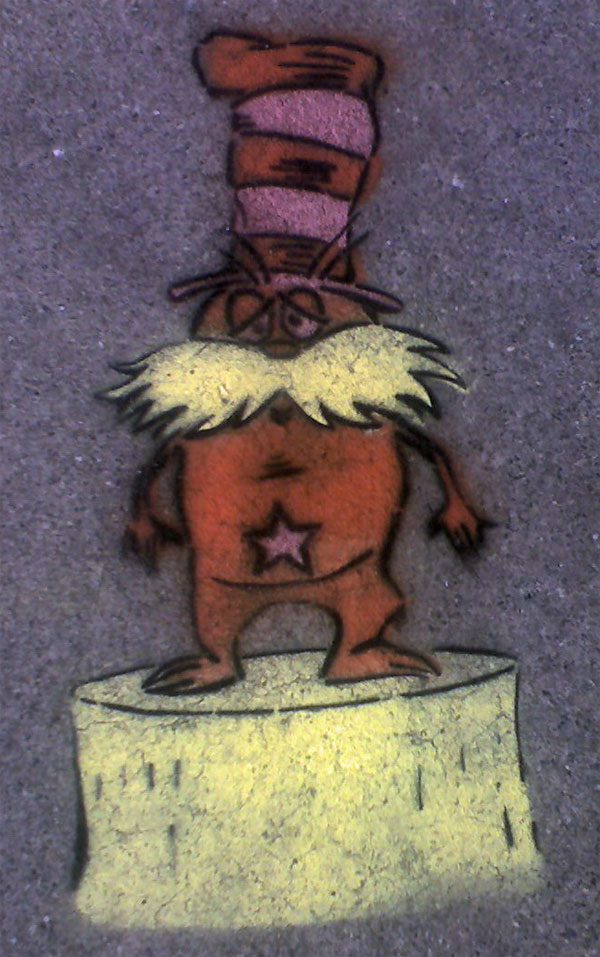 See also:
Our Guest Article at Northampton Redoubt: "The Kohl condo proposal and the Struggle Over the Meaning of Infill"
Planning Board Debates Kohl Condo Density – Quotes from the March 26 Hearing
Video: Conservation Commission Meeting of 3/12/09; Deadlock on Kohl Condo Proposal
3:11:40… Wetzel: "So to me, getting rid of these guys [points
to condo units 1-10]…is a big help" because they are at a relatively
low elevation close to the water table. He wants more room to be made
for the development's normal operations, such as snow clearing and snow
storage. He believes that violations of wetlands protection covenants
are likely to occur over time…
3:51:13…: Meyer: "This has been the problem with this
project from the beginning… When the footprint of the project
impinges on the wetlands, there's no other place to do improvements…
If you had the project heavily concentrated in one end of the site,
going right to 35 feet, but nothing was happening down at the other end
of the site, then there's some place where you can do significant
mitigation in the 35 to 50 foot zone… I don't think that the
difficulty is something that is set in stone. I think it's generated to
a certain extent by the design of the project."
Our Ad in the April 11 Gazette: Slab-on-Grade Foundations Raise Questions of Durability
Kohl's latest proposal…calls for 23 units… Over half of these units have a footprint that intrudes within
100 feet of the wetlands around Millyard Brook. The safety margin
against flooding and wetlands disturbance may be even less than it
sounds, because the wetlands boundary on this site is "particularly
difficult to delineate…there were indicators of hydric soil almost
anywhere we looked" (8/21/07 report
of environmental scientist Alec MacLeod). Hydric soils are those that
are saturated, flooded, or ponded long enough during the growing season
for the development of anaerobic conditions in the topsoil.
Our Ad in Today's Gazette: A Review of Our Objections to the Kohl Condo Proposal
(1/22/09)
Some claim that because Kohl's proposed condos are within walking distance
of downtown and have a high density, they are a good example of Smart
Growth. However, there's more to it than that, according to the Urban Land Institute (ULI).
True Smart Growth respects green infrastructure, such as trees and wetlands. These greenspaces filter the air, reduce the urban heat island effect, enhance property values and moderate stormwater flows, and they do it inexpensively. Urban greenspace is associated with improved physical and mental health and greater social cohesion in neighborhoods.
True Smart Growth preserves a community's character, unlike development that
"bears little relationship to a community's history, culture, or
geography." ULI says homebuyers are increasingly attracted to
vernacular and historical house styles that characterize their
immediate area or region. Quoting Jim Constantine, a market specialist
who does "curb appeal" surveys for developers, "Consumers are turned
off by cookie-cutter subdivisions and the homogenous look of houses."
Unfortunately, that's exactly what Kohl Construction is offering the
neighborhood.
Kohl Files Narrative and Drainage Report with Revised Condo Proposal; Interpreting the Wetlands Ordinance
[Kohl attorney Michael] Pill leans hard on promotion of infill in justifying his
interpretation of the Wetlands Ordinance. Here is how the Notre Dame
School of Architecture defines "infill" in Envisioning Sustainable Northampton:
"Infill:
noun – new development on land that had been previously developed,
including most greyfield and brownfield sites and cleared land within
urbanized area. verb- to develop such areas." (page G3)
This definition is not a good fit with most of Kohl's land off North
Street. This land is largely undeveloped and uncleared, and currently
contains just one single-family house (8 View Avenue). It also contains one of downtown's few remaining groves of mature trees and buffers a wetland. Responsible–sustainable–infill should not be interpreted as a license to pave over a city's green infrastructure.
Below is a special area of concern in Kohl's proposal. Test pit data
suggests the bottom of the detention basin on the left is less than two
feet from seasonal high groundwater. Water may stagnate in this basin with a risk of poor stormwater management and mosquito problems. On the right is an underground stormwater detention system. Underground detention basins were recently found to be failing at Bridge Street School and will be bypassed at a cost of $22,000.
Smart Growth vs. "Smart Growth"
Photo Essay: 10 Reasons People Like Trees Around Them; Will the Sustainable Northampton Plan
Put Urban Trees at Risk?